A day and night difference for traffic safety.
The Transportation Safety Board of Canada estimates that there are approximately 155,000 collisions in Canada each year.1 The B.C. Ministry of Transportation and Infrastructure's (BC MOT) Tailgate Project deploys 3M™ Reflective Tape in a bid to help reduce rear-end collisions.
How the BC MOT Identified a Gap in Safety Standards for Canadian Road Crews
Romantic, cultured and steeped in history, Europe often serves as a centre of inspiration for the world. As a popular vacation destination, many travelers who explore the land 'across the pond' return to their homeland fundamentally changed.
For Mark Pratt, Manager of Fleet Services for the British Columbia Ministry of Transportation and Infrastructure (BC MOT), his European experience would inspire him to embark on a new project to increase the safety of the fleet vehicles at work.
"[When on vacation in Europe] I noticed that highway maintenance/road inspection vehicles had highly reflective materials on their equipment," he says. "It inspired me to think about the visibility of vehicles back in Canada and ask myself why we lacked similar markings."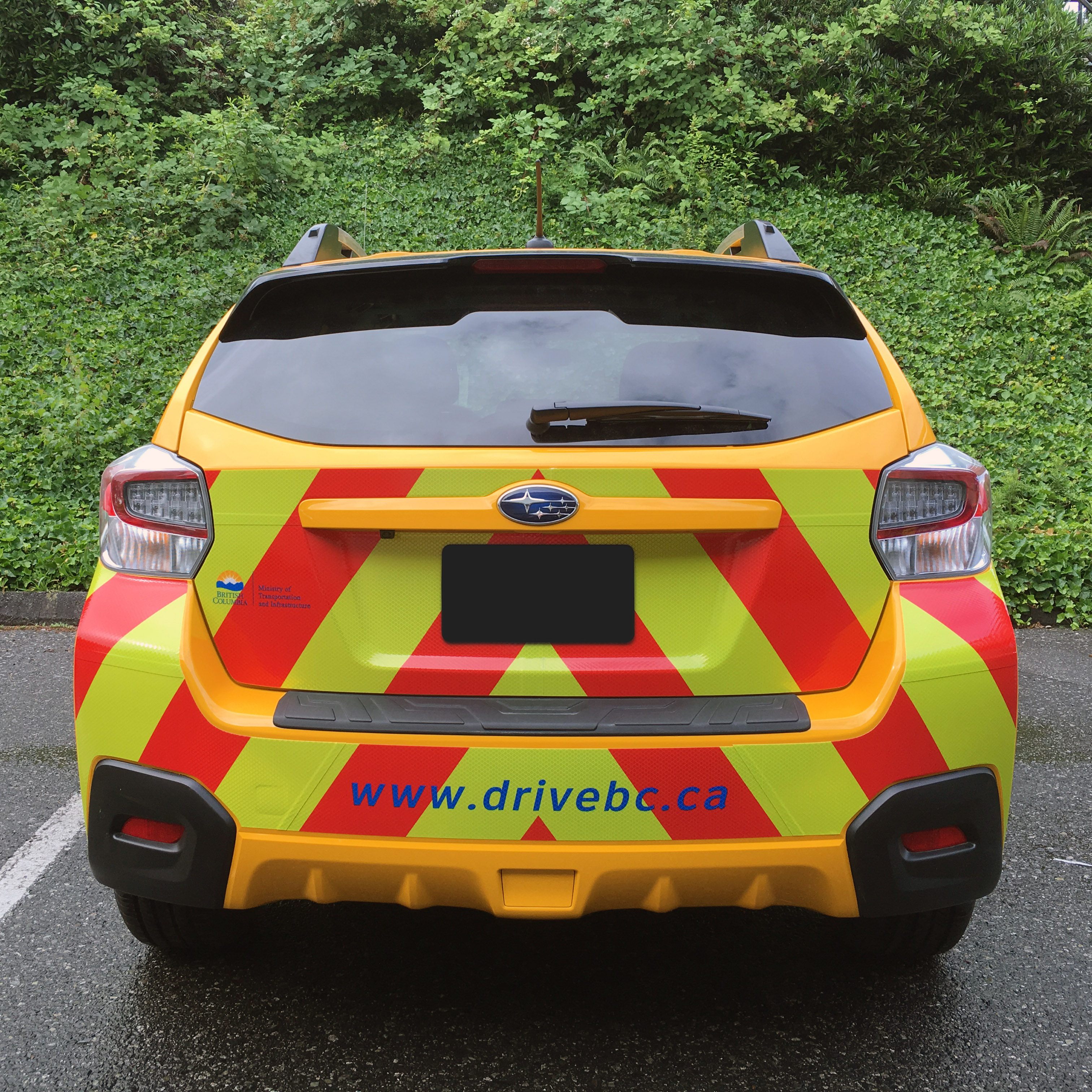 Canadian Road Crew Vehicles Do Not Have Consistent Reflective Markings
When he returned home, Mark explored how road crews were marked in Canada. What he found was a lack of consistency from region to region and no clear standard.
"In Europe, standards have been prevalent for a long time," says Tye Lougheed, 3M Canada Sales Rep, Traffic Safety and Security. "Canada doesn't really have a true standard and under provincial guidelines, road maintenance is deregulated. Although we do have a reference point, each municipality has leeway to do their own thing."
BC MOT Receives Support to Increase Fleet Vehicle Safety with Reflective Graphics
With the aid of images of the EU/UNECE Regulation 48 (R48) decaled highway vehicles, Mark received unanimous support from construction managers and the Ministry Safety Officer to launch a project to increase the visibility of BC MOT fleet vehicles using reflective graphics on the tailgates.
Chevron Tailgate Graphics Elevate Visibility for BC MOT Fleet
Deciding on the exact design took careful consideration. After reviewing standards from around the world, the BC MOT decided to apply a red and fluorescent yellow-green chevron design.
Next, in partnership with their graphics provider, the BC MOT went to work to find the right reflective graphics to apply to 80 of their pickup trucks.
How the BC MOT Used 3M™ Vehicle Safety Markings to Overcome Application Challenges
As it would turn out, bringing the BC MOT's vision to life would take some trial and error.
"The first vehicles we applied the sheets to were a challenge as they had multiple indentations in the tailgate. It took a couple tries to find the right material," says Mark. "We started with a competitive brand's 300mm wide rolls then cut and matched the chevrons as pictured in the EU Reg 48. However, we quickly discovered it was very time consuming, labour intensive and had the possibility of water infiltration along the many seams."
Mark contacted both the supplier and Tye (3M) in order to find a product that they could fit to the tailgates.

"When I arrived at the BC MOT, I knew I had to get them a better product that not only adhered and conformed better, but also made application easier" says Tye. "We connected them with Sherine Industries, who helped them include all of the design elements they wanted, as well as a custom cut product that could make application easier and quicker."
Sherine's digital printing capability, coupled with 3M™ Reflective Tape's retroreflective material hit the mark. Not only did it have the desired retro-reflectance, it proved pliable enough to mold into the indentations in the tailgate.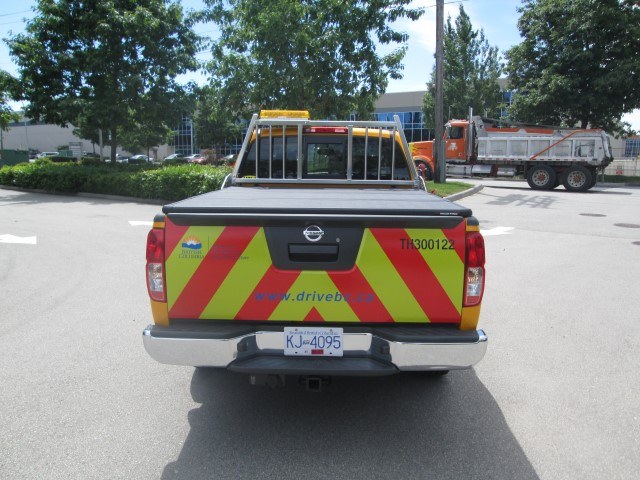 The grand reveal and results: retroreflective tailgates help the effort to reduce instances of rear-end collisions
"It's always rewarding to be able to help a client out and actually provide a safer work environment for their employees," says Tye. "Not just to provide them with the right product to help with their safety initiatives but also to connect them to graphics providers who can create that true custom solution."
According to Mark, the new design has been a hit amongst all those who see them. Since implementing the new design in mid-2016, Mark has noted that, to date, none of the vehicles with tailgate treatment have been hit from behind.
"Our drivers are happy that we're paying attention to their safety," he says, adding, "And there has been interest in our program from the private road companies and other provinces. We have even had driver with vehicles that do not have the reflective tailgates ask to have their vehicle retrofitted with the product."
As for his advice to anyone who may be considering deploying a similar project?
"Just do it," he says. "It's an idea to work through your safety program. Take a look at the exposure of your employees and equipment and then start your program to address the most vulnerable."
Do you want to learn more?
For more information on 3M™ Transportation Safety, including how you can incorporate reflective materials like 3M™ Vehicle Safety Markings into your safety efforts, please contact your local 3M Sales Representative or Commercial Graphics Provider or call 3M Canada at 1-800-364-3577.
REFERENCES