From role models to champions: Here are three ways you can become a STEM champion.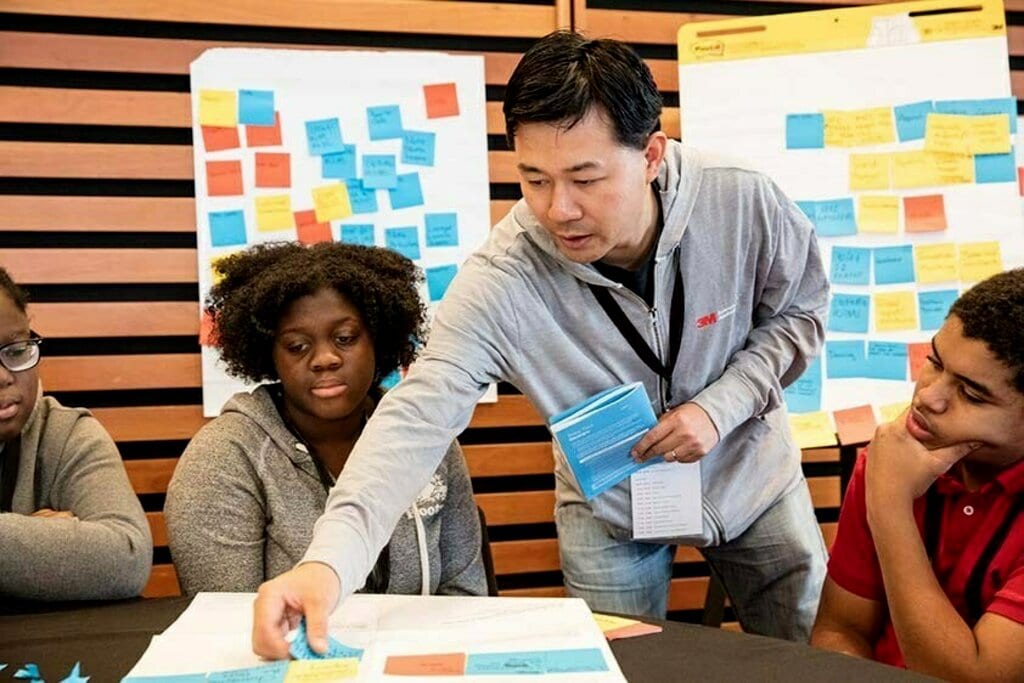 Today marks National STEM/STEAM Day, and as we celebrate the remarkable role of STEM education in building the next generation of leaders and scientists in Canada, I believe this is a moment to inspire more STEM education champions to take up the challenge of creating equal access to STEM education for all Canadians.
In listening to our inaugural 3M STEMtalk workshop in June, one of the key solutions STEM experts identified to improve equity in access to STEM education focused on enabling the shift from role models to champions.
Through continuing 3M STEMtalk conversations, we are on a path to coming up with tangible, applicable actions we can take as individuals and organizations. I've been privileged and honoured to be part of these meaningful STEM conversations, and to listen and learn firsthand from leading experts about their lived experiences, and where they see the barriers and gaps that need to be addressed.
3M STEMtalk Workshop: Moving from Role Models to Champions
I recently had the pleasure of hosting the second 3M STEMtalk workshop with leading STEM advocates in Canada which focused on inspiring more STEM education champions; and enabling the shift from role models to champions.
So, what is the difference between a role model and a champion?
At a young age, kids need to see themselves reflected in the science community, no matter their gender, ethnicity, or ability. They need to have role models they admire and wish to emulate, and subsequently champions who will take action to support, empower and help them achieve their goals.
While role models are figures who are ideal examples to aspire to, champions are those that have the power, credibility, and network to play an active role in supporting, shepherding, defending, fighting for, and empowering. However, the reality is that while champions are often role models, not all role models are champions.
We need more role models to become champions, so that they can empower and action the change that is needed to create equitable access to STEM education.
Watch: Experts describe what it means to be a champion for STEM.
Three recommendations for Canada's path forward on inspiring more STEM education champions
From the 3M STEMtalk conversations, we have identified the following opportunities for enabling the shift from role models to champions. Here are three ways you can be a champion.
1. Share your platform to create an inclusive legacy
To drive lasting change, a voice must be so impactful, that its echoes will be heard into the future. This is building a legacy. We have a collective responsibility to create a more inclusive legacy for the next generation of talent.
Corporations need to find like-minded corporate collaborators to join forces, create, and pursue opportunities together with current and future champions. Champions of underrepresented communities are in high demand right now, and a more coordinated approach to lift their voices in scale will be more impactful.
Individual corporate leaders must invite diverse voices into decision making, sharing the stage with those who have not expressed their voice and even taking a step back to give space for others to share their perspective.
"When I was doing my PhD 20 years ago, I was the first person in the world who was congenitally blind. The barriers that I experienced, the challenges that I faced had significant impact on my pathway… When I retire, I don't want the next generation of champions to be encountering the same system that I'm encountering. I would love for champions to not just be there to support, but also to empower and defend the next generation of STEM trainees and educators."

Dr. Mahadeo Sukhai
Director of Research and Chief Inclusion and Accessibility Officer, CNIB
2. Invest in discovering the next great STEM champions
We must enable those who are leading the way. Use your resources to invest in people, programs, and employees with the goal of enabling more champions.
Create your own networking events so connections can be made. Find those organizations that reach underrepresented communities and help them through financial and social opportunities. Find the champions who are igniting the spark or the inspiration for STEM and use your resources to raise their voices.
The return on your investment will have a long-lasting impact not only for your organization but the entire STEM community by making STEM a more inclusive field.
"Lots of students really want to see how they can apply what they're learning in the classroom in a company project. By providing seed money for venture projects, students can go out and test out their ideas and this may spark additional creativity and interest. This is something corporations like BASF and 3M can sponsor to progress STEM, and some companies are already doing this or embarking on this."

Apala Mukherjee
President, BASF Canada
3. Ignite and share the 'spark'
The inspiration for STEM education starts at a young age, typically from a role model early on who ignites a spark or interest in STEM education. You can be a champion by sharing and igniting the spark for others.
Use your power, credibility, and network to play an active role in supporting, shepherding, defending, fighting for, and empowering mentees. Share your network, your story, and platform, and help make connections that lead to a more diverse future STEM workforce in Canada.
Participate in reverse mentoring to stay connected with the next generation of STEM students so you can be informed on how and where to most effectively speak to those who may be interested in a career in STEM. Inspire others by sharing your own journey, but make sure you create the journey for the next person as well.
"I don't have the funding to just put everything I have into making myself visible for young girls in STEM or for young black girls in STEM, so shared opportunities are essential. We're saying we want diversity, but then you see no one that looks like you. So having the opportunity to even be in a space where you can be in front of people is a big deal. Just give us the opportunities and we'll do it."

Jennifer Ladipo
Industrial Engineer, STEM Consultant
Actions 3M Canada will take to enable more champions
As a science company, creating equitable access to STEM equity is an issue that we care deeply about. As we move forward, we continue to focus on finding solutions that will help advance conversations and inspire more STEM education champions through the following:
We will continue to listen and learn with quarterly 3M STEMtalk workshops that will bring new diverse voices to the table for a conversation on solutions to barriers underrepresented communities' face in STEM.
We will leverage our new 3M STEMtalk Advocacy Fund and other resources to lift and extend the scale of STEM equity champions across Canada.
We will bring peer companies, and our partners together to create additional advocates and allies for championing STEM equity, to support our shared purpose.
Internally, we will harness the power of our own 3M science community and provide tools to enable them to become STEM champions across their networks.
While we recognize this is only the beginning and there is still so much more to be done, our goal is through our collective effort, we can help effect real change to deliver more equitable access to STEM education in Canada.
We invite you to follow and join the journey.