3M's Calgary Customer Technical Centre (CTC) is helping companies cut through their toughest problems and advance their business – but you probably didn't even know it was there.
For the past year, the City of Calgary has been home to one of 3M Canada's best kept secrets: a 4,000 square foot facility where scientists, engineers, technical application developers, advisors and local industry have been working together to solve some of the toughest problems facing businesses today.
The 3M Calgary Customer Technical Centre: Helping Businesses Advance
The 3M Calgary Customer Technical Centre (CTC) officially opened on Sept. 17, 2015, ushering in curious community members and businesses interested in exploring 3M science.
For those who have yet to visit, be warned – this isn't your typical corporate lunch and learn experience, with lengthy slide presentations and short, five minute stretch breaks.
At the 3M Calgary CTC, you get the opportunity to truly experience 3M Science through 20 different interactive displays and demonstrations.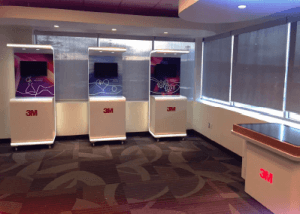 Bring Your Business Barriers to the Calgary CTC – Be Astounded by the Solutions You Didn't Know Existed
While the 3M Calgary CTC is a world-class 3M Customer Innovation Centre, capable of helping a wide variety of industries tackle their most pressing issues – this Western centre often hosts oil and gas solutions as a frequent topic of discussion between visitors and scientists.
"[At the CTC] our lab has been working on specialized coatings for customers as well as downhole solutions for Oil & Gas well optimization," says Mark Hanania, P.Eng., Specified Solutions Engineer, 3M Canada Oil & Gas Solutions Division. "However, in our lab or by working collaboratively with partners across North America, we also investigate other potential solutions for other issues and industries."
Visit the Calgary CTC
If you're interested in visiting the 3M Calgary CTC, contact your local 3M rep to arrange for a date and time.
Alternatively, those without a 3M representative can contact 3M Canada.
Many visitors have been interested in learning more about 3M technology focused on:
Fire protection (suppression, firestop and fireproofing)
Cold shrink technology
Coatings
Safety Solutions
Abrasives and adhesives
Grinding
And much more.
3M Canada Calgary CTC Display Highlights
The following are only a sampling of some of the interactive areas where you can experience 3M science firsthand:
Reflective Room
The Reflective Room provides an interactive way to witness benefits of 3M™ Scotchlite™ Reflective Material, including the Diamond Grade™ DG3 Reflective Sheeting Series 4000. This visual experience allows you to view technology in action, both in the dark room as well as outside in "the real world."
3M™ Adflo™ PAPR (Powered Air-Purifying Respirator) Demo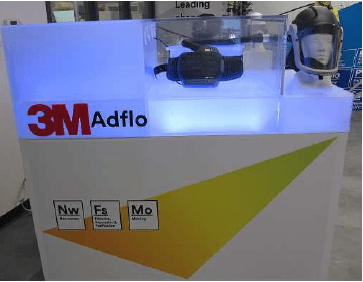 Experience the 'wow' factor when you feel and see the clean air flow (in a mask or air tube) in this visual demonstration of the 3M™ Adflo™ PAPR.
Fire Protection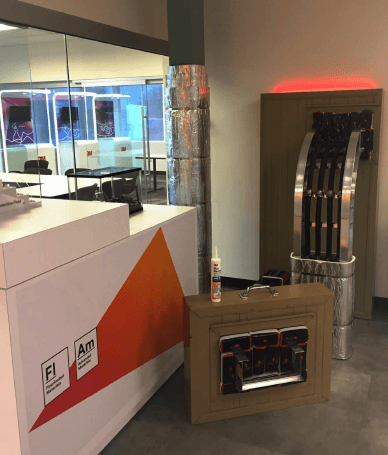 At the fire protection station you can learn how to install 3M™ E-Mat™ and 3M™ Fire Barrier Pillow Products as well as see 3M™ Novec™ Generic in action. You can partake in the 3M™ Novec™ Generic fishtank demo – submerging your own business card in the fluid to experience the evaporation and cooling firsthand.
3M™ Cubitron™ II Abrasives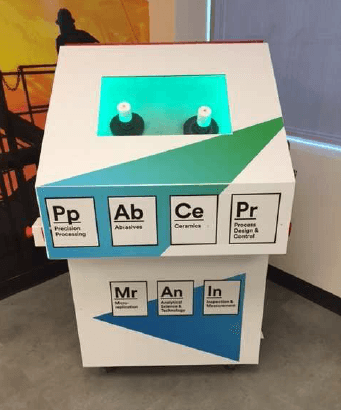 At this display, more than one person is able to experience the difference between a 3M™ Cubitron™ II Abrasive Disc and a competitive disc at once. Grinders are located in an enclosed space behind a polycarbonate shield, and the unit has a downdraft blower and filtration system built in.
Additional Interactive Displays
When you visit the 3M Calgary CTC you can also learn about and experience:
3M™ VHB™ Tape $100 plate challenge
A gravelometer demonstration
The functioning of a Grip Tape Torque Meter
Demonstration of Lightweight Cement Dumbbells
3M™ Eyewear FIT and 3M™ E-A-Rfit Dual-Ear Validation Systems
Purification Demo Vessel
3M™ Aluminum Conductor Composite Reinforced (ACCR)
3M™ Coatings
3M™ Sound Dampening Films
And much more…
Interested in Learning More?
Contact your local 3M representative or 3M Canada to arrange a visit today.
See firsthand how 3M advances, enhances, and improves upon what's possible for businesses around the globe and explore the technologies behind our innovative culture.
About the Author

Follow on Twitter Follow on Linkedin Visit Website More From 3M Canada