Stethoscope cleaning 101.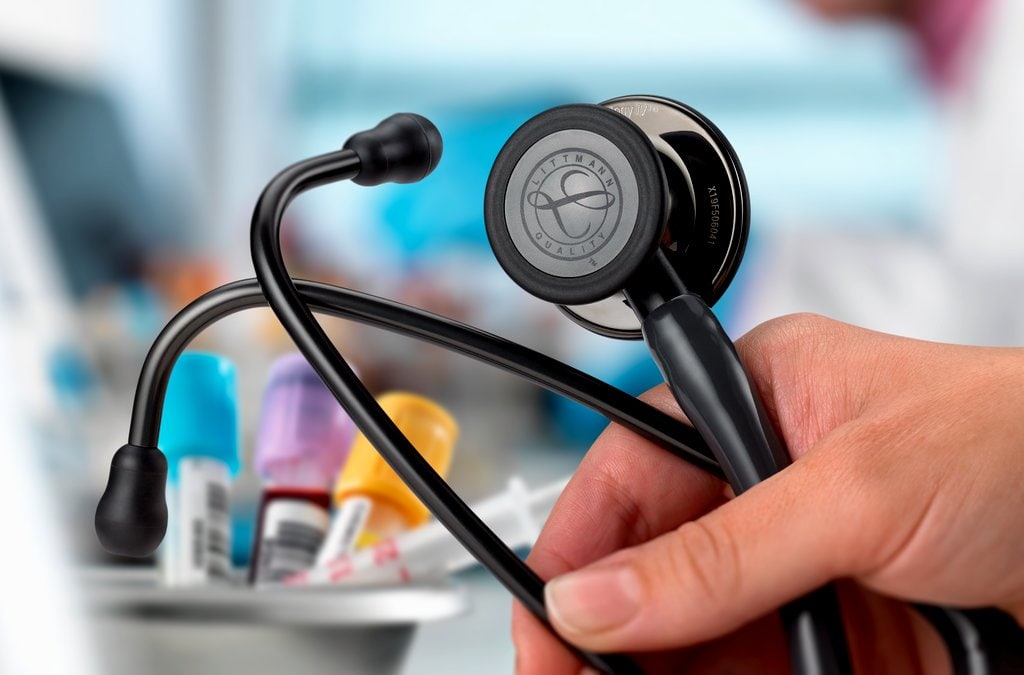 "How do I clean my stethoscope?"
This is a question that we are asked frequently – and for good reason.
As healthcare providers, we are trained to keep our patients safe. This starts with taking the necessary precautionary measures, such as cleaning our stethoscopes regularly to help prevent the spread of germs.
How to clean your stethoscope.
Just as we wash our hands between each patient, you should disinfect your stethoscope after every patient assessment. A 70% isopropyl alcohol wipe1 can help reduce the risk of patient-to-patient cross contamination.
To clean your 3M™ Littmann® Stethoscope, use a 70% isopropyl alcohol solution on a cloth or pre-packaged wipe. Wipe all the patient-contacting surfaces of your stethoscope between each assessment. Do not use hand sanitizer or wipes with multiple ingredients because they may have other agents that can damage parts of the stethoscope.
When wiping the stethoscope with alcohol, you are also removing residue, like blood or secretions, from its surface. To ensure that the surface stays clean, deep clean your stethoscope periodically to eliminate stubborn residue and to keep it in peak condition. To do this, remove the ear tips and tunable diaphragms from the chest piece. Next, wipe the parts with alcohol or wash them with soapy water and dry thoroughly before reassembling.
It is important that you do not immerse the stethoscope in any liquid, subject it to a sterilization process, or expose it to extreme heat, cold, solvents, or oils, because these could damage the instrument.
Cleaning tips for isolation precautions.
Some patients may need to be treated with extra caution and care due to a condition where isolation precautions are recommended. According to the CDC, one in twenty-five patients contract an infection during their hospital stay.1
Using a single-patient stethoscope is a recommended isolation precaution. It can help eliminate the potential risk of patient-to-patient cross-contamination that can be introduced by reusable stethoscopes.2
A single-patient stethoscope should be used with patients under isolation precautions. It should stay in the patient's room while the patient is in isolation and be disposed of when it is no longer needed. 3M™ Single-Patient Stethoscopes come in adult and pediatric sizes with high-quality acoustics, so you can take necessary precautions and provide the same standard of care.
Keep up to date with the latest tips and news.
As healthcare providers, it is our job to take the necessary steps to help protect our patients and improve patient outcomes. Seemingly simple routines, like cleaning our stethoscopes, can make a world of difference, and together, we can help keep patients healthy and safe.
For more 3M™ Littmann® Stethoscope cleaning tips, visit our page here, and to learn more about 3M™ Littmann® Stethoscopes, contact a representative by filling out the form below.

REFERENCES.
Centers for Disease Control and Prevention. Guideline for Disinfection and Sterilization in Healthcare Facilities (2008). Retrieved on March 25, 2020 from: https://www.cdc.gov/infectioncontrol/guidelines/disinfection/disinfection-methods/chemical.html
Centers for Disease Control and Prevention. Guideline for Isolation Precautions: Preventing Transmission of Infectious Agents in Healthcare Settings (2007). Retrieved on March 25, 2020 from: https://www.cdc.gov/infectioncontrol/guidelines/isolation/