Planting with purpose: fighting climate change with environmental conservation.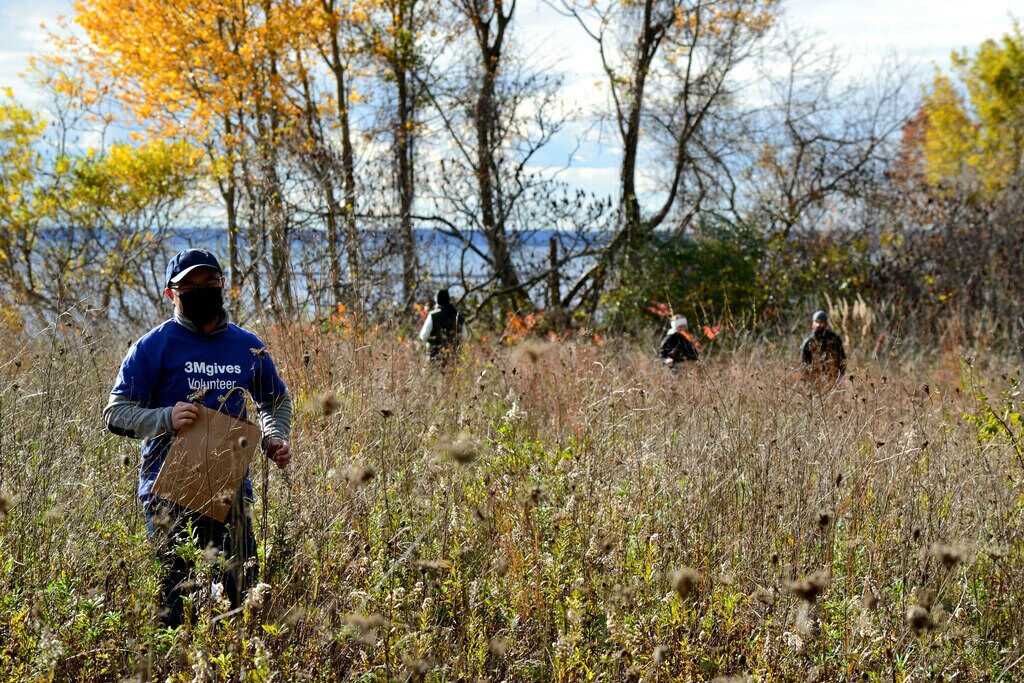 Each of us has a responsibility to be more sustainable and protect the environment for future generations.
Actions like recycling and reusing materials, reducing energy use, and buying products from sustainability-focused businesses all play an important part in our continuing battle against climate change.
Another effective way that we can nurture the environment is by supporting natural landscapes in our own backyards and communities.
As 3M Canada's Sustainability Leader, I can tell you we are committed to making an impact in our communities by rolling up our sleeves and getting involved in environmental conservation projects that can help fight climate change.
Supporting sustainable ecosystems
Over the past two years, we have supported the Deshkan Ziibi Conservation Project, led by 3Mgives partner Carolinian Canada and supported by project partners Thames Talbot Land Trust, and Chippewas of the Thames First Nation. The goal of this project is to return over 150 acres of at risk-land to healthy, climate-smart landscapes through actions like connecting protected areas, growing healthy ecosystems, and improving agricultural productivity.
"There is a ripple effect that starts with a personal experience, and that's why on the land events like this are so powerful. The 3Mers who came out to participate can take this experience of growing a healthy landscape for future generations and spread that energy out into their communities."

- Michelle Kanter, Executive Director, Carolinian Canada
To support this effort, our team of volunteers helped gather seeds that will be used to grow native plants in Southwestern Ontario. This will help absorb greenhouse gases (GHGs) and improve air and water quality for plants, animals, and humans. Our partnership with Carolinian Canada will continue throughout 2022 so we can do our part to support continuous improvement to our ecosystems.
"Volunteering for this project with 3Mgives was such a unique opportunity. We learned to identify native flora and were taught why these plants are so important to in our local environment - all while collecting seeds to support the ecosystem. We learned how we can impact our regional environment positively by being mindful of what we plant in our gardens."

-Gabi Miholics, Application and Development Specialist, 3M Canada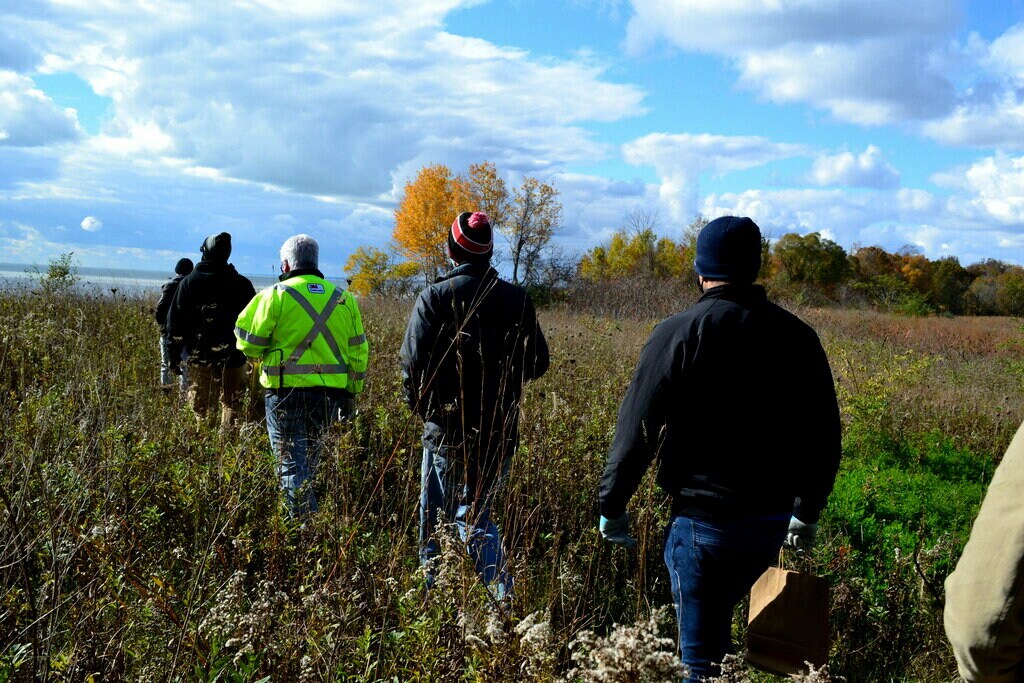 Planting for pollinators
In 2018 3M Canada's Facilities Manager Steve teBokkel was inspired by a colleague's idea to give out tickets to an upcoming sustainability event that were made of plantable seed paper. Intrigued by the idea, and with an eco-friendly project in mind, Steve reached out to the Upper Thames River Conservation Authority for support in a native wildflower planting project.
3M Canada's Headquarters in London, Ontario is situated on a 50-acre parcel of land with 30 acres of woods and walking trails. There was a one-and-a-half-acre parcel of lawn, largely unused that Steve had hopes of dedicating for a pollinator garden.
Pollinator gardens are comprised of native plants and flowers that help support local eco-systems by providing food and shelter to pollinating species like bees, butterflies, moths, hummingbirds, and even bats. In populated suburban and commercial areas, native vegetation is often replaced by manicured lawns, roadways, and other landscaping systems. Allowing native plants to grow pesticide-free invites biodiversity back into the local environment, while reducing the need for watering and traditional lawn management.
"The fact that 3M was willing to invest and significantly contribute to changing part of the landscape is a successful effort to ensuring a positive connection with the natural world."

- Karen Pugh, Resource Specialist, Upper Thames River Conservation Authority
With the help of the Upper Thames River Conservation Authority, the parcel of land along Veteran's Memorial Highway was transformed into native flowers and grasses, including species such as black-eyed Susan, tall coreopsis, tall sunflower, ironweed, common evening primrose, Virginia mountain mint, big bluestem, little bluestem, and Indian grass. Since then, the area has thrived, providing a diverse habitat for pollinators and wildlife of all kinds.
"While it may not be as neat and orderly as professional landscaping, we're embracing the wild side. It's beneficial for the natural environment. We want to do the right thing and use the space we have for the greater good."

-Steve teBokkel, Safety Engineer Specialist, 3M Canada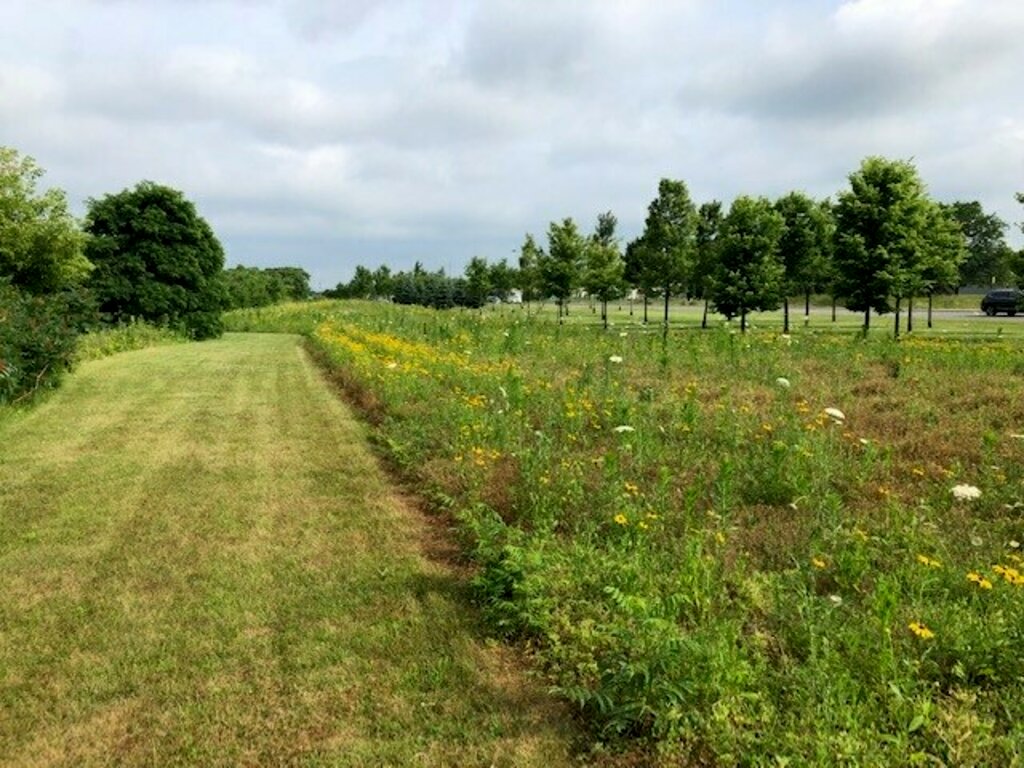 How does planting help fight climate change?
Carbon dioxide (CO2) is produced by burning fossil fuels like coal and oil. When these gases reach the atmosphere, they create a greenhouse gas effect, trapping thermal energy and increasing the global temperature. Planting trees and other plants helps reduce carbon pollution because as they grow, they absorb and store CO2 emissions through photosynthesis. This removes excess carbon from the atmosphere. But it doesn't stop there. Trees also help combat flooding, high city temperatures, and pollution, which are all effects of a changing climate.1
With nature being essential for climate protection and adaptation, the plants you're planting today can have a lasting effect on the future.
Doing our part to protect the environment.
No action is too small, whether planting native species in your own yard, volunteering at a community garden in your city, or planting a tree. Many local municipalities offer free saplings and tree planting programs to help build local tree cover. Consider organizing a larger planting initiative with neighbours or a local community group and tap into a program like the Government of Canada's 2 Billion Trees Program.
If you want to get involved but don't have a green thumb, there are other ways to make an impact. Consider joining a local community clean-up to pick up garbage from local parks, trails, and neighbourhoods. This Earth Day, our employees will be doing just that. Picking up refuse with their families, in their local communities across Canada as part of a 3Mgives Earth Day challenge. Picking up litter not only helps beautify our local spaces but will help keep garbage from ending up in local waterways.
Together, we can restore natural landscapes and battle climate change to protect the environment and make the future brighter.
Sign up for our newsletter by filling out the form below to stay up to date on the latest sustainability news, products, and innovations.
References.
"How Trees Fight Climate Change," Available at: https://www.woodlandtrust.org.uk/trees-woods-and-wildlife/british-trees/how-trees-fight-climate-change/