Comparative study: continuous shear vs. crimp compression technologies.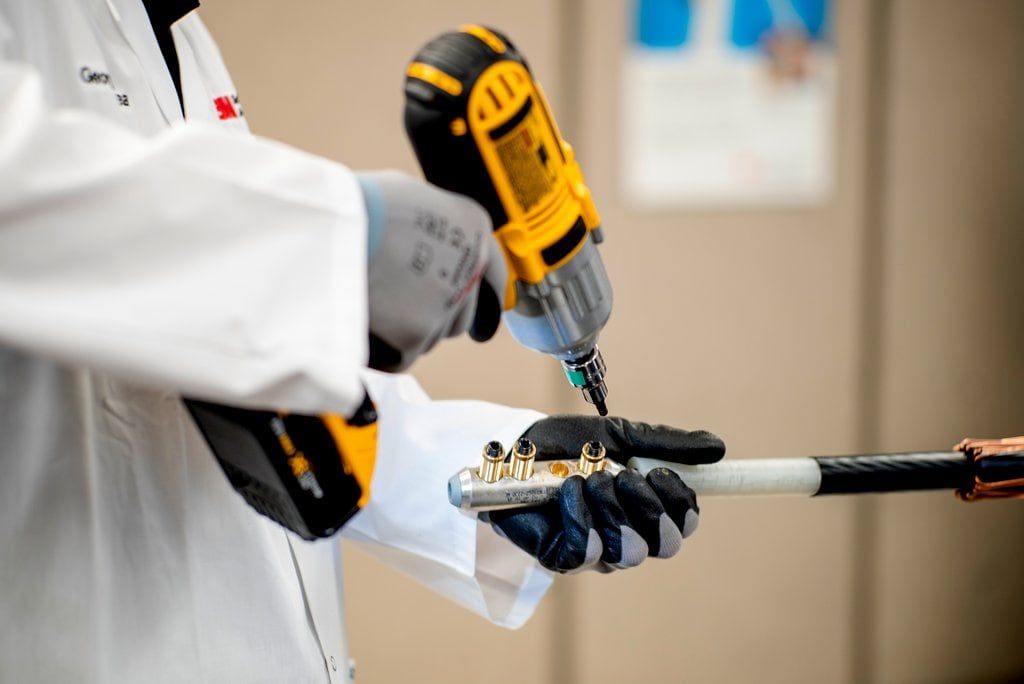 The power utility industry is risk-averse.
The decision to change a technology is not taken lightly. You need data, you need research, and you need proof that what you're using is most reliable, so you can have peace of mind when powering entire cities.
Currently in Canada crimp compression technology is the more predominate technology for cable connections. However, just because its what's you're used to or many companies use it doesn't mean it's the most reliable solution.
This is why I conducted a cable connection comparison study to compare continuous shear and crimp compression technologies. The goal of this study was to determine which solution offered superior cable connection reliability.
So, utilities could have peace of mind. Here are my study results.
Continuous shear vs. crimp compression.
An easy distinction between continuous shear technologies and crimp compression technologies is that in a continuous shear installation the lug or connector is installed by continuously shearing off the bolts. Where as, with crimp compression technologies you must crimp a connector or lug using a die and special tool.
The study results: how did continuous shear technology and crimp compression technology stack up against each other?
My research found that not only does continuous shear technology offer better performance, it also helps enhance the safety and reliability of the network while driving total cost of ownership down in the long run.
This study proved that, despite some benefits, such as offering standardisation improvements, crimp compression technology (CSA hex die system) is not a foolproof solution. A critical shortcoming is that utilities do not have full control in terms of quality or installation because CSA hex die dimensions are proprietary to the die manufacturer. This can prevent utilities from being able to fully dimensionally check the dies before releasing them for use in the field. This can be problematic because any slight variation in manufacturing tolerances from one crimping tool manufacturer to another, and one die manufacturer to another, as well as small dimensional differences, or variations in material hardness of the connectors and/or lugs, can determine whether it was a successful or failed installation. In short, there's not enough control, therefore crimp compression technologies like CSA hex die systems are less predictable.
But, with continuous shear technology that shortcoming does not exist.
The winner: continuous shear technology.
Our study found various reasons reinforcing continuous shear technology as the more reliable solution. Here are three critical takeaways:
Enhanced performance: continuous shear technologies, like 3M™ Mechanical Shearbolt Lugs and Connectors are equipped with scientific design elements, such as the predefined contact points, incorporated elasticity, mitigation of contact aging, and optimisation of contact force – offering superior cable connector performance compared to existing technologies, like crimp compression technologies.
Operates at lower temperatures: In the comparative heat cycling testing, we found that 3M™ Mechanical Shearbolt Lugs and Connectors operate at lower temperatures. This is important because it means that the connector will thermally age less, so it will last longer compared to aluminum crimp compression connectors under the same test conditions.
Ease of install: continuous shear technology, like 3M™ Mechanical Shearbolt Lugs and Connectors, is easy to install because of its range taking capabilities. It also does not require any additional tools or dies and can accommodate both copper and aluminum conductor types.
Study highlight: The continuous shear technology plays an important role in an aging utility infrastructure that requires substantial upgrades. It also offers new project construction options for a more robust and reliable, electrical network.
Watch this video to see how to install a 3M™ Mechanical Shearbolt Lug.
Learn more.
To learn more about continuous shear technology and how it can help you during your project, contact an expert today.