Supporting the economy: Canadian manufacturing's role.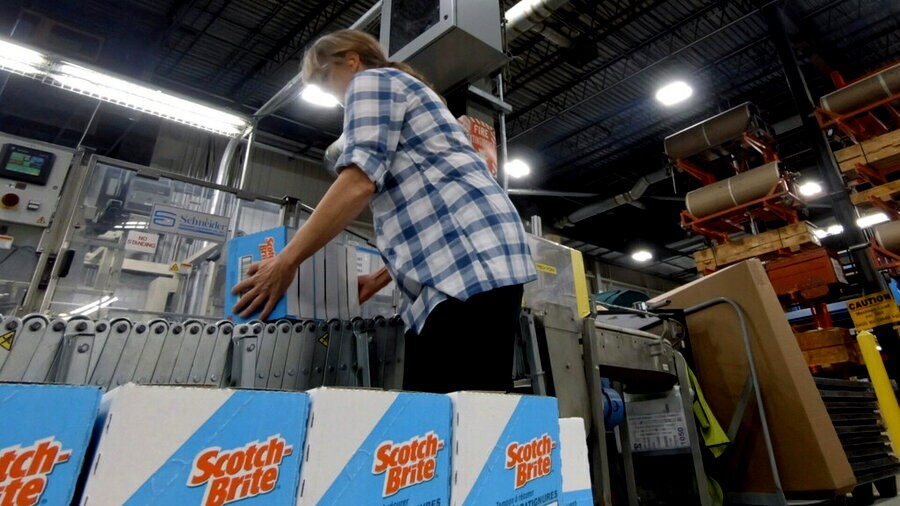 Manufacturing is at the heart of the Canadian economy.
The people and products behind manufacturing in Canada account for more than 10% of Canada's GDP, producing $174 billion in goods while providing 1.7 million full-time, well-paying jobs.1
At 3M, our Canadian manufacturing arm is one of our core strengths. We create innovative products and solutions for our customers, applying science to make a real impact and inspire innovation. Our products help meet our everyday needs including cleaning products, tapes, abrasives, and other solutions that help improve our homes and businesses while helping create better patient outcomes in healthcare.
Our eight manufacturing facilities cover over 1-million square feet of production space, producing a wide range of products. Our 600-plus production employees help to improve lives around the world with the products they produce, while advancing their own career and development.
We added to our diverse portfolio by recently opening another respirator domestic manufacturing facility that produces respirators. This increased the supply of respirators to Canadians in healthcare, frontline and critical infrastructure positions, and will support Canadian healthcare and business into the future.
Manufacturing in Canada is one of 3M's fundamental strengths. Our talented employees at our manufacturing plants use technology and data to drive their decisions. This enables us to supply innovative, made-in-Canada products through our global distribution network. Each day at 3M, one idea leads to the next, keeping our manufacturing sites humming for the benefit of everyone.
Here's how 3M manufacturing locations across Canada work toward delivering high-quality products for Canadians.
Brockville, Ontario: producing personal protective equipment, respirators, and tapes.
In 2021, we added to our diverse portfolio by opening a domestic manufacturing facility that produces N95 respirators. This helped to increase the supply of respirators to Canadians in healthcare, frontline and critical infrastructure positions during the pandemic, and for Canadian manufacturing into the future.
The opening of the plant allows for the number of the 3M respirators available to triple in the Canadian market and help businesses navigate the reopening of the economy. The plant expansion is allowing us to provide 3M respirators within Canada for the foreseeable future – whether it be another health crisis or getting back to work for the other industries that rely on respiratory protection to do their job.
Another plant at Brockville produces a high volume of different tapes. These products are essential for construction and home improvement, industrial, automotive, aerospace, stationery, and office market sectors. Masking tapes and the backings of Post-it® Extreme Notes are also made at this location.
The plant is ISO-50001 certified, one of the highest standards of continuous improvement in energy efficiency. Our other Brockville plant also produces personal safety products including filters and cartridges for PAPRs (Powered Air Purifying Respirators) and reusable respirator filters and cartridges. PAPRs are designed to provide a constant filtered airflow, and are commonly used to protect workers in heavy industrial and manufacturing settings.
3M in Brockville has partnered with United Way Leeds & Grenville to launch the 3M Harvest Lunch. This annual campaign encourages community members to purchase a meal to help a neighbour in need. Through 3Mgives volunteers and partnerships with local agencies, over 3000 freshly prepared meals have been given out to local people facing food insecurity in the last two years.
London, Ontario: specialists in abrasives and tapes.
Our largest manufacturing plant in Canada, the London, Ontario location, is a 500,000 square foot facility, that is also ISO 50001 certified, producing a wide range of abrasives and tapes. If you've used 3M sandpaper or Duct Tape, it was likely made at our London facility. These products are geared to automobile manufacturing and refinishing, aerospace, construction, and home improvement markets.
The 3M London plant supports their local community by working together with the United Way to organize donations, contribute to an annual backpack drive and volunteer opportunities. This year, the London plant has also donated one of their employees on a secondment opportunity to work with United Way Elgin Middlesex during their fall campaign.
Through the Sponsored Employee program, Kadeen Mowatt is working with the United Way to support their fundraising campaign and maximize the impact to our community.
Perth, Ontario: delivering sponges, scouring pads, lint rollers, tapes, and films.
Home cleaning has been a big trend in in the past couple of years and our manufacturing plants in Perth, Ontario delivers the products that help keep our homes and businesses squeaky clean.
One specializes in Scotch-BriteTM Brand sponges and scouring pads for customers in home, commercial, and industrial markets. The second location produces Scotch-BriteTM Brand lint rollers to help you get a handle on pet hair and other fuzzies. It's a sticky business! This location also produces tapes and films used in packaging material, industrial applications, and oil and gas extraction. It also produces extruded films for medical, masking, and automotive applications.
Perth employees are very involved supporting the local Big Brothers Big Sisters program, as well as United Way to help improve lives in Eastern Ontario. This year, 3M volunteers helped to distribute meals to people in need in their community through the 3M Harvest Lunch program.
Morden, Manitoba: helping protect lives by producing heart monitoring electrodes.
The facility in Morden, Manitoba produces 3M™ Red Dot™ Monitoring Electrodes. The electrodes are used everyday in healthcare settings to help protect patient lives by providing reliable electrocardiography (EKG) heartbeat monitoring for doctors. The soft foam tape backing on the electrodes provide a gentle adhesion to protect the patient's skin.
3M Morden is dedicated to supporting STEM education accessibility and gifts an annual scholarship to a student at the Morden Collegiate who is continuing in post-secondary education in a science field.
Chicoutimi, Quebec: specializing in fire prevention and nuclear safety materials.
Our manufacturing presence in Quebec produces metal composites, processed aluminum, and advanced materials like embedded aluminum sheeting for the industrial sector. With 31 employees, they are a small but mighty team of specialists ranging from skilled tradespeople to employees with graduate degrees in specialized material sciences.
Last year, the 3M Chicoutimi plant organized a Truth and Reconciliation book donation to a local Indigenous school program. The book drive was a success and will be held again in 2022 to support the community with greater access to reading materials.
Contributing to Canada's economic engine today, and in the future.
Since 3M Canada's inception in 1951, we have dedicated ourselves to helping improve the lives of Canadians with our innovative products. Many of the products we manufacture in Canada are also exported around the world, contributing to Canada's export economy through international trade.
Between our manufacturing footprint, diverse portfolio of products, and providing fulltime employment to over 1900 3Mers, we take great pride in our contributions to the Canadian economy.
With over 70 years of operation in Canada, the relentless pursuit of innovation at 3M has been the common denominator. This is the path we will continue on, developing solutions to improve lives with science leading the way. This leaves me optimistic about what we can achieve as a country, working together to overcome our challenges and delivering a brighter future for this great country we call home.
Sign up for our newsletter to receive the latest updates from 3M Canada.
References.
Government of Canada: Canadian manufacturing sector gateway. https://www.ic.gc.ca/eic/site/mfg-fab.nsf/eng/home
Ontario Health: Optimizing the supply of personal protective equipment during the COVID-19 pandemic. https://www.ontariohealth.ca/sites/ontariohealth/files/2020-05/