Addressing PIVC complications: how clinically indicated removal and care bundles can help.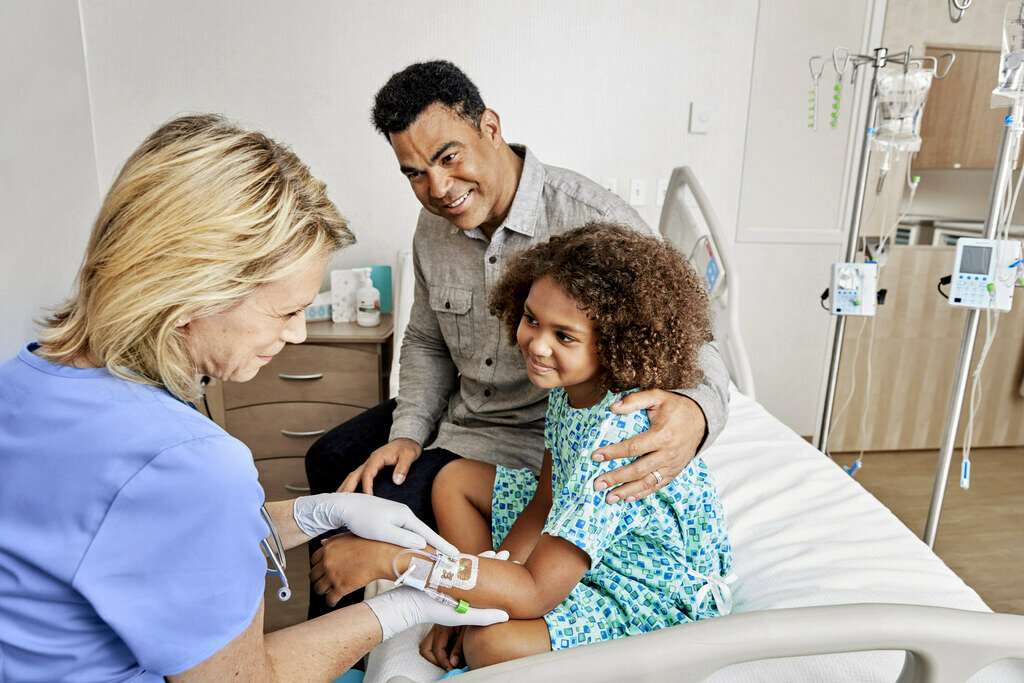 Peripheral intravenous catheters (PIVC) are the most common intravenous devices used in healthcare1 but are prone to several complications, including infection. In fact, there is a significant risk of bloodstream infections (BSI) from PIVC failure.
However, PIVC failure can be minimized. Switching to clinically indicated removal and making use of care bundles can improve PIV care and maintenance, which in turn could significantly help with patient outcomes and lead to a reduction in costs.
The impact of PIVC failure.
According to a study of consecutive hospitalized patients during a 48-month period, the PIVC or midline catheter was the cause for 36% of primary S. aureus (SA) hospital-acquired bloodstream infections (HABSI). These infections did not meet the National Healthcare Safety Network's (NHSN) definition of central line-associated bloodstream infections (CLABSI).
Additionally, in the 30-day and 1-year mortality rates, there was not a vast difference between patients with HABSIs that met NHSN's definition of CLABSI and those that did not. However, overall, the non-CLABSI group had a higher incidence of bacteremia complications.2
Clinically indicated removal could lead to improved patient outcomes and lower costs.
PIVC removal and reinsertion impacts each patient differently. However, evidence suggests that clinically indicated removal could result in minimal negative responses.
The impact of short peripheral catheter replacement when clinically indicated compared to routine removal every 96 hours was evaluated using a before-and-after method. PIV use decreased by 14.2%, saving $2,100 and 70 hours of nursing time. If all hospitals in the US moved to clinically indicated removal, there would be 6 million insertions prevented, $60 million cost savings and 2 million workers' hours saved annually.3
Similarly, there was no statistical difference in phlebitis rates or bacteremia in clinically indicated removal compared to routine replacement in Webster's study. It addressed the benefits of reducing the unpleasant experience of catheter insertion and projected 5-year savings of $300 million and 1 million health care worker hours.4
How care bundles can help fight complications.
The discussion of securement, stabilization and infection control becomes even more crucial when facilities shift to clinically indicated PIVC removal. Infection prevention must continue to be a priority, as infections can occur at any time. Infection isn't only caused by bacteria – it could also create other catheter-related complications at the PIVC site. Due to these reasons, stringent care and maintenance are imperative with clinically indicated PIVC removal.
Fortunately, patient outcomes can be significantly improved with the help of care bundles.5,6 Care bundles are a collection of processes working together to care for patients undergoing a particular treatment effectively and safely. They improve the reliability of the delivery and are goal oriented.
What should be included in care bundles.
An insertion bundle used to help improve the insertion of PIVCs may include a combination of 3M™ Soluprep™ 2% chlorhexidine and 70% alcohol skin antiseptic, 3M™ Cavilon™ No Sting Barrier Film, and avoiding areas of flexion. It may also include a 3M™ Tegaderm™ Antimicrobial Securement Dressing which provides antimicrobial protections at the insertion site, and use of Disinfecting Port Protectors on all needleless connectors and luers. PIV maintenance can also be improved with a similar bundle. It would include consideration of sterile barrier precautions, performing hand hygiene before manipulation of an IV system, assessing the need for catheter daily, assessing site and removal for signs and symptoms of phlebitis or infection, use of a securement dressing, following recommendations and dressing change guidelines based on dressing type, use of disinfecting port protectors on all needleless connectors and luers, and use of an antimicrobial at the insertion site. The Canadian Vascular Access Association (CVAA) recommends a securement dressing for any PIV dwelling longer than 6 hours.7
Use 3M™ Tegaderm™ I.V. Advanced Securement Dressing for better PIV maintenance, as its design helps maintain securement by adjusting to patient movement. Also, its transparency allows monitoring of I.V. sites.
How quality and safety can be improved within an organization.
Processes constantly change in healthcare facilities. Therefore, we should consider change management to standardize care and keep operations consistent across units. Creating a strong culture that empowers clinicians to meet goals and standardize processes begins with teamwork, education, and training.
The Infusion Nurses Society, 2021 Standards of Practice recommends:
Focusing on the system and processes
Participating in quality improvement programs by identifying quality indicators, collecting data, analyzing, and reporting
Implementing changes based on data collected
Advocating for teamwork interventions through training and education and using structured tools and protocols
Clinically indicated PIV removal policy can succeed with standardized practices and sustained changes. The use of PIV bundles, education on catheter care and maintenance, auditing and feedback has the potential to improve patient outcomes and reduce costs.8
For more information, please visit our PIVC website.
References:
Hadaway L. Short peripheral intravenous catheters and infections. J Infus Nurs. 2012;35(4).
Kovacs CS, Fatica C, Butler R, Gordon SM, Fraser TG. Hospital-acquired Staphylococcus aureus primary bloodstream infection: A comparison of events that do and do not meet the central line-associated bloodstream infection definition. Am J Infect Control. 2016; 44: 1252-1255.
Stevens, C., Milner, K. A., & Trudeau, J. (2018). Routine Versus Clinically Indicated Short Peripheral Catheter Replacement: An Evidence-based Practice Project. Journal of Infusion Nursing, 41(3), 198-204.
Webster, J., Osborne, S., Rickard, C. M., & New, K. (2013). Clinically-indicated replacement versus routine replacement of peripheral venous catheters. Cochrane Database of Systematic Reviews, 2013(4), CD0077981-1.
Freixas N, Bella F, Limón E, et al. Impact of a multimodal intervention to reduce bloodstream infections related to vascular catheters in non-ICU wards: a multicentre study. Clin Microbiol Infect. 2013; 19:838–44.
Boyd S, Aggarwal I, Davey P, Logan M, Nathwani D. Peripheral intravenous catheters: the road to quality improvement and safer patient care. J Hosp Infect. 2011;77(1):37-41.
Canadian Vascular Access Association. (2019). Canadian Vascular Access and Infusion Therapy Guidelines. Pembroke, ON: Pappin Communications
Gorski L, Hadaway L, Hagle ME, McGoldrick M, Orr M, Doellman D. Infusion Therapy Standards of Practice. J Infus Nurs. 2016; 39(suppl 1): S1-S59.