High performance dressings for high performance healing.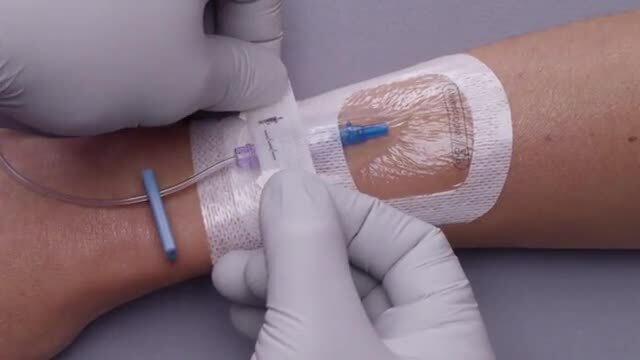 For clinicians who are committed to improving quality of life for their patients, the range of 3M™ Tegaderm™ Foam Adhesive and Non-Adhesive Dressings helps deliver a solution helping to provide patient comfort, rapid absorption and protection against infection.
The 3M™ Tegaderm™ Foam Dressing is gentle to delicate skin, allows for increased wear time – due to its excellent fluid handling capabilities – and helps protect against bacterial and viral contamination.
The layers of the dressings
1. Breathable Film
A waterproof film that is moisture vapour permeable which helps prevent wound exudate strike-through and acts as a barrier to outside contamination, including bacteria and viruses.1
2. Super absorbent layer
Absorbs and retains moisture away from wound, reducing the risk of maceration.
Increase absorbency by 100%
Minimises backward moisture migration
3. Moisture-control layer
Enables rapid evaporation of excess moisture out of the dressing, extending wear times.
Distributes moisture
Facilitates evaporation
Maintains moisture balance

4. Soft, absorbent foam layer
Absorbs and rapidly wicks excess moisture away from the wound and periwound skin.
Helps protect wounds
Non-adherent
Comfortable
The four layers on the 3M™ Tegaderm™ High Performance Foam Dressing work to adapt to changing levels of exudate and maintain moisture balance for optimal wound healing.
What are the benefits of the dressings – for both the patient and the clinician?
Reduce the risk of infection due to 3M™ Tegaderm™ Foam Dressing film backing which helps protects against external bacterial and viral contamination
Provide fast uptake and excellent exudate handling capabilities, thereby reducing leakage and unscheduled dressing changes
Allow patients to shower and lead their normal life while wearing dressing
3M™ Tegaderm™ Foam Adhesive Dressing for heels (90619) is low profile, allowing shoes and socks to be worn
Stay in place even on difficult to dress areas, such as heels and elbows, increasing dressing wear time
Provide fast absorption of exudate, reducing the risk of maceration and the potential for skin breakdown
Allow for one-handed application and feature a unique spoke delivery system to save clinical time
Indications for the 3M™ Tegaderm™ Foam Dressings:
Pressure ulcers
Neuropathic and arterial leg ulcers
Under compression bandage systems for venous ulcer treatment
Skin tears and abrasions
Skin graft donor sites
3M™ Tegaderm™ High Performance Foam Dressing has been designed to be an excellent partner for 3M™ Coban™ 2 Layer Compression Bandages.
Learn more about 3M™ Tegaderm™ Foam Dressings and the 3M™ Coban™ 2 Layer Compression Systems.
In vitro testing shows that the transparent film of 3M™ Tegaderm™ brand dressings provides a viral barrier from viruses 27 nm in diameter or larger while the dressing remains intact without leakage