Get Wrapped Up in Supporting VLU Healing.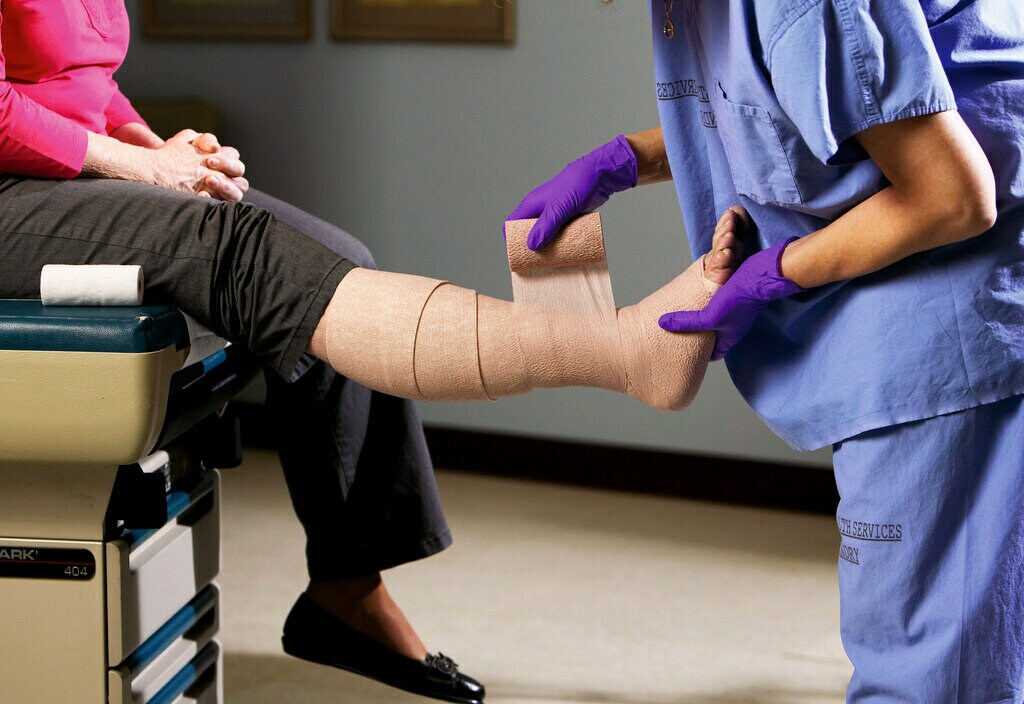 Venous Leg Ulcers (VLUs) are a common type of lower extremity wound, affecting approximately 1% of the western population.1 VLUs are challenging for patients and healthcare systems to deal with because they can persist for a long time, have high recurrence rates, and are costly to manage. VLUs can also negatively impact the patient's quality of life.
Here are some frequently asked questions (FAQs) about healing Venous leg ulcers.
Do you think wound care professionals are aware of the VLU treatment process?
The principles of VLU management are: protect the skin, manage biofilm, optimize the wound environment, and apply compression. However, even wound care specialists who manage VLUs don't apply consistent compression.
Why is there low compliance?
Compression therapy is underutilized. Depending on the type of compression, or even previous experiences, patients may complain of heat and discomfort or may experience slippage and displacement. The Unna boot from the 1800s is still used today, and it is messy, bulky and can interfere with clothing and shoes. It's important to find a solution that patients can tolerate and educate them on how compression therapy works and its benefits.
Are there misconceptions around compression therapy?
Many clinicians believe that elastic wraps, stockinette, or low-level support stockings provide "adequate" compression. However, clinical studies indicate that compression therapy can increase VLU healing rates and reduce the likelihood of wound recurrence.
Are there any cases where less compression is needed?
Patients with mixed arterial and venous disease require less or modified compression. In this case, a thorough patient assessment should be performed to determine the cause of the wound and vascular status. An ankle-brachial pressure index, or ABPI, is a non-invasive screening performed by a trained specialist to ascertain peripheral arterial circulation or arterial insufficiency. It is also used to determine the level of compression that can be safely applied. Modified or lite compression can be used on patients with an ABPI of 0.5 – 0.8 or patients who are less tolerant of high compression. It should not be used for patients with an ABPI less than 0.5. Additionally, patients with mixed arterial-venous occlusive disease should be closely supervised and monitored if undergoing compression. Follow the manufacturer's instructions before use.
How can clinicians overcome their hesitation towards compression therapy?
Clinicians who have limited experience with compression bandaging applications may need additional support to learn correct application techniques, including understanding the amount of tension to apply. For example, applying a bandage at full stretch will minimize the potential for application variability. The preferred method for learning correct techniques is hands-on training, however, some facilities are exploring other alternatives.
When is it appropriate to use reusable compression garments/hosiery/stockings for VLUs?
Compression stockings are the primary products used to help prevent the recurrence of Venous leg ulcers.2 Upon VLU healing, patients typically transition from a bandage system to compression stockings. Compression stockings, sometimes referred to as compression garments or hosiery, are used for the maintenance phase of venous insufficiency and Venous leg ulcer management. At this time the edema is decreased and stabilized, and the ulcer has healed. Compression stockings are available in a variety of pressure gradients and lengths. An inelastic reusable device may be prescribed for patients unable to effectively don a stocking. It is recommended to have patients work with a specialist or "fitter" to ensure the correct sizing, level of compression, and education on application is received.3
What are some training alternatives?
Some online application videos provide detailed instructions on how to effectively apply compression therapy because compression bandage systems are applied differently. Therefore, it's important to follow the product application instructions. Another suggestion is to research product manufacturers who can present educational webinars or contact home care agencies or wound care facilities to find skilled nurses teaching compression techniques online.
How would you summarize your thoughts on compression therapy?
Start by selecting a product that delivers therapeutic compression, such as a stiff, inelastic multicomponent system that can be modified to fit the patient and provide comfort. Compression therapy produces better outcomes by increasing VLU healing rates, reducing the risk of recurrence, improving venous return, and reducing edema and inflammation.4,5 Managing VLUs can be challenging yet rewarding as more patients become healed.
To learn more about treating Venous leg ulcers, contact a 3M representative using the form below.
References:
1: O'Meara S, Cullum N, Nelson EA, Dumville JC. Compression for venous leg ulcers. Cochrane Database Syst Rev 2012; 11: CD000265.
2: Fife CE, Carter MJ, Walker D. Why is it so hard to do the right thing in wound care? Wound Repair Regen. 2010;18(2):154-8.
3: Harding K. et al. Simplifying venous leg ulcer management. Consensus recommendations. Wounds International 2015
4: O'Donnell TF, et al. J Vasc Surg 2014.
5: Mosti G, Partsch H. Compression stockings with a negative pressure gradient have a more pronounced effect on venous pumping function than graduated elastic compression stockings. Eur J Vasc Endovasc Surg. 2011 Aug;42(2):261-6.