Powered by diversity and inclusion: how collaboration makes businesses better.
Constructive communication and the acceptance of diverse perspectives are fundamental to the creation of ground-breaking solutions. By opening communication channels and remaining committed to a collaborative and inclusive environment, we can all help ensure that every person has a voice and feels safe, accepted, and valued.
At 3M, diversity and inclusion are inseparable parts of our culture. We believe that they contribute to the success of our scientific research and development, which extends across industries such as health care, automotive, worker safety, and more.
With over 90,000 employees around the world, we not only seek and value each person's differences – in cultures, ages, nationalities, religious beliefs, backgrounds, genders, and physical and mental abilities – but we are also committed to producing an inclusive environment that encourages creative thinking and innovation.
Connected minds create better solutions.
Diversity and inclusion play an integral role in producing an empowered and engaged community. It is when this type of collaborative and inclusive conversation occurs that people feel comfortable enough to step out of their comfort zone, speak their mind, and participate. As a valued team member whose voice is appreciated, employees can feel confident to work with others, solve problems, and create better solutions for our customers.
"Coming to work everyday as your authentic self means that you can focus on your job rather than fear of prejudice or unacceptance…One of the foundational elements of community is support and respect. The connections I make with my peers and leaders are strengthened by sharing these underlying values."

Zachary Livshin, Vice-Chair, Pride Employee Resource Group
Creating impactful inventions also requires creativity, out-of-the-box ideas, and anticipating the needs of the future. Here's where the diversity factor comes in. Studies show that being around a diverse group of people makes us more creative, diligent, and hardworking.1 Therefore, exploring and embracing these differences not only has an immediate impact on our employees, but it also helps drive long-term change as they discover ways to use science to make homes and businesses safer and more productive.
An inclusive culture leads to better decision making and innovation,2 and this culture has allowed us to use different perspectives to understand our customers' needs. As a result, we have created thousands of innovative solutions for over one hundred years and currently hold over 115,000 patents.
"By being a diverse and inclusive culture, we can understand our customers and markets better. If we only have one or two perspectives on things, then we are unable to solve our customers problems regardless of geographic location or age, or whatever the situation is. We are more relevant to our customers because we mirror what's happening with them."

Mary Forret, Inclusion and Diversity Council
Just a few of our inventions that were conceived of through collaboration include the world's first water-resistant coated abrasive in 1921, a dental composite to replace metal fillings in 1964, and Post-it® Notes in 1980. Today, we continue to adapt to the changing needs of our customers and use science to develop innovative products to solve every day problems. For example, Tensor™ Kinesiology Supports helps people feel more comfortable with innovative targeted pressure technology, Scotch™ Flex & Seal is a smarter solution for shipping, and 3M™ PELTOR™ Electronic Earplugs use advanced technology to protect your hearing while improving situational awareness. All of these solutions are a testament to the power of collaboration across cultures, geographies, schools of thought, and experiences, and they have helped produce new categories of products in various industrial and private sectors.
Diversity is the difference, and inclusion is leveraging those differences.
Our commitment to fostering collaborative conversation in the workplace has enabled us to increase diversity in our employee population in Canada by 7.4.% since 2015 (for a total of 40.7%).3 3M reviews the demographics of its population regularly and obtains information through employee self-declaration.
"[At 3M], it's the culture you can see that's embedded in people's minds and behaviour, and it shows in every possible way."

Mitesh Chaudhari, Application Development Specialist
Our Inclusion Survey shows that over 75% of 3M employees believe that their workplace is positive and promotes inclusion.5 Respondents say that this collaborative culture helps increase their productivity while inspiring them to share their ideas.
Here's how we're embedding diversity and inclusion into our culture and community.
Diversity is engrained in our processes and programs, including our Employee Resource Groups, such as the Women's Leadership Forum, PRIDE, and Multicultural and disAbilities Network, and we consider diversity in our succession planning and High Potential Employee programs. We are also helping to promote inclusion internally through our participation and support efforts in International Women's Day and World Day for Cultural Diversity.
We value community initiatives like the Pride Parade where 3M employees march for inclusivity and to celebrate authenticity. Our involvement in sponsorships such as FIRST Robotics not only help us close the gender gap in STEM, but also teach the next generation of scientists to come together to problem solve and share unique ideas as a team.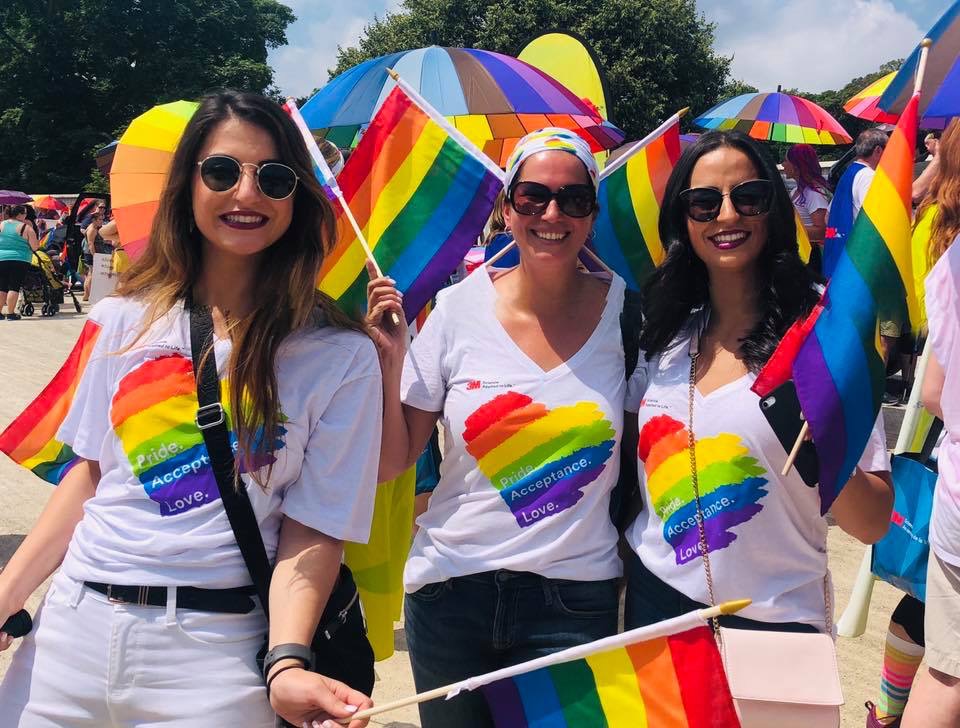 Finally, 3M celebrates Global Inclusion Day annually to acknowledge and show our support for initiatives that will create positive change and lead to a brighter future. On Global Inclusion Day, our employees come together in solidarity to discuss how we can empower each other and affirm that every person's ideas and perspectives make a difference.
"I feel that 3M's tremendous dedication towards Diversity and Inclusion is a big step towards improving corporate awareness and education. Ultimately, we need to create an environment where everyone can feel comfortable and safe to self identify. [We] recognize this need and our plans in 2020 and beyond reflect this commitment to make 3M a safe space."

Donna Tomicevic, Co-Chair, 3M Multicultural Network
These initiatives, as well as those of 3M's Inclusion and Diversity Council, have resulted in constructive and impactful action with the goal of raising awareness around sensitive topics.
Acceptance is at the heart of who we are – and who we want to be.
To become a champion of diversity and learn more about our culture of acceptance, visit our page.
References
How diversity makes us smarter. Available at: https://www.scientificamerican.com/article/how-diversity-makes-us-smarter/
How diverse leadership teams boost innovation. Available at: https://www.bcg.com/en-us/publications/2018/how-diverse-leadership-teams-boost-innovation.aspx
Data on file. As of June 2019.
Data on file. As of June 2019.
Data on file. As of 2016.