How to clean your griddle in record time.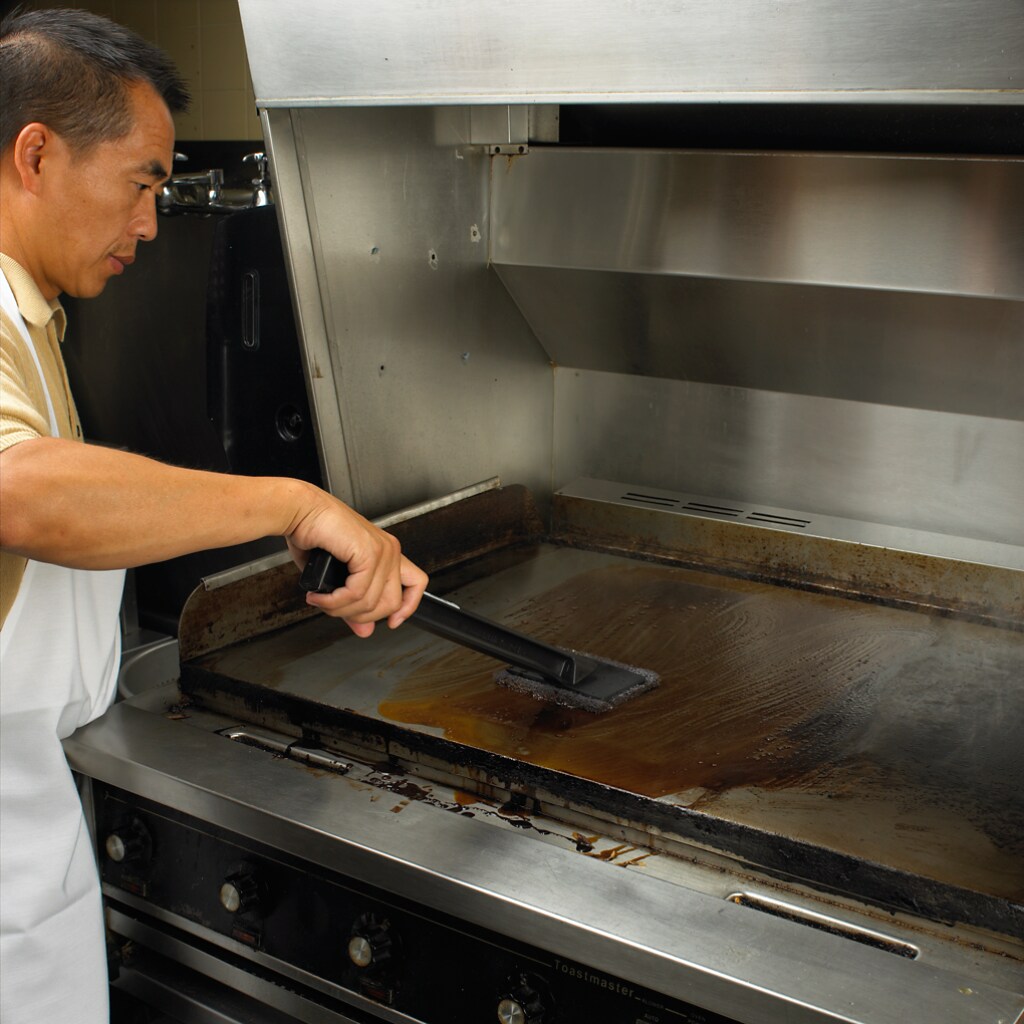 There are a lot of reasons why people enter the restaurant industry – from the love of food and the creative expression, to the fast-paced and highly-demanding environment and the strategic challenge of running a competitive business.
But ask around and you'd be hard pressed to find anyone who works in a restaurant because they love the menial tasks – perhaps the worst of which is the dreaded griddle duty.
Not only can cleaning a griddle be unpleasant and time consuming, it can also be also hazardous – involving high heat, grease, and sometimes, dangerous chemicals. It's a truly dirty job, but somebody's gotta do it.
So what happens when that somebody is you?
Cut your time spent on griddle duty (almost) in half
Anytime you're able to get through an unpleasant job quicker – and still do the job well – it's always a preferable option.
And restaurant workers across the nation are finding that by using the Scotch-Brite® Quick Clean Griddle Cleaning System, they're able to cut their time on griddle duty down significantly.
The 3M™ Scotch-Brite™ Quick Clean Griddle Cleaning System uses a powerful but safe liquid cleaner that quickly removes burnt-on food soil from the hot griddle surface. In laboratory tests conducted by 3M, the system outperformed traditional griddle cleaning products such as grill bricks, griddle screens and other chemical cleaners.
In fact, the system has been shown to safely and easily clean griddles 40 per cent faster than the leading competitive system* – saving almost half an hour of dirty work.
You can even use it to clean the grill throughout the day, so you'll have even less grease to deal with at the end of your shift.
Safe and simple griddle cleaner
The 3M™ Scotch-Brite® Quick Clean Griddle Solution is safe – both for those who are using it to clean and for the food that's being prepared on the grill.
Because it's made of mostly glycerine and water, you don't have to worry about handling any of the harmful ingredients that you may find in many other griddle cleaning systems, such as caustic soda, sodium hydroxide or potassium hydroxide, which can also give off a strong chemical odour.
Plus, the cleaning liquid comes mixed and ready-to-use in pre-portioned packets with enough to clean a standard-size griddle, or in quart bottles, which are marked to show how much you'll need for each cleaning.
Using 3M™ Scotch-Brite® Quick Clean Griddle Cleaning System is as easy as 1-2-3
1. Squirt on Scotch-Brite® Quick Clean Griddle Liquid
The liquid cleaner loosens and lifts carbonized grease and food soil when it makes contact with a hot griddle (300-350° F).
2. Scour
The Scotch-Brite® Griddle Polishing Pad is gentle but effective, scouring with less effort than traditional griddle cleaning products. Unlike grill bricks, it leaves no residue and polishes the griddle surface. The Scotch-Brite® Multi-Purpose Pad Holder's long handle also helps make cleaning easier, while keeping employees' hands away from the hot griddle surface where they could get burned.
3. Squeegee
Liquid residue is quickly and easily removed with the system's Scotch-Brite® Squeegee. This flexible, high temperature-resistant rubber blade is attached to a long handle to safely remove residue from the griddle surface to the grease trap.
A griddle cleaner that's Green Seal certified
Scotch-Brite® Quick Clean Griddle Liquid is Green Seal certified under the GS-53 Green Seal standard for "Specialty Cleaning Products for Industrial and Institutional Use," meaning it's a more sustainable, non-toxic, environmentally-preferred cleaning product.
Scotch-Brite® Quick Clean Griddle Liquid is currently the only GS-53 certified griddle cleaning liquid in the industry.
Do you need to see it to believe it? Get a free demo and a sample
For more information about The Scotch-Brite® Quick Clean Griddle System, contact the 3M Cleaning and Workplace Safety Business 1-800-3M-HELPS, or go on line to view a demo at: www.3M.ca/cleangriddle
*Based on time to clean equivalently soiled griddle surfaces with a basked-on food soil mixture.