Graphics transform a landmark to energize the community.
On the shoreline pedestrian trail of Lévis, Québec, the Valero Energy Corporation reservoir towers stood apart from the romantic landscape and picturesque view of Quebec City.
When the city challenged Valero to better integrate the reservoir towers into the natural environment, they embraced the opportunity. But they first needed to overcome the shape, texture and sheer scale of the structures – plus their highly flammable content.
By partnering with local graphics manufacturer Groupe têtu and 3M Canada, they devised a larger-than-life approach using a smart solution: 3MTM EnvisionTM Print Wrap Film 480.
The challenge
Aside from the aesthetics, the Valero reservoir tanks presented a number of challenges:
Size: The front-facing surface of the two reservoirs is a combined 40,000 square feet.
Shape: The towers are cylindrical in shape, meaning any covering needs to be conformable.
Texture: The exterior surface of the tanks is rough and stippled, making them difficult to adhere to.
Flammability: The tanks house oil, which can catch fire if exposed to heat. The use of any heat source was banned from the application process.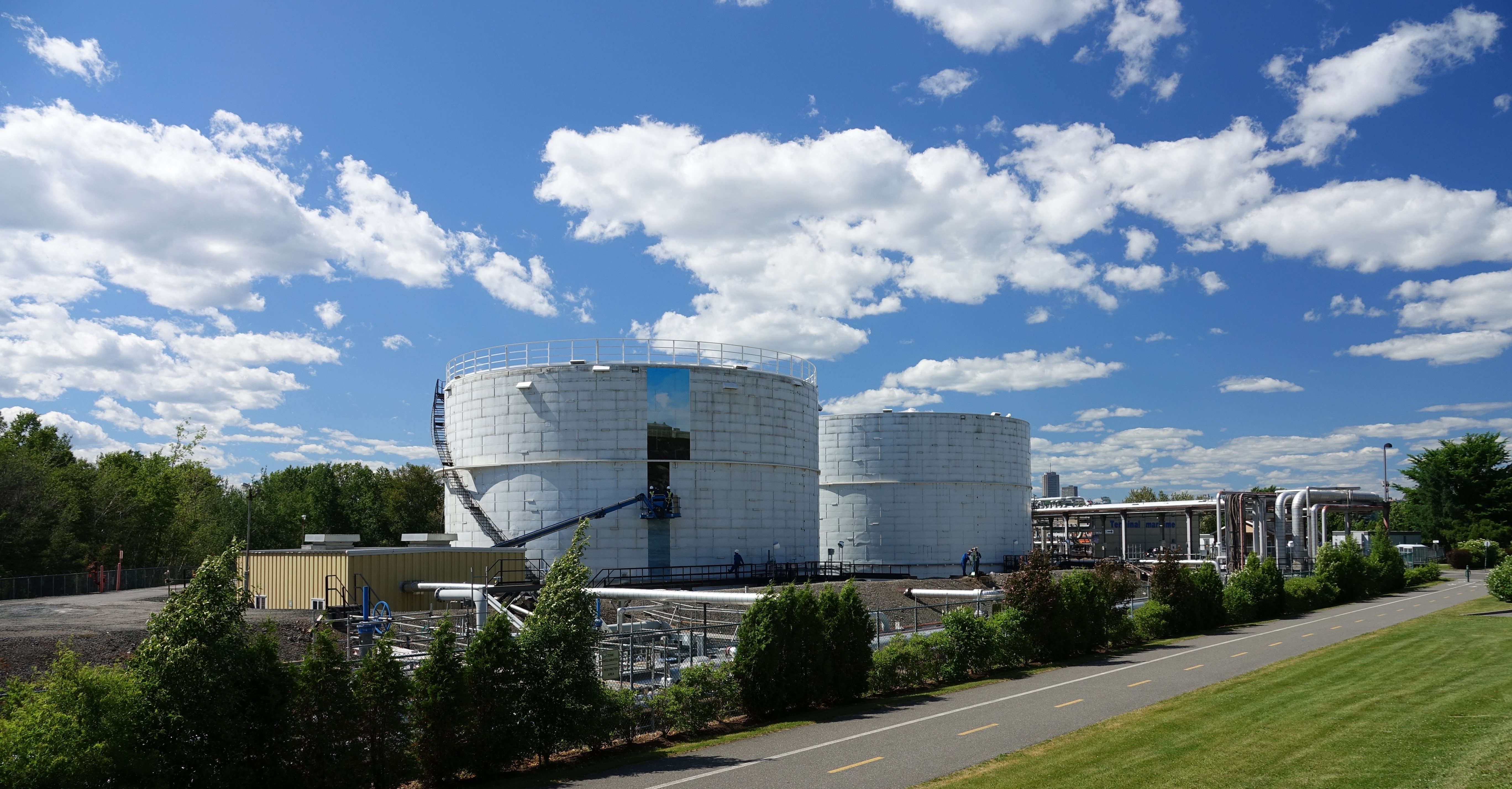 Before: The original Valero oil refinery towers stood apart from the picturesque view of Quebec City.
After: The vinyl wrapped towers are now a destination the community is proud of.
The solution
To transform the Valero reservoir tanks, the team opted to design and install a large scale graphic showing a historical view of the shoreline.
After investigating the application challenges, they chose 3MTM EnvisionTM Print Wrap Film 480. With 150% stretch capabilities, the material could be applied to the round, rugged surfaces of the tanks without issue. Most importantly, it could be installed using the heat naturally radiating off of the metal tanks – no heat gun required.
As a non-PVC film, 3MTM EnvisionTM Print Wrap Film 480 also provided an environmentally-friendlier alternative to PVC products that aligned with Valero's commitment to sustainability.
The team printed the image on the film and installed the graphic using over 80 vertical panels.
The results
The Valero reservoir towers installation is the largest graphic film project in the region.
This ingenious team effort transformed the Valero reservoir tanks into a picturesque destination the Lévis community can be proud of. Locals and tourists now regularly stop along the nearby trail to snap photos and admire the historic image of Québec City.