V.E.I.N.S.S. series, part four: aseptic non-touch technique.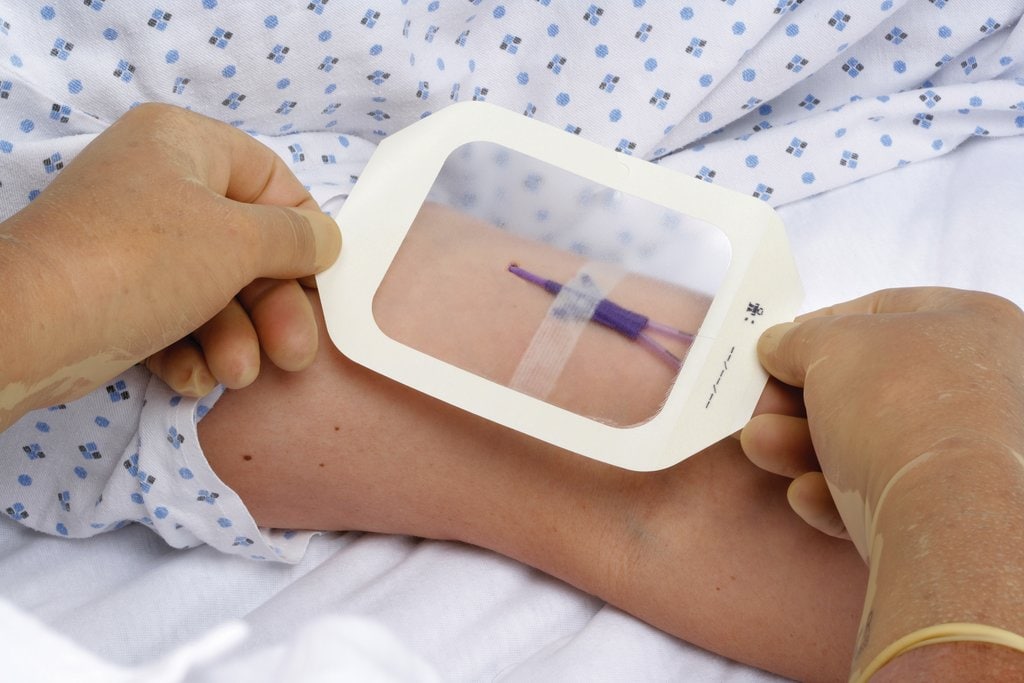 If you were to poll 100 healthcare providers from various settings, asking the question, "explain the key components of the 'no touch technique," you will likely get many different answers. There continues to be a wide variation of understanding and practice for the no-touch technique.
Traditionally, the paradigms of sterile, aseptic, and clean have been used, without a clear distinction and evidence to contribute to the various practice variations. A hierarchy of techniques has worked its way over time into practice: sterile, aseptic, or clean. Without a clear theory or definition, these practices have taken on several variations, including the 'clean technique' and the 'no-touch technique'. The result, in my opinion, is inconsistencies in practice and unintentional infection.
What is aseptic technique?
Aseptic technique is a key component in preventing healthcare acquired infection.
Asepsis is defined as a process for helping keep away disease-producing organisms in sufficient quantity to cause infection.3 In general terms, aseptic technique outlines a set of best practices and procedures that healthcare professionals use to prevent the transfer of pathogenic microorganisms to patients.2 Based on this definition, regardless of whether the procedure is simple or complex, the goal for healthcare professionals is to help prevent the transfer of pathogens.
It all begins with the environment. The work surface for preparation or procedures should be clutter-free and cleaned with antiseptic wipes to help reduce the risk of contamination.4 Next, think about where the PVAD insertion will take place. Consider the risk of airborne transmission of bacteria (staph aureus, MRSA, clostridium difficile).2 If you are working in an open clinic and the patient next to you has a weepy wound with MRSA, this might not be the most appropriate time to start a peripheral vascular access device.
Aseptic no-touch technique vs. aseptic non-touch technique (ANTT®).
Aseptic non-touch technique (ANTT®) is an alternative to the 'no-touch technique' mentioned earlier. ANTT® is a theoretical and practical framework for aseptic practice which began in 1993 by the ANTT project.1
The ANTT® framework is recognized globally with peer-reviewed standard clinical guidelines and quality measures for auditing purposes.2 ANTT® has defined terms for clarity and consistency and defines aseptic fields to aid in healthcare professional's assessment of risk. The unique standardised approach to aseptic practice has been shown to help reduce healthcare acquired infection.1
Procedures appropriate for ANTT® include:
Peripheral vascular access device (PVAD) insertion and removal.
IV site care and maintenance.
Dressings, namely application and removal.
Medication and infusion administration.
Every IV system access point (flushing, changing the IV solution bag, or administration set).
How can the ANTT® principle help reduce contamination and infection?
A principle of ANTT® is that sterile 'key-parts' do not come in contact with anything that is non-sterile.4 Understanding the concepts of key-parts and key-sites is the root of this technique:1, 2, 4,5 Key-parts are the parts of equipment that, if contaminated, would provide a direct route for transmission of pathogens from the procedure to the patient, such as the cannula, the catheter hub, or IV port. Key-sites include any point of entry into the patient, such as wounds, stents, and vascular access device insertion sites.
Surgical-ANTT® is used for clinically invasive procedures that are technically difficult or that have a long duration. Standard precautions, full barrier precautions, and a sterile drape are required. A procedure with surgical-ANTT® should allow for the assessment of the procedure and environment to help ensure the ability to protect and maintain asepsis of all key-parts that will be used. Think of a PICC line insertion. The procedure area is large, and the key-site is invasive. Other examples include urinary catheterization and surgical procedures.
Standard-ANTT® is used for invasive procedures that are less technically complex and of short duration. A procedure needing Standard-ANTT® is one that has few key-parts. It is simpler to work with and use the non-touch technique. Examples include accessing a PVAD insertion, administering intravenous medications and wound dressings.
Common breaches in aseptic non-touch technique specific to VAD practice include:4
Procedure

Practice breach

PVAD insertion

Work surface not adequately cleaned.
Inadequate hand hygiene.
Touching area of insertion post skin antisepsis key-part.
Touching any part of the cannula key-part.
Fanning skin to aid drying.
Pressing directly over or on the insertion site entry point.
Contaminating dressing on application.
Reuse of tape roll or tourniquet.

VAD dressing change

Work surface not adequately cleaned.
Inadequate hand hygiene.
Touching the IV entry site key-part.
Inadequate skin antisepsis.
Not allowing skin prep to dry completely.
Improper dressing application.

VAD removal

Work surface not adequately cleaned.
Inadequate hand hygiene.
Touching IV entry site key-part.
Failure to clean site.
Applying a non-sterile dressing post-removal.

Chart adapted from Campbell & Bowden4
Whether the procedure is invasive or complex (e.g. PICC line insertion or lumbar puncture) or an IV dressing change, the ANTT® principle can help healthcare professionals be efficient and safe.1.
Inherent within the ANTT® framework are standardised processes and training for hand hygiene and environmental controls to help reduce the risk of contaminating Key-Parts and Key-Sites. Consideration is needed for patient preparation, preparing the equipment, and devices ahead of time.
Applying the ANTT® principles.
Practical application includes completing a risk assessment prior to starting any procedure. Ask if you are able to perform the procedure without touching key-parts and key-sites directly. If there are multiple sterile items, a sterile field is needed to prevent contamination. Factor in the technical difficulty and the competency of the healthcare professional. Someone with less experience may need a larger sterile field to avoid contamination. Correct use of clean non-sterile gloves may be used when starting a PVAD, provided ANTT® is applied fully. If skin antisepsis is completed and it is necessary to touch the disinfected area (key-part), then sterile gloves should be worn. Do not clean gloves with alcohol, CHG, or soap and water as this may compromise their integrity.4
It is important to follow hand hygiene principles as outlined in the CVAA 2019 guidelines (see V.E.I.N.S.S. Part 3).6 Ensure that boxes of gloves are not moved from dirty to clean rooms (consider touch and airborne bacteria). Some organizations have separate dressing carts containing boxes of gloves. Remove what is needed prior to the procedure and remember not to temporarily store them in the pocket of your scrubs or lab coat.
The standardization of ANTT® throughout the organization can help to reduce healthcare acquired infection. It can also help eliminate ambiguity and inconsistencies between healthcare providers and simplify practice. Finally, review policies and procedures to clarify terminology and revisit surgical, aseptic, and clean procedures to reduce VAD-associated infection.
For more information on the aseptic non-touch technique, contact a representative by filling out the form below.
References.
Association for Safe Aseptic Practice. Forthcoming. Available at: http://antt.org/ANTT_Site/about.html
Rowley, S., Clare, S., Macqueen, S., and Molyneus, R. 2010. "ANTTv2: An updated practice framework for aseptic technique," Br J Nursing 19: S5-S11.
Iwamoto, P. et al. 2014. "Aseptic technique," in APIC Text of infection Control and Epidemiology (4th ed.). Open source: APIC Textbook 4th Ed online.
Campbell, C. and Bowden, T. 2011. "Peripheral vascular access devices: care and maintenance," in Br J Cardiac Nurs. 6(3): 132-140.
Rowley, S. and Clare, S. 2019. "AVA Guidance document: standardizing the critical clinical competency of aseptic, sterile and clean techniques with a single international standard: Aseptic Non-Touch Technique (ANTT®)." Association for Vascular Access. Available at: https://cdn.ymaws.com/www.avainfo.org/resource/resmgr/files/position_statements/ANTT.pdf
Canadian Vascular Access Association. 2019. Canadian Vascular Access and Infusion Therapy Guidelines. Pembroke, ON: Pappin Communications.
Disclaimer: Karen Laforet is a 3M-sponsored blogger. The opinions expressed in this article are those of the individual.