Up your metalworking game with grinding technique.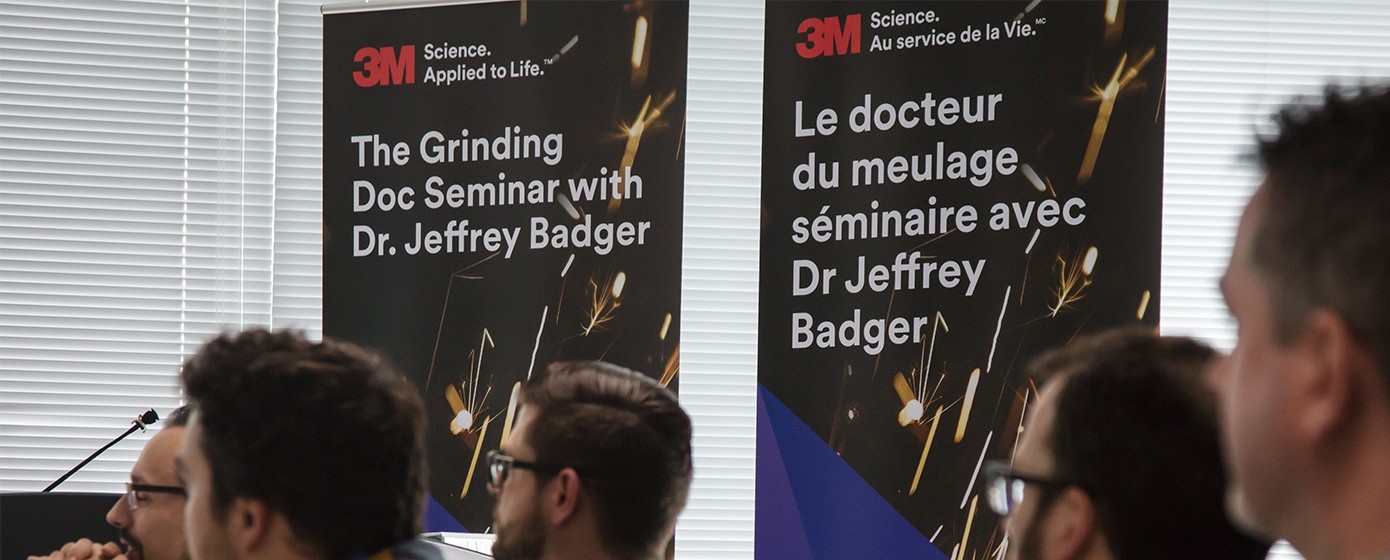 How grinding theory can help you get the most from your operations and improve your competitive advantage.
Grinding shouldn't be grinding. But for many industry veterans, finding the right formula can be a frustrating process of trial and error.
You can spend hours – even days – trying to perfect your process. In the meantime, you can feel your costs and your blood pressure rise. Labour time, cycle-time, consumable waste, mistakes and rejects: they're all sacrificed while you sort things out.
The struggle is real – but it doesn't have to be. According to Dr. Jeffrey Badger, a.k.a. the Grinding Doc, science offers a better way.
Metalworking magic? There's science behind the sparks.
In metalworking, grinding is widely considered a black art.
"Many people think you have to grind by feel, and that there are no formulas or concepts to guide you," Dr. Badger says. "That is a big misconception."
As a celebrated industrial grinding expert, Dr. Badger has dedicated his life to sharing grinding theory. Through consulting, training, online learning, and regular contributions to industry magazines, he has helped businesses in over 30 countries around the world improve their operations and competitive advantage by understanding the science that drives them.
"There are thousands of people grinding every day. They have no training, they don't really understand the process – they're doing it through trial and error," he says. "What I teach is a more scientific, methodical way of analyzing the process."
The grinding doc explains grinding theory.
By definition, grinding is a metal-cutting process. Each grain of abrasive functions as a microscopic single-point cutting edge that shears a tiny chip as it makes contact.
Effective grinding is not just a matter of making contact. The type of wheel, the type of coolant, how fast the wheel spins, how quickly the coolant is applied, and the pace at which the workpiece makes contact: all of these factors can dramatically change the grind.
"It sounds very boring and encyclopedia-esque," Dr. Badger jokes. But the benefits businesses stand to gain are serious business.
Grinding to a halt.
Some might argue a cut is a cut. But sparks can be a sign of friction wearing on your bottom line. Even microscopic variables can extend your cycle times, and drive up consumption and scrap rates.
"The biggest risk is something called 'grinding burn,' where the work piece temperature gets too high and you damage the metallurgy of the workpiece," Dr. Badger says. "You also run the risk of 'chatter,' where you get vibration and then the workpiece ends up with little waves on it."
All of these issues stack up to wasted time, wasted product, and wasted money.
Sparking metalworking productivity.
By understanding this microscopic process, businesses can realize major savings.
From boosting quality and cost-savings, to reducing cycle-time and waste, grinding theory can help businesses improve their operations and drive competitive advantage.
"I've had clients reduce their grinding wheel costs by several million dollars. I've had people cut their grinding wheel consumption in half. I've had people cut their labour costs by 20%," Dr. Badger says. "All of this just because they know what they're doing, and they now have some science behind it."
Put the theory into practice.
3M offers a wide range of precision grinding and finishing products designed to help give you the most from your operation. For more information about 3M Abrasives, go to 3M.ca.