Industrial duct tape you can depend on.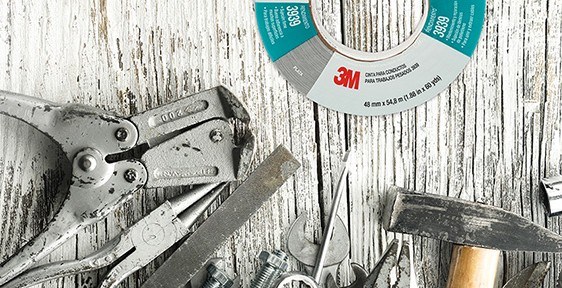 Like every good sports team needs an all-rounder, your tool box too can benefit from a MVP. Duct tape is designed to help you overcome a wide variety of maintenance challenges, but not all products are created equal.
The top draft pick? Many industrial facilities rely on 3M™ Heavy Duty Duct Tape 3939.
Duct tape with tough, trusted performance.
When choosing an industrial duct tape, you need a product you can depend on. It must be consistently versatile and tough, whether you're creating a seal around insulation and ductwork, hanging drapes, or splicing insulation.
Like a reliable team player, 3M™ Heavy Duty Duct Tape 3939 is designed to swing into action when you need it the most around your industrial facility. With medium stretchable strength and a strong moisture resistant backing, it's a reliable performer in tough applications like containment sealing and masking for sandblast overspray protection. Its writable surface also makes it the ideal duct tape for marking and identification.
Where to use industrial duct tape.
Like any good coach, you want to utilize your best player's strengths. You know your duct tape is strong, but you may be surprised how adaptable it truly is.
You can use 3M™ Heavy Duty Duct Tape 3939 for a variety of industrial maintenance, repair, and operations jobs. This includes:
Power cord holding: When securing cables on the ground, high-tack adhesive holds your cables tightly together
Wire pulling: The natural rubber adhesive provides a strong grip when pulling cables
Joint reinforcement/splicing: Strong, moisture-resistant backing can withstand abrasion and resist wear
Template or polydrape holding: Easy-to-tear material means you don't waste any time setting things in place
Bundling: Conformable backing contours around different materials to create a tight seal
Let us know how you use 3M™ Heavy Duty Duct Tape 3939.