Why industry must invest in the leaders of tomorrow.
Who do you want at the helm 20 years from now? Every industry leader should be asking themselves this question.
Sustainability isn't just about the environment. Securing a brighter future with a strong economy will require a workforce equipped to deliver it. We need savvy change agents, who approach problem solving through social innovation.
That's why our sustainability investments don't just focus on resources and materials. We also invest in sustainable development and education.
Sustainable development: Investing in the next generation of entrepreneurs.
The challenges facing today's business environment are increasingly complex and demanding.
We are facing shortages in energy and raw materials, contaminants in our air and water, and extreme changes to our climate.
At 3M, we believe the future of our business depends on our ability to "do good." But to impact meaningful change, there is no short-term fix. Securing a brighter future will demand intensive, disciplined focus for years to come. This means equipping tomorrow's leaders with the tools they need to think differently today.
Programs like the Enactus Canada National Exposition are important incubators for sustainable development. This national competition is a hub for future entrepreneurs who aspire to do "good" business.
University students from across Canada form multi-disciplinary teams to tackle real issues facing their communities. From turning waste into environmentally-friendly packaging materials, to helping refugees transition into their new homes, to bringing fresh food to northern Canada, to giving at-risk youth work experience – each project strives to make a meaningful and lasting impact.
"The Enactus approach to problem solving uses the United Nations Sustainable Development Goals as its compass. 3M's support of Enactus shows me that that they're dedicated to doing good business and that they're working toward a big-picture goal."
– Ross Arsenault,
Enactus Team Co-President, SMU
Master of Technology Entrepreneurship & Innovation (first-year)
Bachelor of Commerce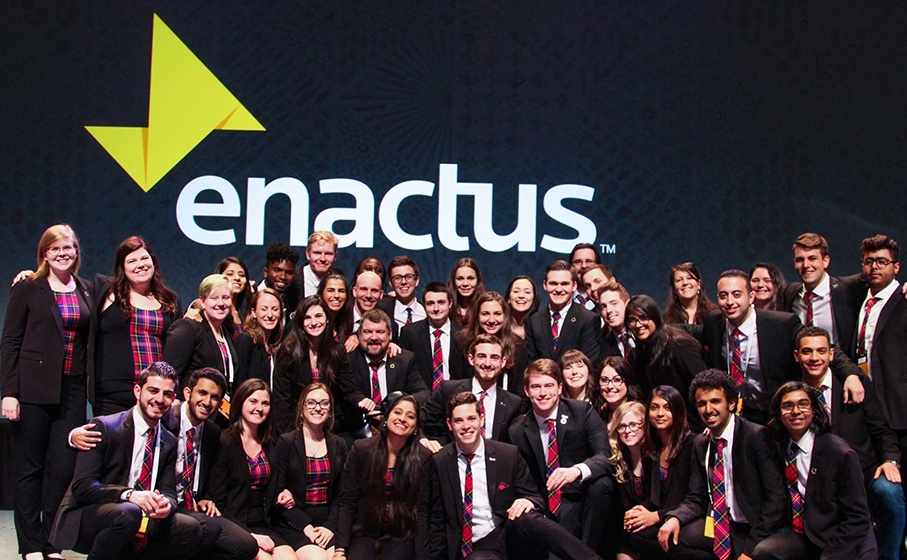 VANCOUVER, BRITISH COLUMBIA – May 2017 SMU Enactus team celebrating their big win at the 2017 Enactus Canada National Exposition.
How tomorrow's leaders are driving social innovation today.
To understand the power of investing in sustainable development, we need not look further than the 2017 Enactus Canada National Exposition.
We awarded this year's 3M Canada Problem Solving Project Partnership Best Project to the SMU Enactus team. Their Aquality Solutions project applied science to providing access to food resources for remote indigenous communities. This is an incredibly complex issue, and couldn't be solved with an instant fix. To deliver lasting, meaningful social innovation, the SMU team needed to think differently and focus on the future.
The SMU team credits their success to the social enterprise tripod – an approach they learned through the Enactus program. This method focuses on making a profit, while being good for the environment and being good for people.
I love the clear sense of duty behind this vision. At 3M, we're are always striving to "be good" for our employees, the environment and the communities we serve. Seeing so many bright young Canadians championing the same values gives me hope that a brighter future is within reach.
Learn more: 3M's investment in sustainable development.
As industry leaders, we have a responsibility to help equip tomorrow's leaders for social innovation. Learn more about our investment in programs like Enactus.
Get the latest science news from 3M Canada.