V.E.I.N.S.S. series, part one: ways to help improve vascular health.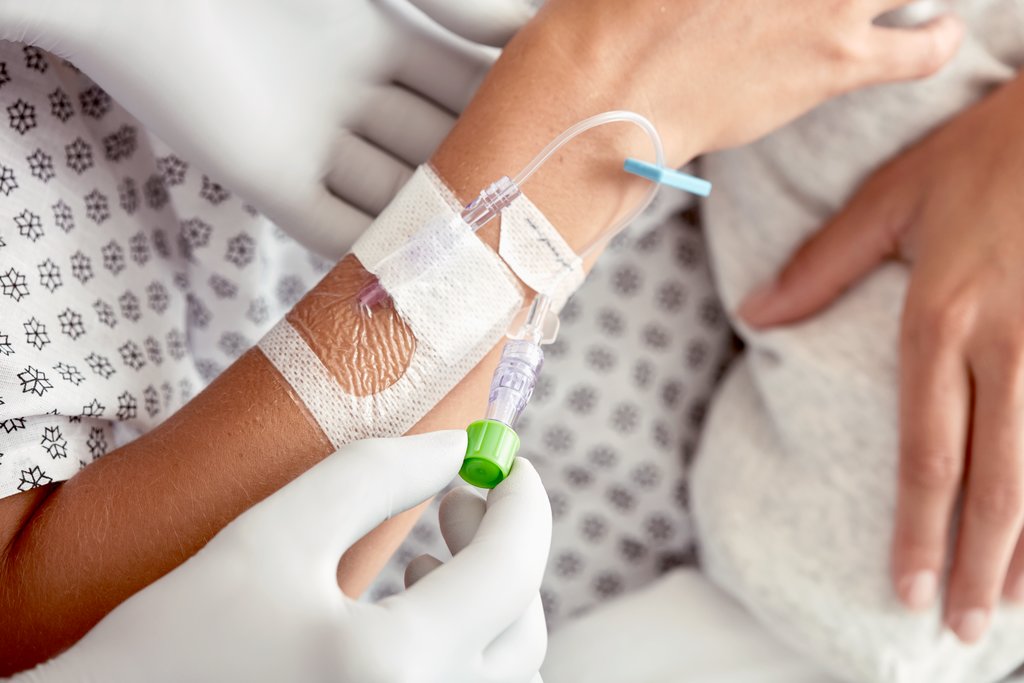 Vascular access and the administration of intravenous drugs and fluids are common practices in healthcare, and they play an important part in the care and management of many patients.1
In fact, 80% of patients who enter the health care system will have a peripheral venous access device [PVAD] (formerly called peripheral IV [PIV] or IV), making this the most common invasive procedure performed.2
However, any invasive procedure carries both short-term and long-term risks, including infection, injury to the veins, and delayed treatment.³
Why vascular health and treatment decisions are important.
Diligent healthcare professionals know that treatment decisions made today may have a negative impact on their patient in the future. Therefore, reducing the risk of a patient 'running out of veins,' preventing a blood stream infection, and improving 'first stick' success rates are essential.⁴
Advocating for vascular health and treatment decisions is important for providing the best clinical outcomes for patients. Therefore, I have developed the V.E.I.N.S.S. Series, which will discuss the important components of successful peripheral venous access device insertion, care and maintenance, and successful treatment outcomes. Using guideline recommendations from the 2019 Canadian Vascular Access Association (CVAA), Infusion Therapy, and Vascular Access Guidelines, I hope to inform and stimulate discussion regarding this important topic.
Look out for our six-part V.E.I.N.S.S. series that explores these important topics.
Vessel health.
Evaluation and assessment.
Infection control.
No-touch technique.
Securement and stabilization.
Skin integrity.
Part 1: the importance of vessel health and how to improve it.
Vessel health preservation (VHP)5,6 is the awareness and conscious effort to help reduce the amount of trauma and/or damage associated with venous access.
Recommendations and standards to help patients with chronic kidney disease preserve upper extremity peripheral veins for a future fistula site have been in place for quite some time. It is crucial to their survival. Similarly, all healthcare professionals ought to think beyond the patient's current admission, focusing instead on preserving upper limb veins for the long-term health of patients.7 A patient-centric vascular access plan is paramount for vessel health.8
Unfortunately, exhausting a patient's peripheral veins is an all too common occurrence, especially for those living with a chronic disease. A recent study shows that hospital patients averaged two PVAD replacements over a five-day course of IV therapy. Keep in mind this is the average and doesn't include the number of failed attempts for restarts.9
Preventing damage after PVAD insertions.
What we do know is that the body's clotting mechanism starts upon PVAD insertion, regardless of if the cannula stays in place or not.10 The trauma of the 'stick' releases platelets and white blood cells that build up on the internal vein lumen, eventually reducing blood flow.
Continued "poking" or "fishing for a vein" can further damage the endothelium, causing inflammation, formation of blood clots, and more scar tissue, not to mention the unimaginable pain for the patient. Over time, and with repeated needle access, the vein(s) becomes sclerosed and it can lose elasticity and the ability to vasodilate or constrict. This essentially destroys the vein entirely.
How preserving vessel health can help.
Improving vessel health can help keep your patients' veins strong and viable. Therefore, it is important to think about what strategies you might adopt in your practice setting to improve and maintain vessel health.
Key elements include a comprehensive vascular access planning and device selection, ensuring healthcare professionals' knowledge and skill competencies for PVAD insertion, infection control, and device management. There are many variables that affect the outcome, and these considerations should be included in your healthcare facility's protocol. This six-part series will explore each of these sections in more detail.
Interested in learning more?
Read Part 2 of the V.E.I.N.S.S. Series, Evaluation and assessment: what is your call to action?, to learn more about how every touch point associated with PVAD is crucial to vessel health and the prevention of vascular access related complications.
For more information on vessel health, contact a representative by filling out the form below.
References.
Gabriel, J. 2013. "Long-term central venous access device selection," Nurs. Times 9(39): 12-5.
Waitt, C., Waitt, P., & Pirmohamed, M. 2004. "Intravenous Therapy," Postgrad Medical Journal 80: 1-6.
Moureau, N.L. et al. 2012. "Vessel health and preservation (Part 1): a new evidence-based approach to vascular access selection and management," Journal of Vascular Access 13: 351–356.
Ahmed, H.A.M., Gamal Ali, H., Gamal Ali, L.M. 2016. "Best Practices Nursing Guideline in Phlebotomy for Patient Safety and Quality Improvement," J Nursing & Health Science 5(4): 1 -16.
Moureau, N.L. 2019. "The VHP Model Part 1," in Vessel health and preservation: the right approach for vascular access. Griffith University: Nathan QLD, Australia.
Hallam, C. et al. 2016. "Development of the UK Vessel Health and Preservation (VHP) framework: a multi-organisational collaborative, " J Inf Prev 17(2): 65-72.
Brazunas, M. (2016). "Do we still need to emphasize vein preservation in vascular access?," JAVA 1(1): 11-2.
Canadian Vascular Access Association. 2019. Canadian Vascular Access and Infusion Therapy Guidelines. Pappin Communications: Pembroke.
Foor, J. 2019. "Selecting the right vein for hemodilution and infusion of IV medications." AVA presentation: "Inside the vein video gallery: a study of velocity, valves and hemodilution for VADs." (Unpublished)
Moureau, N.L., McKinnon, B.T., Douglas, C.M. 1999. "Multidisciplinary management of thrombotic catheter calculations in vascular access devices," JVAD: 4(2): 22-29.
Disclaimer: Karen Laforet is a 3M-sponsored writer. The opinions expressed in this article are those of the individual.