V.E.I.N.S.S. series, part five. PVAD securement and stabilization.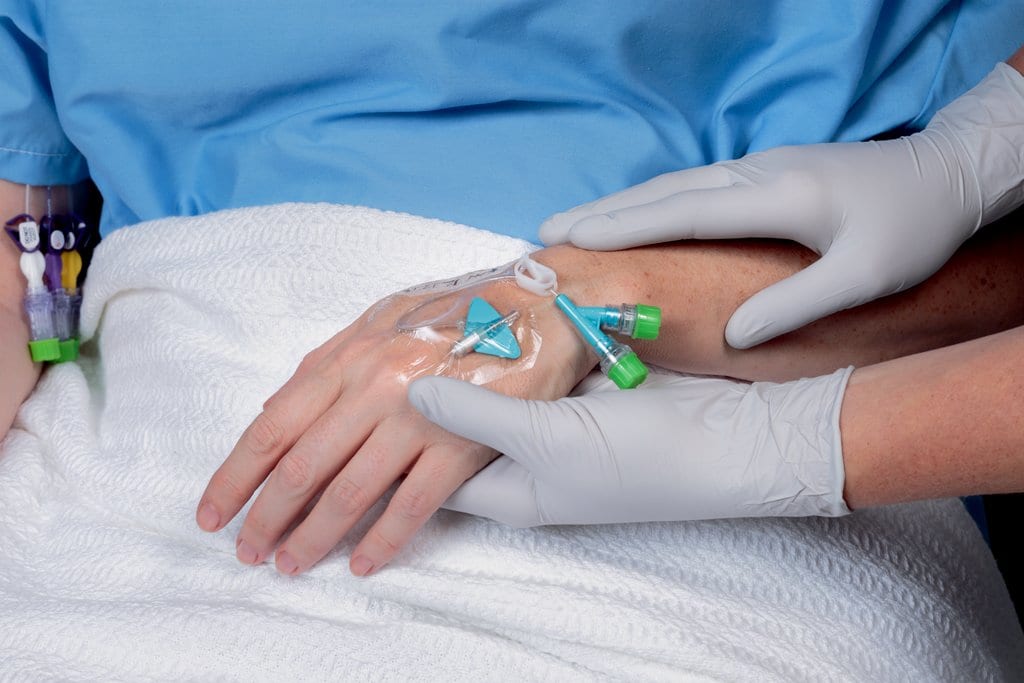 The insertion of peripheral vascular access devices (PVADs) is one of the most common procedures performed in health care.1
However, PVADs have the highest failure rate prior to completion of therapy.1 Failure can occur for many reasons, such as dislodgement, patient interference, occlusion, infiltration, phlebitis, infection, catheter migration during a dressing change, and other PVAD-related complications.2, 3
PVAD failure rates are as high as 70%.2 This may be because the catheter 'floats' in the vein. If the device isn't properly secured, it doesn't take much for the catheter to roll, shift, or slip out completely. To help resolve this problem, healthcare professionals use catheter securement and dressings to help keep the catheter stable and in place.
How can you ensure PVAD securement and stabilization?
Before the PVAD is secured and stabilized, a dressing must be selected. It should be:
A barrier. Remember that the insertion site is a wound that provides direct access to the bloodstream. Therefore, protecting the site from outside fluid and environmental irritants, bacteria, viruses, and moisture is a must.
Breathable. As moisture builds up under the dressing, it can increase bacterial growth and cause maceration. Either of these can put the patient at risk for infection and catheter dislodgement. Breathable membranes are designed to mimic how the skin works. Trans-epidermal water loss can help keep the skin moist enough, while evaporating excess moisture.4
Flexible. The body is not a flat plane. The PVAD dressing should mold around the insertion site and move with the skin. This helps the catheter stay in place until the dressing needs to be changed or the PVAD is no longer needed.
Transparent. This will allow for proper evaluation and assessment.
Once the dressing is selected, the device must be secured. Securement is important because it holds the catheter in the right position and helps reduce movement inside the vein, preventing dislodgement. The impact of inadequate securement can affect vessel health, as well as delays or missed treatments,2 infection, and an anxious patient waiting for the dreaded restart.
Vascular access device design has advanced in recent years, and a number of PVADs now incorporate stabilization devices, what used to be referred to as 'wings'. These devices help reduce the micro and macro side-to-side movement. Regardless of the PVAD that is used, securement is critical to vessel health and PVAD function.5
Choosing the most effective PVAD securement and stabilization device.
Technological advances in adhesive design has resulted in more sophisticated sutureless securement devices. Some have antiseptics integrated into the dressing and a variety of configurations with continued site observation capacity.3 The products available are placed into two categories: integrated transparent film with adhesive borders and/or built in securement properties and 'stand alone' devices that require a cover dressing.1
Methods of securement includes, but are not limited, to:6
Transparent dressings with securement properties
Chlorhexidine-impregnated dressing
Integrated securement device
Stand alone securement devices
Integrated stabilization feature on PVAD (PVAD winged design requires a cover dressing)
Consider the following factors before choosing a sutureless securement method:6
Suitability for the patient's functional ability, activity level and preference.
VAD design (this may narrow down options for consideration)
Skin integrity: dry, intact, friable, or compromised
Intended purpose
Anatomical location
Guideline recommendations indicate that the only instance in which a patient doesn't require a securement device is when he or she receives a short term PVAD (<6 hours).6 Otherwise, select a securement device that best suits the patient's and PVAD's needs.6 Sutures are to be used only for tunneled central venous access device (CVAD) post-insertion.6
Are sutureless securement and stabilization devices necessary?
A study published by Rickard et al. (2018) compares transparent dressings, bordered transparent dressing, and adhesive sutureless securement devices.7 It shows that there was a decrease in catheter dislodgement rates as well as less complications when products were applied by trained nurses and when transparent film dressings (flat, non-bordered) were used in combination with other forms of securement.7
The best dressed PVAD sports a securement device/dressing that is suitable for the patient's comfort and condition, while also effectively securing the catheter. Sutureless securement devices are not without risk. Accidental dislodgement may occur when the device and dressing are changed. Also, when an adhesive is attached to skin, there could be the risk of skin damage.
In the final article in this series, V.E.I.N.S.S. Part 6, I will discuss why this is important and why skin integrity matters.
Learn more.
For more information on PVAD securement and stabilisation, contact a representative by filling out the form below.
References.
"Examining Effectiveness of Peripheral Intravenous Dwell Times Greater than Seventy-Two Hours in Adult Patients in a Community Setting: A Systematic Review," in JBI Database of Systematic Reviews and Implementation Reports 6(17): 1-12. Available at: https://journals.lww.com/jbisrir/fulltext/2008/06171/examining_effectiveness_of_peripheral_intravenous.5.aspx
Ullman, A.J. et al. 2015. "Dressings and securement devices for central venous catheters (CVC) (review)," Cochrane Database Syst Rev. (9): CD010367. Available at: https://doi.org/10.1002/14651858.CD010367.pub2
Hill, S. and Moureau, N. 2019. "Right Securement Dressing and Management," in Vessel health and preservation: the right approach for vascular access. Griffith University: Nathan QLD, Australia: 117-130.
Thomas, S. 2016. "Vapour-permeable film dressing," in JWC 5(6).
Marsh, N. et al. 2015. "Inter-rater agreement on PIVC associated phlebitis signs, symptoms and scales," J Eval Clin Pract. 21: 893-9.
Canadian Vascular Access Association. 2019. Canadian Vascular Access and Infusion Therapy Guidelines. Pembroke, ON: Pappin Communications.
Rickard, C.M. et al. 2018. "Dressings and securements for the prevention of peripheral intravenous catheter failure in adults (SAVE): a pragmatic, randomised controlled, superiority trial," Lancet 392(10145): 419-30.
Disclaimer: Karen Laforet is a 3M-sponsored blogger. The opinions expressed in this article are those of the individual.