Using science to fight COVID-19.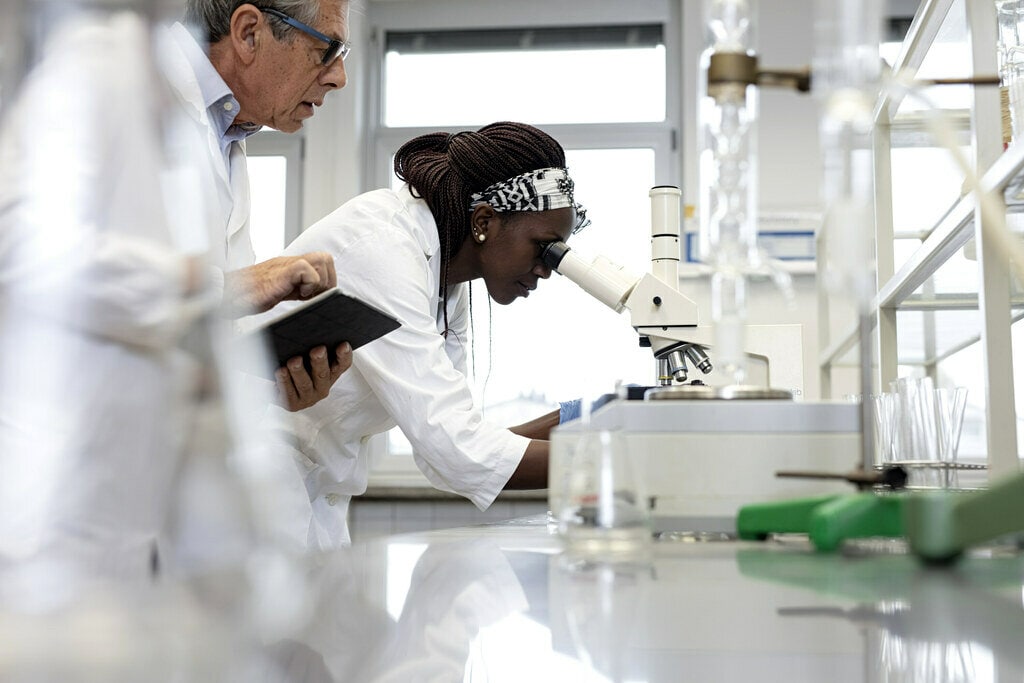 We know science is a valuable weapon in the fight against the COVID-19 pandemic.
Scientists and researchers across the globe are constantly learning about the virus and how it spreads. We are using science at 3M to help prevent the spread of the virus by manufacturing personal protective equipment (PPE) while providing solutions to assist in the race to develop a new vaccine.
At 3M Canada, the power of science is at the heart of who we are as a company. We use curiosity and creativity to study the world and build solutions that help improve lives.
Using our 51 technology platforms, our scientists and engineers have produced ground-breaking innovations. We are focused on harnessing our relentless pursuit of invention to create impactful solutions. We are now using these technologies developed in our labs for over a century in the fight against COVID-19.
Here is how our technologies are helping to battle the pandemic.
NIOSH-approved N95 respirators: the first line of defence against COVID-19.
Our N95 respirators have a simple goal – to help reduce exposure to airborne particles. For frontline workers and healthcare professionals, N95 respirators help offer protection against breathing in these particles. This humble technology has become a symbol of our fight against COVID-19.
The roots of this technology came from the desire to build stiffer ribbons. We developed a process to take molten polymer and air-blast it into a fabric made of tiny fibres. The same technologies were repurposed to create filters for the N95 respirators.
Under a microscope, they look like a bunch of dropped sticks with spaces between them. Airborne particulate hazards, including viruses, fly into this maze and get stuck while making turns. We also add an electrostatic charge to the material to catch smaller particles in the mesh.
The term 'N95' is used because it filters at least 95% of particles in the air. At the same time, when properly fit-tested, their precise fit helps ensure that they stay securely on the face, further reducing the risk of exposure.
While we work to help keep frontline workers safe, we also want to help ensure that they are as comfortable as possible while wearing their PPE. 3M™ Cavilon™ No Sting Barrier Film helps protect the skin and does not interfere with PPE if applied correctly. This solution uses a technology that leverages 3M's expertise with polymer chemistry to create a patented formulation that creates a barrier to help protect the skin.
A purifier is helping in the race to create a vaccine for COVID-19.
As scientists work tirelessly to develop a vaccine for COVID-19, 3M technologies are playing a role in this process.
An essential step when creating a vaccine is isolating the virus and removing contaminants and impurities. This process can be very time consuming, and when every minute counts, finding ways to move quickly is even more critical.
The 3M™ Emphaze™ AEX Hybrid Purifier is a clarifying filter that pulls contaminants out of cell culture in the development of protein-based drugs. It is designed to simplify and speed up the biopharmaceutical manufacturing process by removing multiple types of impurities in a single step. This solution helps researchers reduce the time it takes to produce a vaccine, meaning clinical evaluations and a cure for COVID-19 can be created sooner.
This purifier originated when our scientists experimented with nonwoven fibres. This same nonwoven fibre is used in certain N95 respirators, furnace filters, surgical gowns, and even shiny ribbons to gift wrap presents. The goal was to manipulate this material to see which other problems it could solve. It now has multiple applications across industries.
Additional barriers against contaminants.
Our face shields, which our scientists created to improve visibility and comfort, provide a barrier to help reduce the possibility of splash, sprays, and droplets from going around the edges of the shield and reaching the eyes or other facial areas.
The anti-fog coating technology on certain face shields is also used in our paint protection film and surface protectors in the automotive industry. This is a perfect example of how one technology is applied to various industries. The coating helps avoid fog build up if the environment is humid, meaning frontline workers can see without compromising their health or safety.
Effective solutions to help with physical distancing.
Practicing physical distancing and creating a safe, clear path as businesses reopen and welcome customers is a critical element of fighting this pandemic.
You may notice temporary and permanent graphics and signage on windows, walls, and floors, being used as physical distancing markers to indicate crucial wayfinding messages and information in grocery stores, elevators, and business environments.
3M has long been recognised as a pioneer in industrial adhesives. We're now leveraging this technology to help make physical distancing easier. Many of our graphics use micro-replication technology in their adhesives. This is combined with a variety of pressure-sensitive adhesives (PSAs) with various degrees of bond strength to allow for ease of installation, repositioning, and removability. This acrylic technology is also found in our Scotch® Tapes, Post-it® Notes, and Command™ Hooks. Interestingly, 3M created the first 3M™ Scotchcal™ Vinyl Graphic Film in 1964 to replace paint and create more elaborate and colourful graphics in the automotive sector.
We're applying our 50 years of experience in these technologies to provide indoor and outdoor signage, short-term and long-term graphics, and physical distancing markers. These solutions will help people stay safe while in public.
Encouraging experimental doodling with the 15% culture.
Applying one of our 51 technology platforms to another area seamlessly at 3M has its roots in the McKnight principles.
Established almost a century ago by former 3M Chairman William L. McKnight, our engineers and scientists are allowed 15% of their time to invest in any project they like. From improving home organisation to producing cleaner air, and to now assisting in the battle against COVID-19, the 15% culture has yielded several product innovations that help improve lives.
Since COVID-19 began, science has been at the forefront of our battle against it. As 3M's R&D Operations and Canada Sustainability Leader, I am energised by the global recognition of the critical role science is playing against COVID-19, as it helps us be stronger, together. I am also proud of the work our researchers and scientists are doing to find creative ways of applying our technologies.
Science today for a brighter tomorrow.
An investment in science and innovation can help mitigate the impact of new challenges in our path and create a brighter future. Sign up for our newsletter to learn about the latest innovations and technologies from our labs at 3M.