Three types of duct tape for every use.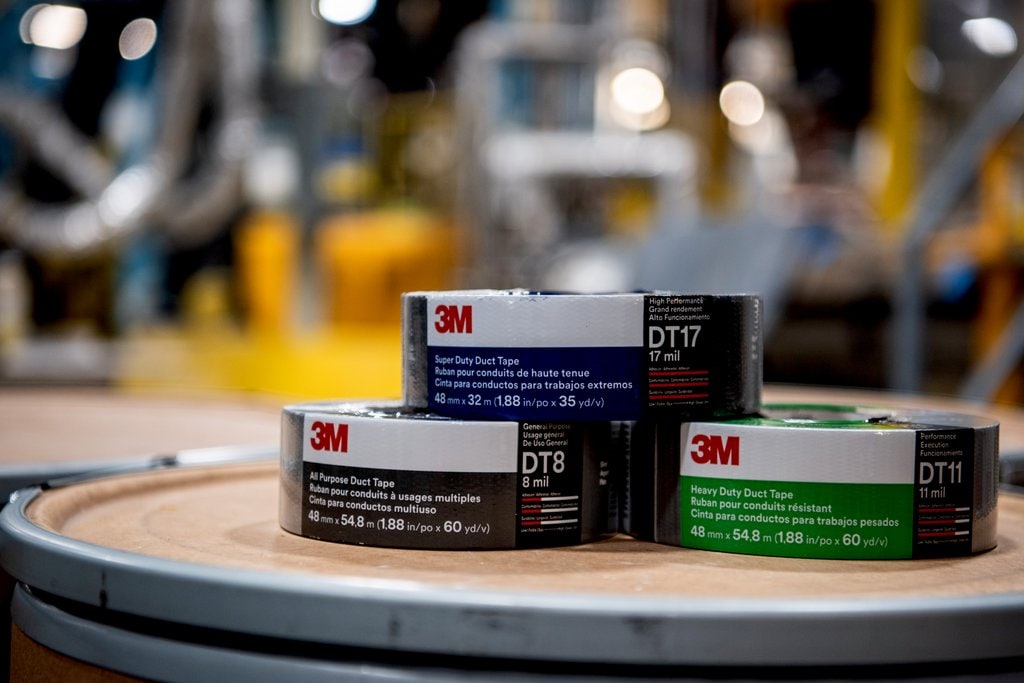 From sealing PVC pipes, to covering tripping hazards, or simply repairing poly sheeting, duct tapes are meant for several different uses.
Duct tapes must be durable and dependable, as well as water-resistant, hand-tearable, and comfortable to use.
So, how do you choose the right type of duct tape?
Choosing the right type of duct tape. Simplified.
The 3M™ DT Series Duct Tapes come in three strengths and are easy-to-use, handle, and apply. These high-tensile strength and comfortability tapes are meant for a variety of applications. Here are the key benefits you can expect from 3M™ DT Series Duct Tapes.
Resists curling.
Has a consistent unwind.
Tears off the roll cleanly.
Helps provide strong adhesion.
Different types of duct tape are made for different uses. Here's how you can make the right choice.
For everyday jobs.
If you're looking for a reliable duct tape that is great for a wide range of applications that can bond to different surfaces, the 3M™ All-Purpose Duct Tape DT8 is a great solution. For quick repairs, labelling, splicing materials, organizing cords, light-duty bundling, and temporary fixes for signages, the 3M™ All-Purpose Duct Tape DT8 should be your go-to. This tape is easy to unwind and helps offer you a high level of conformability.
Heavy-duty applications.
For a tape that can help provide you with better strength, the 3M™ Heavy Duty Duct Tape DT11 performs well on rough and uneven surfaces. Its increased coat weight offers better holding power, making it the right choice for demanding jobs.
The glossy coating on this tape helps protect the tape from contamination on the shop floor, and it can stick immediately on irregular, hard-to-bond surfaces without lifting. For applications such as hanging poly drapes, pipe sealing applications, medium-duty bundling, splicing, and a wide range of materials and textures, the 3M™ Heavy Duty Duct Tape DT11 is the one for you.
For the toughest jobs.
For an ultra-thick, water and abrasion resistant tape that is still tearable by hand, the 3M™ Super Duty Duct Tape DT17 is your pick. The aggressive rubber adhesive grips instantly to different surfaces including metal, glass, plastic, and sealed concrete. With the toughest backing, thickest adhesive coating, the highest adhesion and tensile strength among the 3M™ DT Series Duct Tape, the DT17 is the most rugged tape from our portfolio.
To hold and attach heavy items during shipping or storage, seal sharp edges to help prevent injuries, bundle very heavy or large items, or for applications require surface or edge protection, the 3M™ Super Duty Duct Tape DT17 is the best solution. It is also ideal for bundling very heavy or large items and applications that require surface protection, such as sandblasting and shot peening.
Choose the right type of duct tape. Contact an expert.
To learn which duct tape is ideal for your needs, contact a 3M expert today.