The next phase of the commercial construction evolution.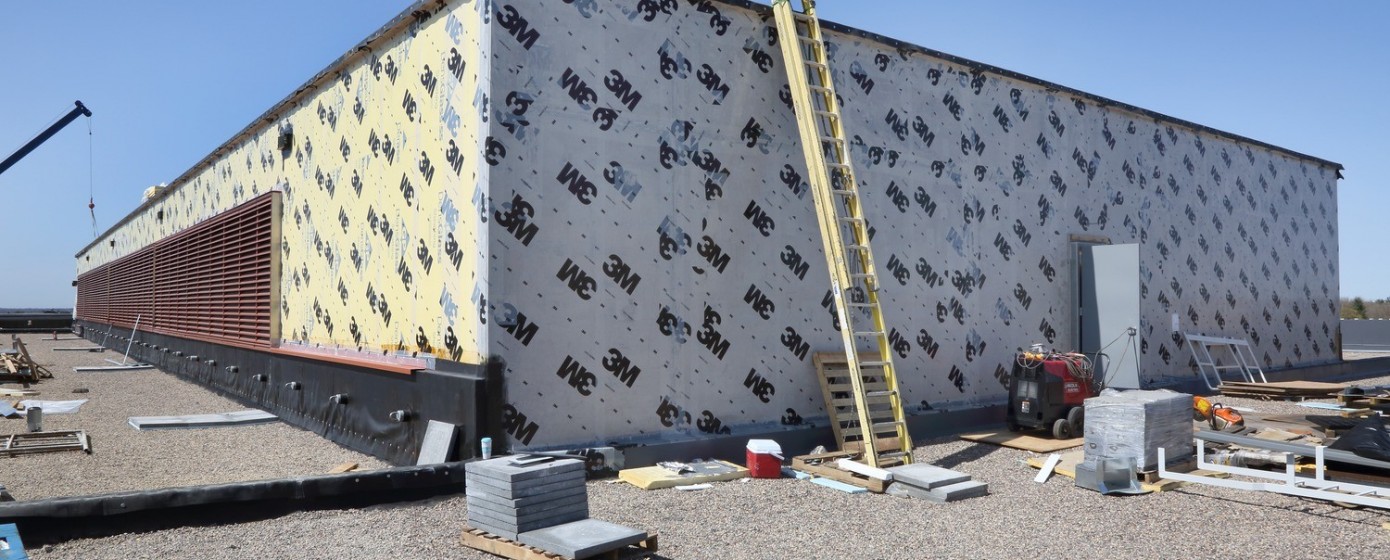 How 3M is revolutionizing building envelope technology
The construction industry that you work in is a far cry from the one that grandfather once knew.
The capabilities and variety of building technologies and construction materials have never been so broad, flexible, inventive or powerful and the sheer scale of what you're able to create now, has never been possible at any other time in history.
But on the other side of these opportunities comes challenges too. There are so many variables to consider. How far is too far to push design? What emerging technologies are reliable? Should I stick to traditional materials and methods or find efficiencies?
All of these questions lead to one central conundrum: What is the fine line that we can strike between traditional design integrity and leveraging technological advancements in construction methods and materials?
Get the best of both worlds: Reliability and advanced technology combined in 3M's Air and Vapour Barrier Membrane 3015
Over the last few decades there have been key developments in air and vapour barrier membrane technology that can help save you time and money. Just like the tougher, lighter and more efficient trucks on your work site, these membranes are money savers and work horses.
For over a decade, 3M™ Air and Vapour Barrier Membrane 3015 has been a game-changer for construction professionals, harnessing the very best in science and technology from a company with a century old reputation for developing superior adhesives and abrasives.
It has been engineered to provide exacting control over moisture, air and vapour in one top-performing barrier system. The 3015 membrane stops air leakage, protects air quality and guards against moisture ingress to help prevent moisture build-up while eliminating uncontrolled air flow and enhancing energy efficiency.
The power of reputation in the construction market
Every new project that you undertake, each new contract you land – represents a new opportunity to build on your reputation. You have to create the very best, on spec, on time and on budget.
The building envelope should be as efficient as possible
On that front – the building envelope (i.e. all that which separates the building outside from the inside – including the walls, foundation, windows and membrane) is one of the most important components that should bring together the best of form and function. The building should look great, inside and out, as well as efficiently manage air, moisture, heat and sound transfer.
The air and vapour barrier you choose could make or break your project
Air and vapour barriers are an essential part of the building envelope, but installing these membranes has traditionally been time consuming, messy and expensive.
Most air and vapour barriers need primer sprayed or rolled onto the substrate before the membrane can adhere. However, even after the primer is applied, it is at the mercy of the often unpredictable, Canadian climate.
In the wintertime, water-based primers can freeze in the cold making it impossible to adhere a membrane, and in the summer heat, traditional bitumen-based adhesives can soften causing the membrane to peel off.
Traditional air and vapour barrier membranes are heavy (rolls can be 60lbs) and awkward, requiring more than one set of careful hands to unroll, line up and adhere.
Go primer-less and save time and labour costs with 3M™ Air and Vapour Barrier Membrane 3015
Unlike many competitors, the 3M™ Air and Vapour Barrier Membrane 3015 does not require primer, meaning that valuable time and labour costs can be saved on the installation.
Since it's one third of the weight of traditional membranes and thin enough to wrap around corners, it is easier to handle and adhere, while still resisting punctures, providing the traditional toughness that you'd expect.
3M™ Air and Vapour Barrier Membrane 3015 key features
No primer required in virtually all applications, allowing for fast installation

Roll it on with the ease of pressure sensitive adhesive tape

Apply in temperatures as high as +66 C and as low as – 18 C
Compatible with common sealants used in construction
UV resistance up to 12 months (2x longer than traditional membranes)
Self-sealing when penetrated
Meets criteria to contribute to LEED® credits
Clear backing makes it possible to see studs underneath, simplifying the installation of brick ties or z-grits
Combined with the 3M™ Through Wall Flashing 3015TWF, the 3M™ Air and Vapour Barrier Membrane 3015 provides a one-two punch to help you achieve your commercial construction goals on time and on budget – with a finalized building that will get others talking.