The benefits of forced-air patient warming systems.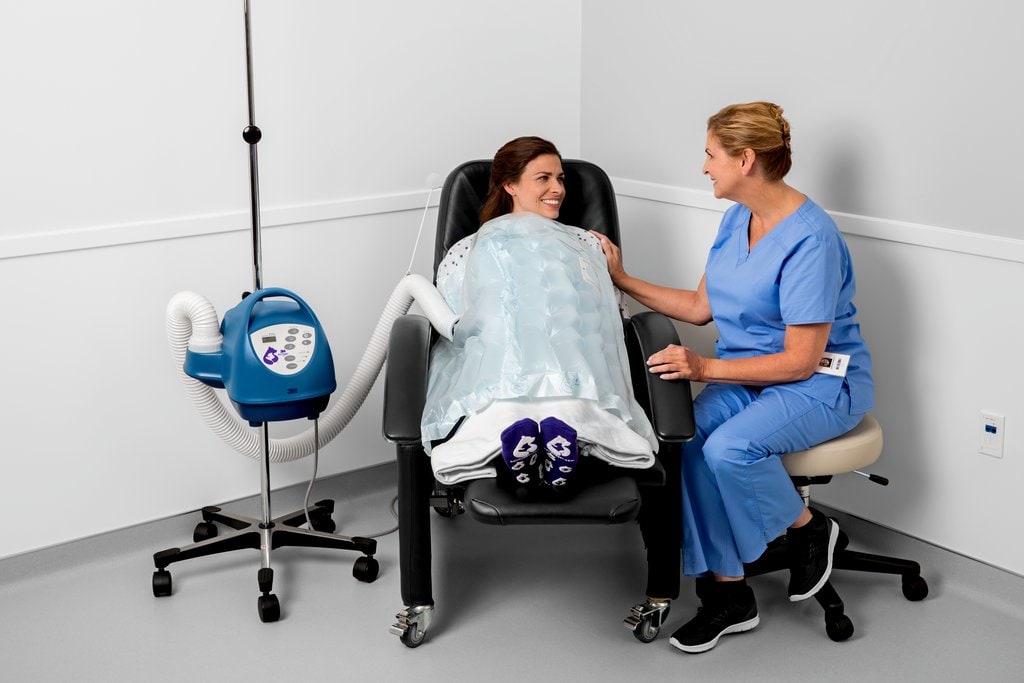 During surgery, general or regional anesthesia causes a decrease in body temperature for a lot of patients, regardless of age, gender and other factors. If not prevented or quickly addressed, this temperature drop can result in unintended hypothermia, which increases the chances of surgical complications1 and patient discomfort after surgery.
To combat these problems, hospitals and surgical centres often use perioperative warming technologies like 3M's Bair Hugger™ Patient Warming System to warm the patient, assisting in the maintenance of normal body temperature throughout the surgical journey.
Forced-air patient warming is the leading method of perioperative warming utilized by hospitals and surgical centers in North America due to its low cost, effectiveness and safety.2
Features and benefits to look for when selecting a warming system
While some systems offer blanket styles with drainage holes for preventing the pooling of fluids under the patient in the OR, others do not.
Likewise, some systems optimize airflow through air channels. When choosing a forced-air warming system, clinicians should opt for the system that offers the most useful benefits.
Check out more information about the 3M™ Bair Hugger™ Patient Warming System to understand the features and benefits.
Research helps with overall satisfaction
All surgical methods are frequently studied, resulting in a great deal of clinical evidence demonstrating the benefits of forced-air warming. In fact, studies have shown that forced-air warming can reduce costs, improve patient outcomes and increase patients' level of comfort3, 4.5.
Forced-air warming has been shown to be the most effective when used throughout the entire perioperative process. Clinicians should keep in mind that not all forced-air warming systems offer the same benefits, so ensure to compare features before a purchase is made.
References:
3M Data on file
Kurz A, Sessler DI, Lenhardt R. Perioperative normothermia to reduce the incidence of surgical-wound infection and shorten hospitalization. N Engl J Med 1996; 334: 1209–1215.
Mahoney, CB. Odom, J. Maintaining intraoperative normothermia: A meta-analysis of outcomes with costs. AANA Journal. 1999; 67(2): 155-164.
Van Duren, A. Patient warming plays a significant role in patient satisfaction, clinical outcomes. Infection Control Today. 2008; 12(6): 1-4.
Wasfie TJ, Barber KR. Value of Extended Warming in Patients Undergoing Elective Surgery. Int Surg. 2015; 100: 105-108.