Sterilization quality assurance components for your dental practice.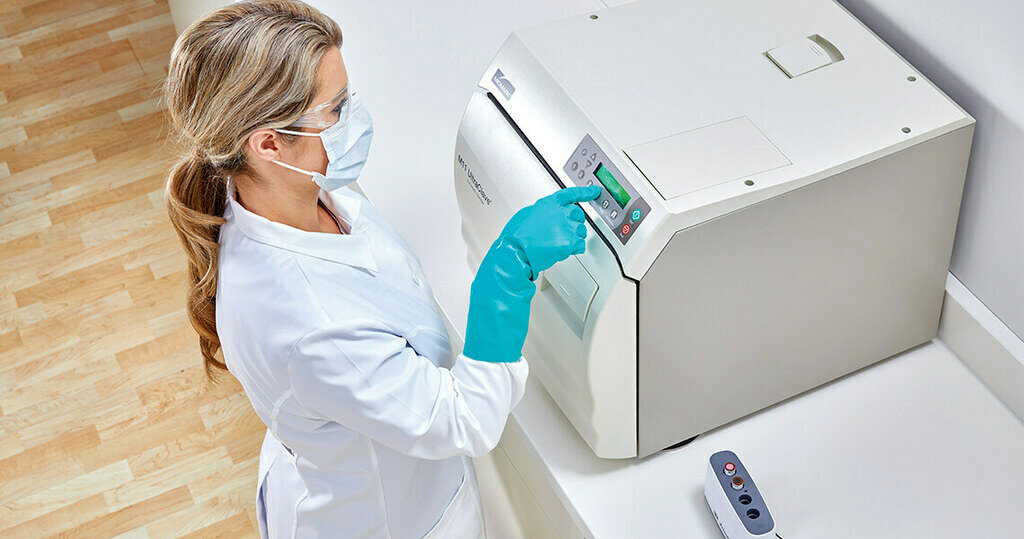 Infection prevention is a crucial part of patient safety in all clinical settings, including dental offices.
The cleaning and sterilization of reusable critical instruments is an essential element of your infection prevention program, helping prevent patient-to-patient disease transmission.
As your dental practice resumes patient care and enforces an infection prevention program to ensure the safety of its personnel and patients, you must also assess your device reprocessing and sterilization monitoring practices.
The components of a sterilization quality assurance program.
A comprehensive sterilization quality assurance program includes the use of physical, chemical, and biological monitors.
The routine use of these monitoring tools helps verify the efficacy of sterilization cycles at your facility. When developing your QA program, you don't need to start from scratch. The Canadian Standards Association (CSA) and provincial standards from your dental colleges provide recommendations for using these essential monitoring tools.
In Canada, CAN/CSA-Z314-18 Canadian Medical Device Reprocessing is the 'go-to' standard for steam sterilization. The consensus committee that authors this standard includes industry experts, the Public Health Agency of Canada, provincial health services, and dental professionals.
CAN/CSA-Z314-18 devotes an entire section to quality control and provides detailed recommendations on sterilization process monitoring. For example, when discussing physical monitors, it recommends using only sterilizers with recording devices (e.g. those that have a printer or USB), which is something to keep in mind if a new sterilizer is on your clinic's wish list.
Chemical indicators.
Chemical indicators (CIs) are used to help detect sterilization process failures. External chemical indicators help staff differentiate processed from unprocessed items. CAN/CSA-Z314-18 requires the use of an external indicator on each package, unless the internal chemical indicator is visible, as is the case with paper-plastic peel pouches.
Internal chemical indicators, as the name implies, are placed inside each package or tray to assist with detecting potential sterilization failures that can result from incorrect packaging, incorrect loading of the sterilizer, or malfunctions of the sterilizer. CAN/CSA-Z314-18 recommends the preferred use of a Type 5 or Type 6 internal chemical indicator.
Biological indicators.
Biological indicators (BIs) contain a large population of live bacterial spores that are highly resistant to sterilization. In the case of steam sterilizers, the use of BIs containing Geobacillus stearothermophilus spores is recommended. Biological indicators are the only sterilization process monitoring devices that directly measure the lethality of the sterilization process.
CAN/CSA-Z314-18 defines biological indicators as "a test system containing viable microorganisms providing a defined resistance to a specified sterilization process." CAN/CSA-Z314-18 requires that steam sterilizers be tested with a biological indicator at least once a day. Also, any sterilization loads containing implantable devices should be monitored with a BI, and the load needs to be quarantined until the result is available. Consult with the sterilizer and BI manufacturers to ensure that you are using a BI that is suitable for the table-top sterilizer cycle(s) being tested. Refer to your provincial dental college's guidelines for more information on monitoring with a biological indicator.
Self-contained BIs consist of spores on a carrier and an ampoule of growth media, both enclosed in an outer sleeve. Self-contained BIs facilitate convenient in-office incubation, allowing you to know quickly whether the sterilization cycle was adequate to kill a large number of highly resistant bacterial spores. After sterilization, the BI is activated (immersing the spores in the growth media) and incubated at the appropriate temperature. If the microorganisms fail to grow in the specified incubation period, a negative result is observed and recorded. Also, provided that the physical and chemical monitors also had acceptable results, it can be concluded that the sterilization process was successful.
Although spore testing using a mail-in spore strip may be compliant with some provincial guidelines, the best option is using rapid readout biological indicators that facilitate the completion of biological testing and documentation right in the clinic.
Consider introducing rapid BI monitoring, the same sterilization assurance technology used in hospitals, to your practice. With a BI result in just 24 minutes, you'll know results before releasing instruments for use, so that you can start each consult with confidence.
Contact an expert.
Do you want to learn more about dental sterilization standards and 3M's sterilization monitoring solutions? Contact a 3M representative today.