Sprouting lawn and garden sales with 3M™ Carry Handles.
How easy-to-transport packaging can help your profits bloom
As the weather heats up, so do garden and lawn care sales. Canadians will soon flock to their local home and garden centres to stock up on everything they need to create their outdoor paradise.
But while the hobby harkens to zen relaxation, actually getting the products home is anything but. Lugging heavy, bulky, slippery packaging off the shelf, into the cart, and in and out of the trunk can be a labored process.
How do you make it easy? Smart packaging solutions can help.
The Lawn and Garden Consumables Market Continues to Blossom
Gardening, landscaping, bird feeding: more Canadians than ever are becoming one with nature.
But creating that perfect outdoor living space requires a significant annual investment. Fertilizer, top soil, grass seed, bird seed, peat, moss, and mulch: each summer the average backyard shed is stocked with all of them. According to Freedonia, the lawn and garden consumables market will reach $19.5 billion by 2019.
So which companies will reap the most of what they sow? Research suggests products that are easy to transport will blossom.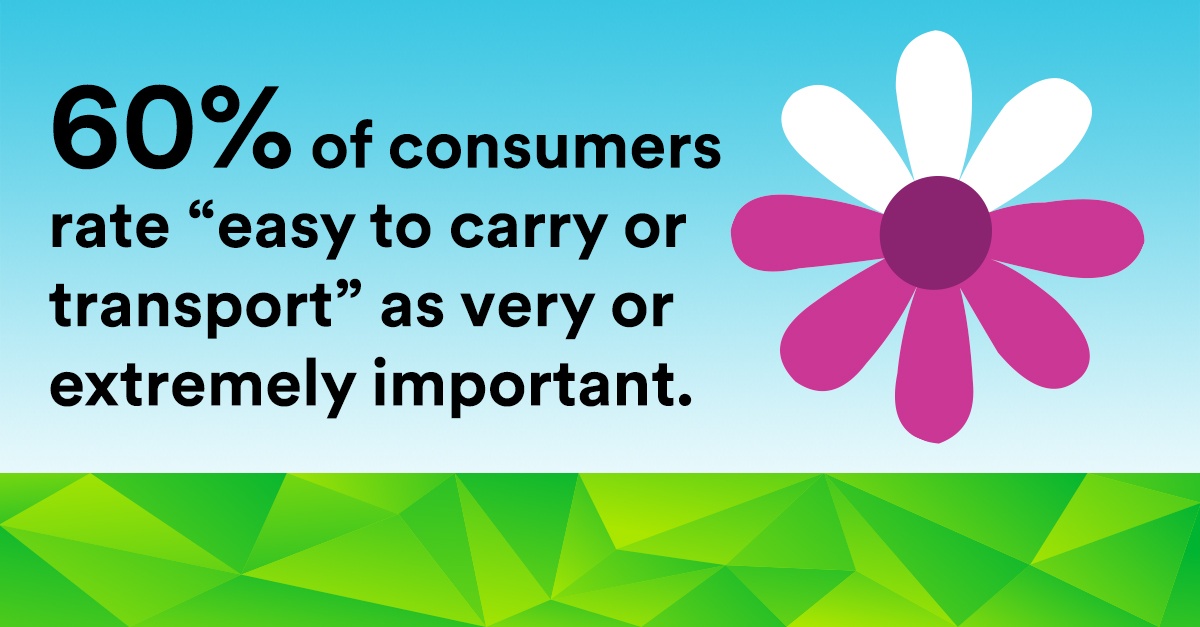 Functional Packaging Keeps Hobbies Easy to Handle
Tiptoeing through the tulips is widely considered a leisure activity. But shopping for the necessary tools is not.
Most lawn and garden products come in big bags weighing anywhere from 10-50 lbs. To keep them durable, many packages are made of coated papers or heavy plastics. The result: heavy, awkward, slippery packages that are hard to maneuver off the shelf and home to the backyard.
But how much does this impact consumer purchase decisions? Research suggests a great deal.
Data shows the functionality of a product is increasingly important. According to the 2015 Packaging Matters™ study, almost 60% of consumers rate "easy to carry or transport" as very or extremely important.
So how will you make it easy for consumers to get their hands on your product – and weed out your competitors? Look to smart, secondary packaging solutions.
3M™ Carry Handles Can Help Seed Your Sales
The thought of a costly, lengthy packaging redesign can be enough to soil anyone's dreams of shelf appeal. Fortunately 3M™ Carry Handles provide a better way.
These durable plastic strips have adhesive at each end that can be fastened to a package to create a loop for easy carrying. They can be applied directly to your existing packaging right on the factory floor – either by hand or using an automated dispenser. This means your product will ship to retailers and hit the shelf ready for action.
3M™ Carry Handles can also be custom printed. You can use them to plant extra seeds with your customers: reinforcing your brand, promoting a discount, or making your product that much more eye-catching.
Plant the Seed. Learn More.
Want to incorporate 3M™ Carry Handles into your operation?
For more information, visit www.3m.ca/carryhandles or contact your 3M Sales Representative.