Skyrocketing curiosity with STEM – and why it matters.
Can we make roads safer? How do we make our air cleaner? Is it possible to produce more but waste less?
We believe science has the power to change the world. Every day our scientists challenge the status quo to enhance businesses and improve lives. How? Insatiable curiosity rooted in Science, Technology, Engineering and Math (STEM).
That's why we're proud to be a founding partner of Canada 2067, a program designed to encourage curiosity and the pursuit of STEM education.
Driving curiosity out of this world
At the launch of Canada 2067, I had the pleasure of hearing from Dr. Roberta Bondar, Canada's first female astronaut and first neuroscientist in space.
As a physician, astronaut, photographer, and author, STEM has literally taken Dr. Bondar out of this world. She believes that as our planet evolves, we must be primed to find new solutions for the challenges that arise. For her, this means inspiring youth to understand the world around them, and fostering inquisitiveness now.
"We need the ability to make people passionate about this country and about our society."
– Dr. Roberta Bondar, Canada 2067 Launch (Oct. 2016)
Watch the full interview with Dr. Bondar here:
Investing in STEM to inspire curiosity
As a science-based company, we couldn't agree more. Some of our proudest moments are born from thinking differently to help our customers overcome their challenges – no matter how modest the solution.
For example, did you know the world's first masking tape was created to sooth the frustrations of car "pin stripers" in the roaring twenties? Likewise, one of our most popular kitchen sponges was created to help reduce wasted agave leaves discarded during the tequila manufacturing process.
We believe this relentless pursuit of answers – and the tools that bring it to life – are critical to a successful future. That's why we must invest in fostering curiosity today.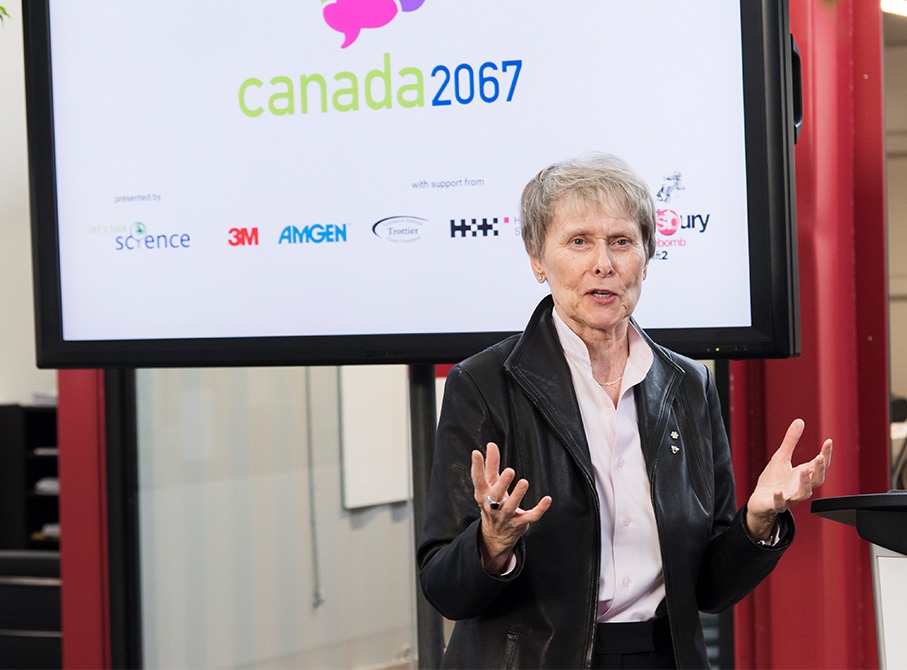 Get involved
Natural curiosity can take us from cellular structures to the stars, but it needs knowledge and skill to bring it to life.
Show your support and help ensure a successful future is within reach. Follow us on Facebook and Twitter or visit Canada2067.ca.