Revolutionizing damaged skin injury treatment.
Every day you work tirelessly to help your patients and residents. But providing comfort and care can be difficult when they're dealing with Incontinence-Associated Dermatitis (IAD) – especially a Category 2 skin injury (i.e.: perineal dermatitis, diaper rash, etc.). It's an extremely painful experience that can develop into secondary infections and pressure injuries.
How can you provide your patients and residents with the comfort and efficient care they need?
A new technology can help you deliver both.
Breakthrough technology for skin protection1
To meet this critical need, 3M has developed a new skin protectant product: 3M™ Cavilon™ Advanced Skin Protectant.
The technology leverages 3M's vast expertise in polymer chemistry, which is the study of structures and chemical synthesis, such as plastics and elastomers. 3M has applied this knowledge with the real-life expertise of leading clinicians and IAD experts to develop a product that can help to stop, reverse and prevent IAD.
Helping you deliver more efficient care
With many patients to care for, you need to make the most of your time with each patient. 3M™ Cavilon™ Advanced Skin Protectant can provide a number of benefits to how you provide care.
For example:
Ultra-thin, transparent barrier: It protects your patients from corrosive body fluids while allowing you to monitor the condition of their skin.2
Fewer applications needed: It can last up to 7 days on the skin, flexing and stretching with your patient to significantly reduce frequency of re-application.3
Reduces Pain: It's a game-changer in helping to manage the process associated with IAD – the protective barrier reduces pain associated with IAD and IAD care.4
Adheres to wet, damaged skin: it provides waterproof, irritant-proof skin protection — even under the most challenging conditions.4
In addition to reducing the overall time spent on skin injuries and repair adopting 3M™ Cavilon™ Advanced Skin Protectant can also support infection control and prevention initiatives, and deliver superior value for the dollars your facility invests in IAD management and prevention.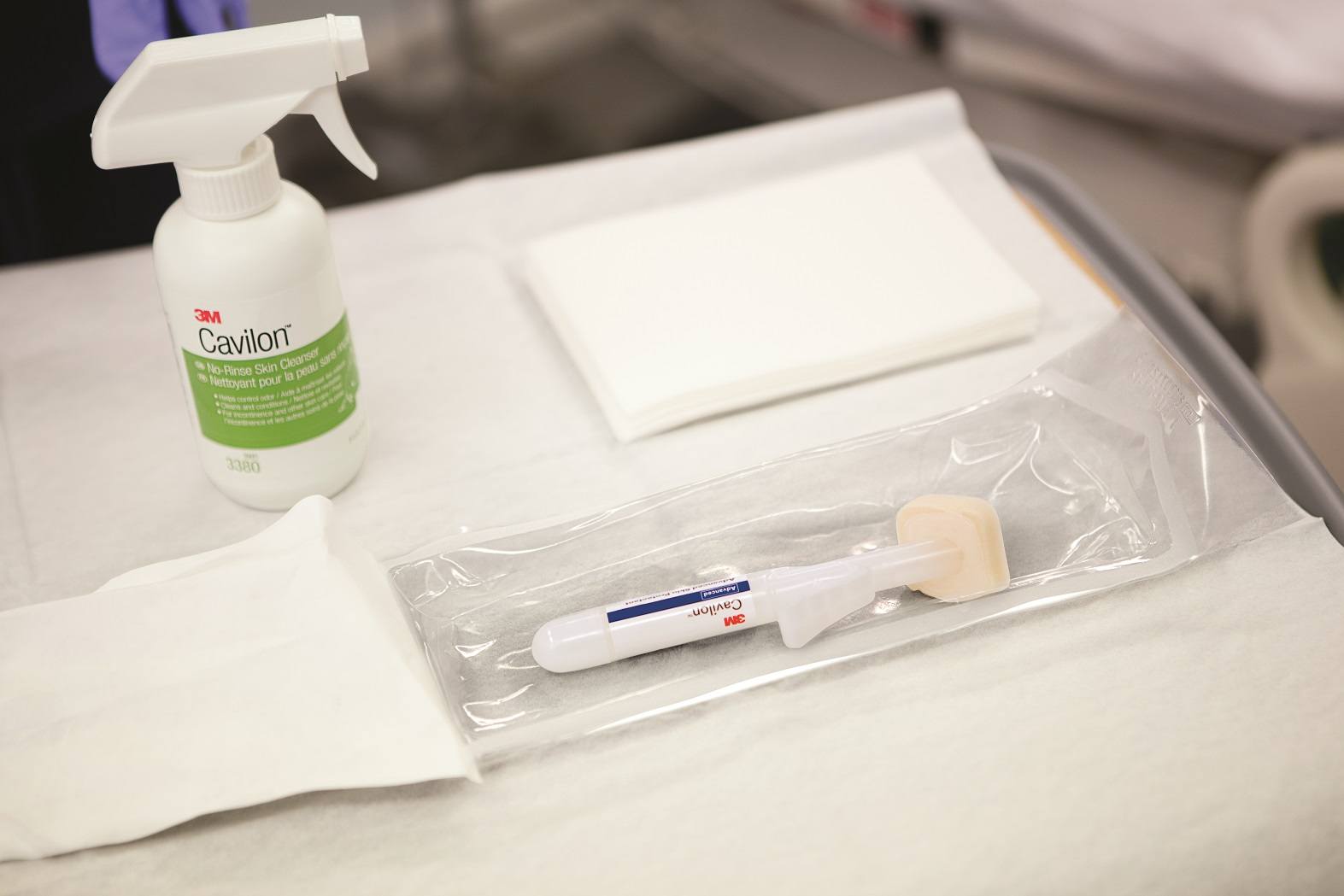 Providing a better patient experience
Adopting 3M™ Cavilon™ Advanced Skin Protectant can also help to improve patient and resident outcomes.2
The technology helps improve the overall healthcare experience. For example:
Prevents skin injury and helps maintain skin integrity2
Reduces the pain associated with managing IAD2
Elastomeric properties help prevent fracturing, cracking associated with cyanoacrylate films5,6
Clinical studies were conducted in two nursing care facilities to evaluate the effectiveness of 3M™ Cavilon™ Advanced Skin Protectant. The results showed that the IAD severity score improved on average by 96%, and 100% of patients reporting pain saw a decrease in pain on day one.2
References:
1. 3M Patented Formulation
2. Brennan, Mary R.; Milne, Catherine T.; Agrell-Kann, Marie; Ekholm, Bruce P. Clinical Evaluation of a Skin Protectant for the Management of Incontinence-Associated Dermatitis: An Open-Label, Nonrandomized, Prospective Study. Journal of Wound, Ostomy & Continence Nursing. 44(2):172-180, March/April 2017.
3. EM-05-013924
4. EM-05-013262
5. EM-05-013236
6. EM-05-013827