Putting safety first: infection prevention during COVID-19 and beyond.
As we navigate the ever-changing landscape of the COVID-19 pandemic, healthcare professionals advise that people follow certain principles to help keep them safe, like proper hand hygiene, using personal protective equipment (PPE) properly, and practicing physical distancing.
As an infection preventionist (IP), I focus on safety. My trust in processes and technologies drive my decision making – both as a consumer and healthcare professional.
Infection prevention in the time of COVID-19.
With the emergence of the severe acute respiratory syndrome coronavirus 2 (SARS-CoV-2) and subsequent proliferation of Coronavirus Disease 2019 (COVID-19), our focus as healthcare professionals has shifted. We've adapted and changed our approaches to infection prevention at a pace not experienced previously.
A recent survey of IPs, sponsored by 3M, demonstrated that while important, the ability to focus on healthcare-associated infection (HAI) prevention efforts related to central line-associated bloodstream infection (CLABSI), catheter-associated urinary tract infection (CAUTI), surgical site infection (SSI), and C. diff has decreased. This was because organisations had to pivot to focus on helping keep patients and staff safe from contracting or spreading the contagion the world now faces. Most survey respondents acknowledged the need to continue focusing on HAIs, despite relaxed mandated reporting requirements, but they simply did not have the staff, resources, or time available.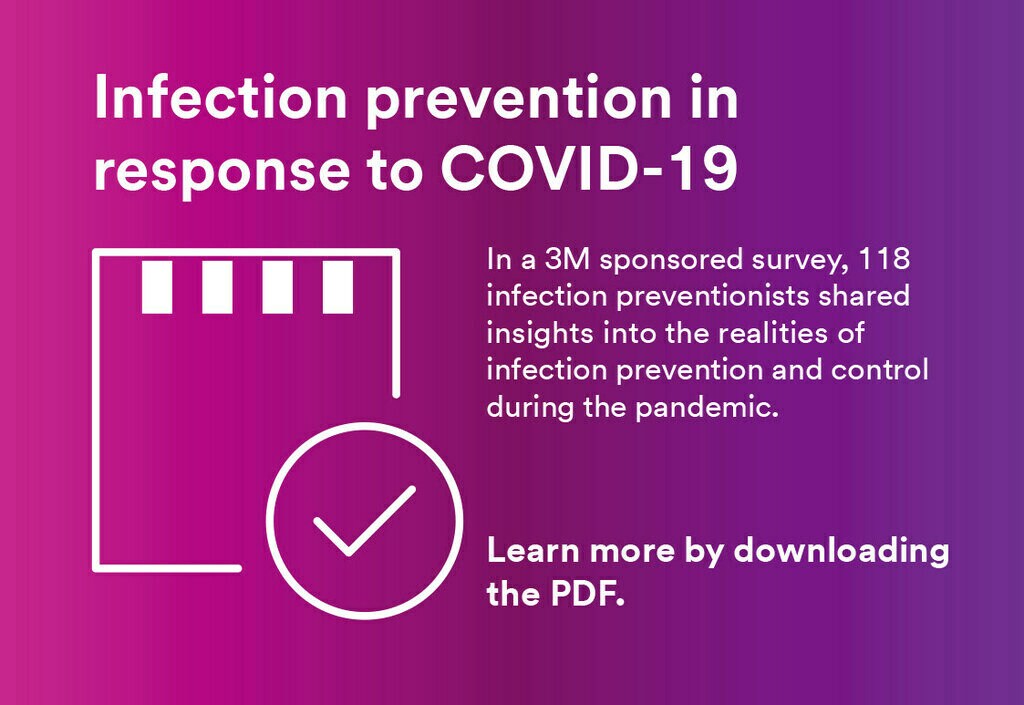 Adapting to changing guidelines of infection prevention.
Many of the basic infection prevention principles IPs have always stressed, including hand hygiene, environmental cleaning and disinfection, and respiratory etiquette, are now topics of great public interest. My ambition is for these principles to become automatic in both healthcare settings and in the general public – much the same way the general public has learned to automatically buckle up their seat belts when starting their cars.
As our public and healthcare facilities resume life within a new COVID-19 framework, we as IPs and healthcare professionals have to maintain our agility to adapt to the frequent updates and modifications to guidelines and new practices – many of which take us out of our comfort zones.
These modifications to guidelines and new practices include:
Elastomeric respirators, which are widely used within industrial spaces, are now increasingly being utilised in healthcare settings.
Airborne infection isolation rooms (AIIRs) may have been (or currently are) in short supply, and many facilities have innovated safe spaces around patients needing airborne isolation.
Large influxes of patients mean that single-patient rooms may not always be possible.
All the while, healthcare teams must balance COVID-19 response with HAI prevention to address one's organisational situation and any governmental requirements in the pursuit of providing a safe environment. We cannot ignore other risks to patient health and safety while focusing on controlling contagion spread. That's asking a lot of healthcare teams already pushed to the limit with resources.
Finding solutions for effective infection prevention.
3M is working to help streamline the solutions and education we offer to IPs as they approach current and future priorities related to COVID-19, HAI prevention, and other initiatives.
As we navigate this challenging time, we must keep our eyes on the road ahead and rest assured that our partnerships and technologies will continue to help keep patients safe as we combat the spread of COVID-19. For those of you on the front lines of patient care, thank you for your tireless commitment and your courage.
Learn more about infection prevention.
To learn more about 3M's approach to infection prevention, visit our page.