Optimize paint and solvent usage in your collision repair shop.
Many painters in collision repair shops say that the three biggest concerns in their current paint application is cleanliness, non-productive assembly time, and variables that cause inconsistency in their work. Steps such as assembly time, changing cups and colours, and cleaning can lead to contaminated paint, as well as paint leaking and sputtering, and inconsistent performance. All of these factors can make the job more difficult and time consuming.
In 1996, the first 3M™ PPS™ Disposable Spray Cup System was developed and it revolutionized how painters in the auto collision repair industry prepared, painted, cleaned, and managed the paint process. This change reduced solvent use by up to 70% and decreased prep time by up to 50%.
The improved 3M™ PPS™ Series 2.0 Spray Cup System is all you need to make your auto collision repairs cleaner, simpler, and more productive to ensure higher quality vehicle paint application.
How can the 3M™ PPS™ Series 2.0 Spray Cup System make your vehicle paint application easier?
It's cleaner, so you can get flawless vehicle paint application every time.
The 3M™ PPS™ Series 2.0 Spray Cup System integrates a disposable quarter-turn lid locking system into each lid, so all you need to reuse is the durable outer cup.
By eliminating the collar, the system helps reduce the chance of dried paint flakes, which are caused by improper system cleaning and can be damaging to a fresh paint job.
For added convenience and improved cleanliness, each new lid and liner kit box contains a new hard outer cup, featuring on-cup ratios to eliminate outside mixing cups.
The system also contains a wider gun-to-cup adapter to make cleaning residual paint between jobs easier and faster. The domed lid with the full diameter filter helps improve flow and consistency, while reducing spitting.
It makes everything simpler by shortening assembly time.
The 3M™ PPS™ Series 2.0 Spray Cup System is designed to avoid additional assembly steps, such as separate filters or vent plugs, and instead integrates components directly into each unit.
The system replaces the separate collar component with a quarter-turn lid locking system.
The "access window" in each hard cup helps to make it more convenient to view the paint remaining throughout the job. It also gives the painter better access to grab the liner when assembling or refilling the cup.
It gives the painter peace-of-mind by reducing variables and helping ensure top quality every time.
Using a larger, heavier cup can cause some painters concerns when hand shaking or adjusting the spray angle. To avoid this challenge/risk, the 3M™ PPS™ Series 2.0 Spray Cup System integrates a wider, more robust adapter with a stabilized four-point connection, including retention tabs with locking undercut geometry. When this adapter is combined with the domed lid, there is more paint below the filter while spraying, which helps provide better flow and reduces sputtering.
The quarter-turn lid locking system provides a firm seal to avoid any concerns of paint leakage.
The wide spout adapters provide four points of connection from spray gun to lid to maximize stability while spraying and to make cleaning easier.
With the closed system, you can even spray upside down.
Discover the 3M™ PPS™ Series 2.0 Spray Cup System.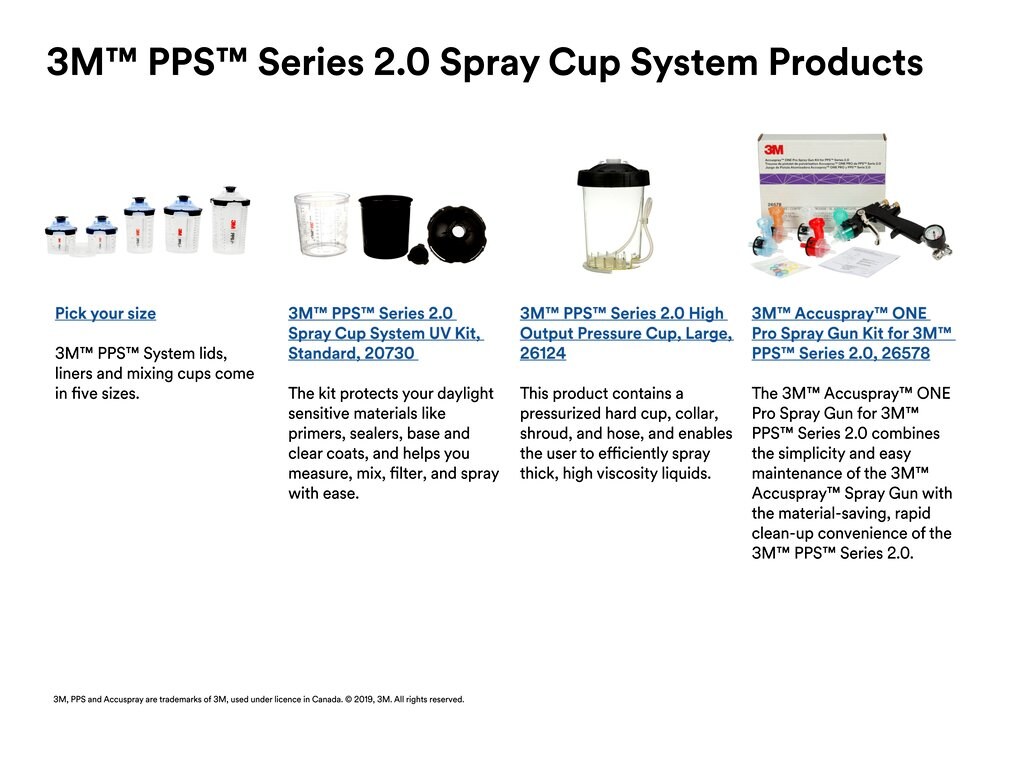 To find out more about 3M™ solutions to make your customers' vehicle repairs easier and faster, visit our page here.