How tomorrow's leaders are inspiring social innovation.
What happens when you challenge Canada's future movers and shakers to make a difference? They deliver beyond your wildest expectations.
The Enactus Canada National Exposition inspires tomorrow's leaders from Canadian universities to identify, create and execute projects that address a specific need within their community. The issues could be anything from helping refugees integrate into Canadian communities to turning waste into environmentally-friendly packing materials.
I've had the honour of attending the competition for several years. Each time, the projects are so inspirational they move me to tears. These students truly embody social innovation – a value that we live and breathe at 3M.
This year, we awarded the 3M Canada Problem Solving Project Partnership Best Project to the Saint Mary's University (SMU) Enactus team. Their project, Aquality Solutions, focuses on delivering food security to remote indigenous communities. By leveraging aquaponics, the team was able to use recycled materials to consistently produce fish and vegetables year-round.
Why we must future-proof for sustainability megatrends. Read more.
I had a chance to sit down with the SMU team to learn more about their innovative approach. Here are highlights from our discussion.
The SMU Team.
Jason Turner
Enactus Saint Mary's Faculty Advisor
Manager, The Spark Zone, SMU
Matthew Glynn
Enactus Saint Mary's Project Manager
BASc Civil Engineering and Biology (third-year)
Ross Arsenault
Enactus Saint Mary's Co-President
Master of Technology Entrepreneurship & Innovation (first-year)
Bachelor of Commerce
Liisa: Aquality Solutions is an excellent example of doing "good" business – business for social good. In this case, for food security. How important is it for tomorrow's leaders to have strong social innovation values?
Ross: Good business is about using ingenuity when addressing and responding to social issues. As a student, when I think of a company that I want to work for I look at ones who approach problem solving, like we do with Enactus.
Liisa: At 3M, we believe that having a diverse team gives us a competitive advantage in the marketplace. How important was it to have a multidisciplinary team working on your social innovation project?
Matthew: Diversity is key for ingenuity, especially when you run into project hiccups. There was a moment in the project development that we had to go back to the drawing board. The location we had planned for our greenhouse wasn't going to work; we needed to re-strategize. It's easy to get stuck in your own head when you hit a roadblock, which is why we needed all disciplines on deck. Not only were we able to find a more cost-effective solution, but we were also able to make our project more efficient! I credit that to our diversity of skills and perspectives.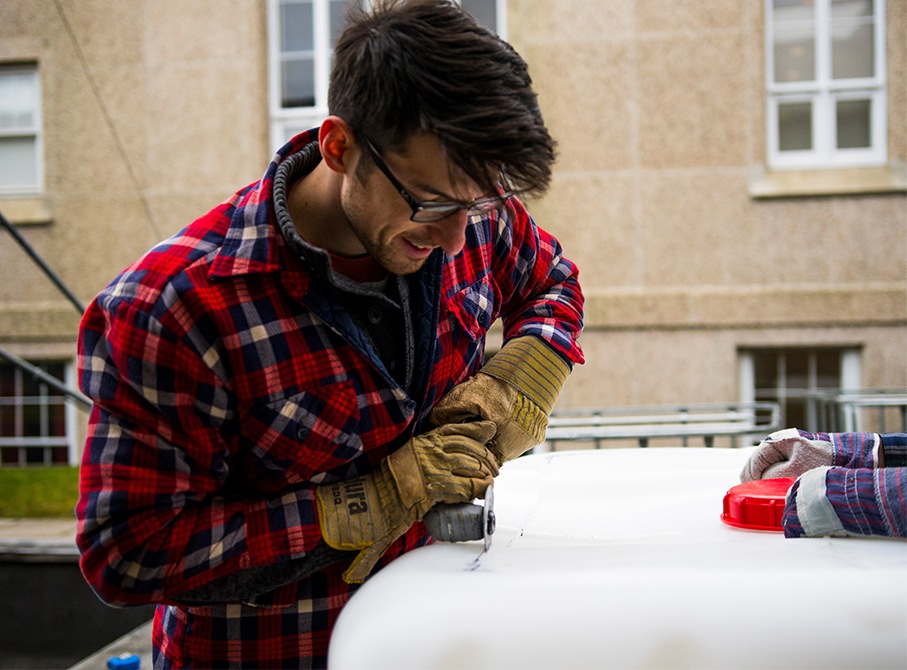 Jason: Matthew nailed it. Diversity of skills and perspectives is critical when it comes to social innovation for development. Enactus isn't just for business students. It's also for art students, for science students and for engineering students. That's when change happens – when you get different ways of thinking in one room.
Liisa: At 3M, we believe in applying science to help solve problems. How can industry partners like us harness our capabilities to empower tomorrow's leaders for change?
Ross: The biggest thing is to continue to support programs that offer students opportunities that challenge them to think outside of the box. Companies like 3M have a unique opportunity to change the trajectory of a student's career. When students embrace Enactus they're opening themselves up to new opportunities and new experiences, and working with different sorts of people. That's how they can really grow. Look at me – I changed my major midway through as a result of my experience in Enactus!
How can you help the leaders of tomorrow?
We have a responsibility to foster and encourage the next generation of entrepreneurs to do "good" business. Learn how we're investing in putting a brighter future within reach.
Get the latest science news from 3M Canada.