Easy ways to prevent cuts and injuries from abrasive processes.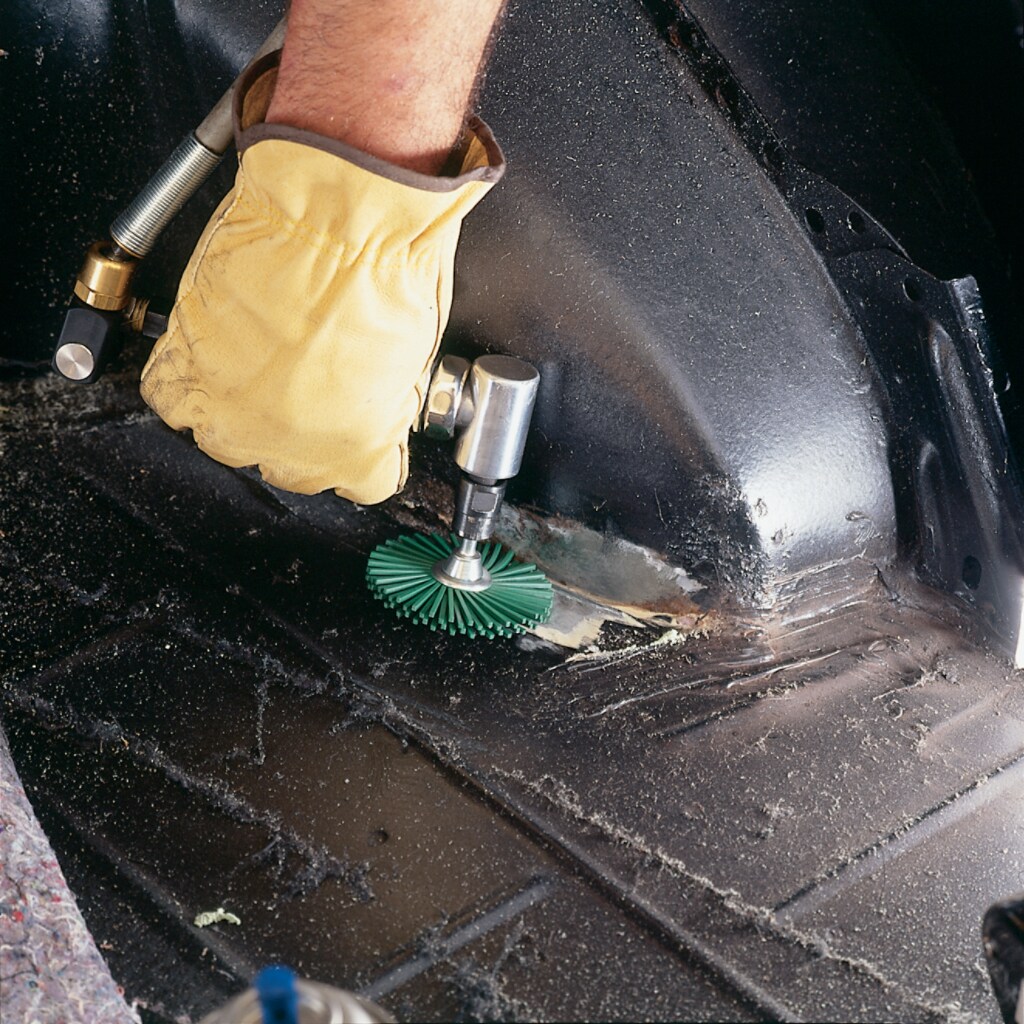 Working with abrasives and abrasive equipment involves certain risks from fast-moving components to hot parts and workpieces. It's not surprising that 41% of surveyed individuals consider direct injuries like cuts to be the biggest safety risk on the job.1
Whether cuts and injuries are acquired directly or indirectly because of abnormal operation, failures in equipment, or through contact with ejected sparks and debris, these steps will help prevent work injuries on your team.
Choosing safer abrasives lays the foundation for your team members' short-term and long-term health and safety. Here are some product features to consider:
Eliminating the risk of flying wires.
Traditional wire brushes and wheels use fine rotating wires that can break off and become airborne during operation. Scotch-Brite™ Bristle Discs and Brushes eliminate metal and, therefore, the risk of flying wires to improve safety for the direct operator and nearby workers. Made with durable yet flexible moulded bristles and filled with abrasive mineral, Scotch-Brite™ Bristle Discs and Brushes cannot penetrate eyes or skin.
Improved efficiency.
3M™ Cubitron™ II Abrasives help operators get the job done faster while generating less heat than conventional abrasives. Improved efficiency and lower temperatures mean less pressure and trigger time are needed to finish a job, and less exposure to abrasive hazards, from cuts and burns to noise, vibration and everything in between.
Even with the best tools for the job, you can do more to keep your team safe. Follow these seven tips:
Equip your team with gloves, safety shoes, and protective clothing, as well as face, hearing, eye, and respiratory protection.
Fit your machines with guards wherever possible to protect your team members from sparks and material removed from the workpiece and from larger debris that may be ejected due to breakages during use.
Use interlocking devices to limit the speed or operation of a machine and reduce the risk of unguarded operations.
Always follow the abrasive manufacturer's indicated "maximum operating speed" (MOS).
Only use abrasive products with their compatible machines.
Ensure machines are installed according to the manufacturer's instructions to avoid the risk of failure during use.
Ensure proper storage and handling of abrasive tools and consumables as their mechanical properties degrade over time. Inspect all items before use and discard any products that have passed the expiry date.
To learn more about how you can help your team reduce their risk of cuts and other injuries, download our Abrasives Safety Assessment Guide, visit 3M.ca/SafetyBuiltin, or contact a 3M expert today by filling out the form below.
References.
Data on file.