Dental sterilization: what you need to know.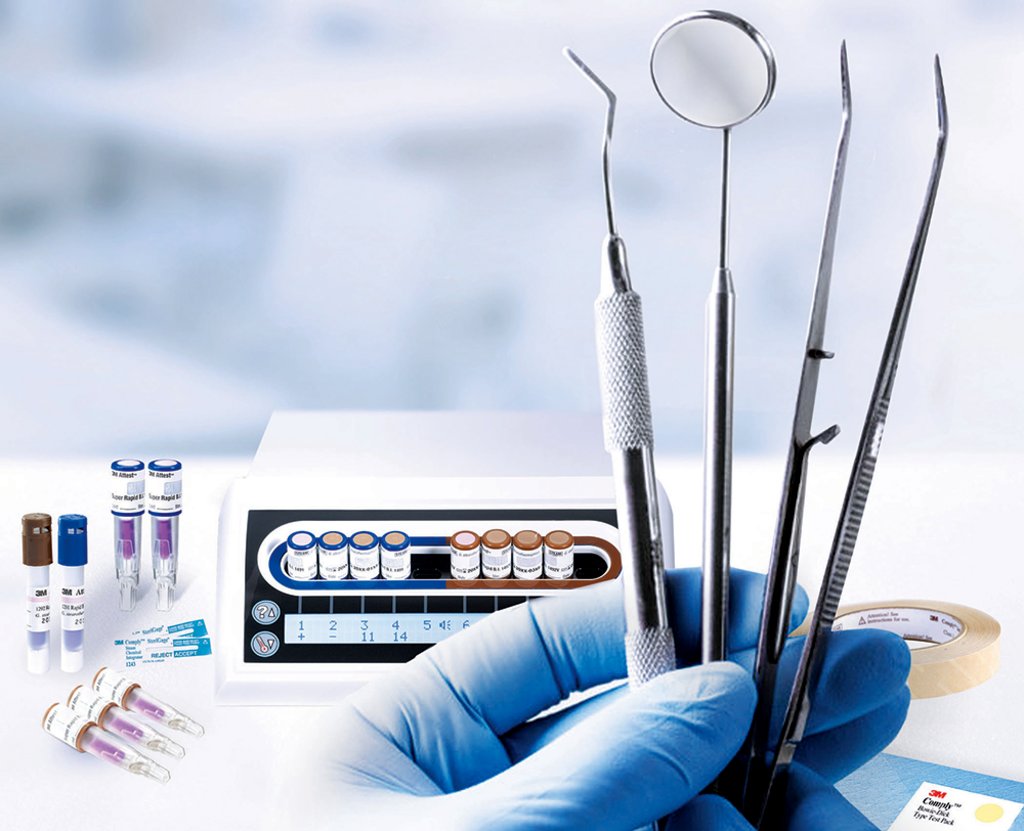 Infection prevention is a crucial part of patient safety not only in the hospital environment, but also in small clinics, including dental facilities. Despite the low risk of infection during a dental procedure, it is important for dental professionals to establish measures to avoid cross-contamination among patients and staff.
To help prevent the spread of respiratory and other viruses like Hepatitis B Virus (HBV), Hepatitis C Virus (HCV), and Human Immunodeficiency Viruses (HIV) in dental practices, authorities across Canada regularly evaluate and update infection prevention and control guidelines for dental offices.
The cleaning, disinfection, and sterilization of reusable dental instruments are critical elements of avoiding the spread of pathogens between patients and staff. Physical, chemical, and biological monitors that complement each other are the key components to ensure sterility assurance, and their use and frequency are defined through provincial guidelines and standards.1
Promoting patient safety.
In Canada, CAN/CSA-Z314-2018, Canadian medical device reprocessing2 is the standard for safe and effective reprocessing of medical devices and supplies. The technical committee that created this standard comprises several entities, including government, the medical devices industry, and associations like the Canadian Dental Association.

In late 2018, the Royal College of Dental Surgeons of Ontario published its Standard, Infection Prevention and Control in the Dental Office, which includes the minimum requirements for promoting patient safety, replacing the last version published in February 2010.3 The new Standard is significantly broader and reflects up-to-date knowledge on the dissemination of infections as well as how to prevent and control them. Additionally, Public Health Ontario has developed a checklist, together with the Royal College of Dental Surgeons of Ontario, the College of Dental Hygienists of Ontario and Ontario Ministry of Health and Long-Term Care, to assist with inspections related to infection prevention and control in dental offices.4
The future of sterility assurance.
On June 1, 2019, Saskatchewan also published its guide, called Infection Prevention and Control Standards in the Oral Health Care Facility, which is used by regulatory authorities in determining whether safe and appropriate standards of practice and professional responsibilities are being maintained.5

Other Canadian jurisdictions will soon follow suit. Alberta has already drafted new standards, updating the 2010 version,6 Quebec is updating its 20097 standards and Manitoba has planned publication of new standards that will replace their 2006 standards8.
These updates to dental sterilization standards are helping Canadian professionals achieve excellence by promoting safe and effective reprocessing of dental equipment, hence reducing complications that are caused by infections. It has also increased the demand for straightforward, safe, and reliable dental sterilization solutions.
Brands like 3M™ Attest™ and 3M™ Comply™ can help today's dental professionals ensure that they are meeting and/or exceeding the important and rigorous sterilization standards that Canadian organizations have developed. 3M has a comprehensive sterility assurance portfolio, including the 3M™ Attest Super Rapid Biological Indicator Monitoring System, which provides BI results in just 24 minutes. 3M's sterilization monitoring solutions help dental professionals in their efforts to ensure patient safety and maintain compliance of infection control guidelines and standards.
Contact an expert.
Want to learn more about dental sterilization standards and 3M's line of sterilization monitoring solutions?
REFERENCES
Royal College of Dental Surgeons of Ontario, Infection Prevention and Control in the Dental Office, 2018.
Canadian Standards Association, CAN/CSA-Z314-18 - Canadian medical device reprocessing, 2018.
Royal College of Dental Surgeons of Ontario, Infection Prevention and Control in the Dental Office, 2018.
Public Health Ontario. Checklist: Reprocessing in Dental Practice Settings, 2017.
The College of Surgeons of Saskatchewan et al. Infection Prevention and Control Standards in the Oral Health Care Facility, 2019.
Alberta Dental Association and College. Standard of Practice: Infection Prevention and Control Standards and Risk Management for Dentistry, 2010.
Ordre des dentistes du Quebec. Ordre des hygienistes dentaires du Quebec. Document d'information sur le controle des infections medicine dentaire, 2009.
Manitoba Dental Association. Infection Control Resource Manual, 2006.
This article was co-written by Fernando Malgueiro and Robyn Duke.