Dental bonding with a universal adhesive.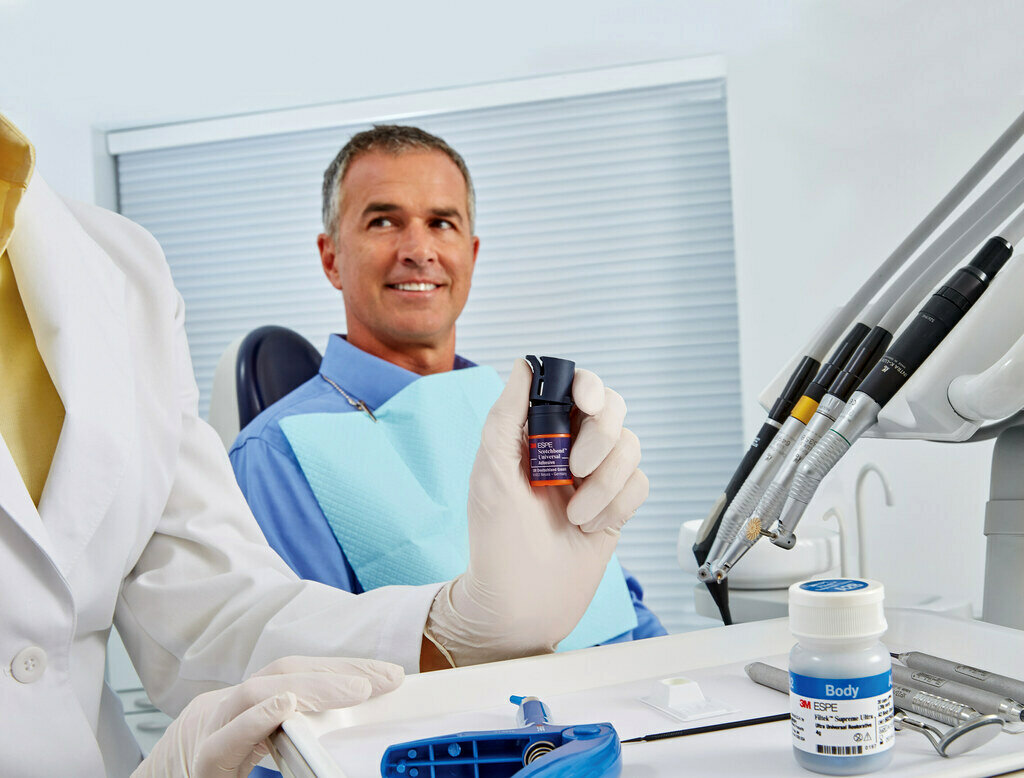 Dental bonding can be a difficult step in the restoration process, with multiple decision points and many potential variations in technique. What if you could simplify the task?
When you're striving for uncompromising dental bonds, you need two things from your bonding product: compatibility with your preferred technique, and confidence in the adhesive.
The 3M™ Scotchbond™ Universal Adhesive is designed to deliver on both. With its simple one-step, one-coat, 35-second application, this single-bottle is a versatile solution for your dental bonding needs.
Here's how.
3M™ Scotchbond™ Universal Adhesive: 4 reasons to choose this dental bonding solution.
1. Bonds to multiple dental substrates.
3M™ Scotchbond™ Universal Adhesive bonds effectively to both enamel, dentin, glass ceramics, zirconia, alloys, and composites without an additional primer – saving steps and the need for multiple products.
2. Clinically proven performance in all etching techniques.
In a 36-month randomized double-blind clinical trial, 3M™ Scotchbond™ Universal Adhesive met ADA criteria for approval in all three etching techniques – total, self, and selective.1
3. Reduced dental sensitivity in both self-etch and total-etch applications.
The unique chemistry of the 3M™ Scotchbond™ Universal Adhesive virtually eliminates post-op dental sensitivity. The formulation optimizes the ratios of the 3M proprietary 3M™ Vitrebond™ Copolymer, HEMA, and water, allowing for the rehydration of the collagen network and the formation of a distinct hybrid layer whether the dentin is moist or dry.
4. Suitable for indirect restorations
When used with the 3M™ RelyX™ Ultimate Adhesive Resin Cement, it provides a simple two component system for bonding indirect restorations. Combined with the 3M™ Scotchbond™ Universal Dual Cure Activator, it is compatible with all resin cements, core build-up materials and self-cure composites.
How does it work? The science behind 3M™ Scotchbond™ Universal Adhesive.
3M™ Scotchbond™ Universal Adhesive contains several technologies that give the product its universal performance:
Vitrebond™ Copolymer, a proprietary 3M technology, reduces the adverse effects of moisture content in dentin. It bonds well to both moist and dry dentin in the total-etch technique.
Silane allows the adhesive to chemically bond to glass ceramic surfaces, without using a separate ceramic primer.
The MDP monomer optimizes the self-etch performance. It also creates a chemical bond with oxide ceramics like zirconia and alumina.
The result: a trustworthy, versatile solution for dental bonds – regardless of your technique - in just one bottle.
Learn more: dental bonding with 3M™ Scotchbond™ Universal Adhesive.
To request a sample, fill out the form. You can also call our team directly at 1-888-363-3685.
References.
Data on file.