The pandemic has impacted many of us in different ways, and that is no different for the LGBTQIA+ community. The burdens of increased financial stress, job loss, healthcare, and a decline in mental health can all add to the challenges that marginalized populations face every day.
Now more than ever, with many of us working in remote environments, it's essential to continue to create safe spaces and moments where employees can be heard and deliver on their authentic selves. Showing up and demonstrating support as advocates and allies to the LGBTQIA+ community is more important than ever - a simple message can go a long way in making employees feel valued and respected.
"The effect of more than a year of solitude and isolation due to the pandemic, have been particularly devastating for the LGBTQIA+ community. So, with the promise of a return to normalcy in the near future, I hope we can also realize an improvement in social and mental health outcomes for those who have been impacted during the pandemic. As a company that embraces diversity, equity and inclusion, I am very proud of all 3Mers who have come together to unite with our communities across Canada to celebrate Pride month in 2021."

Tim Brown, Pride Executive Sponsor, 3M Canada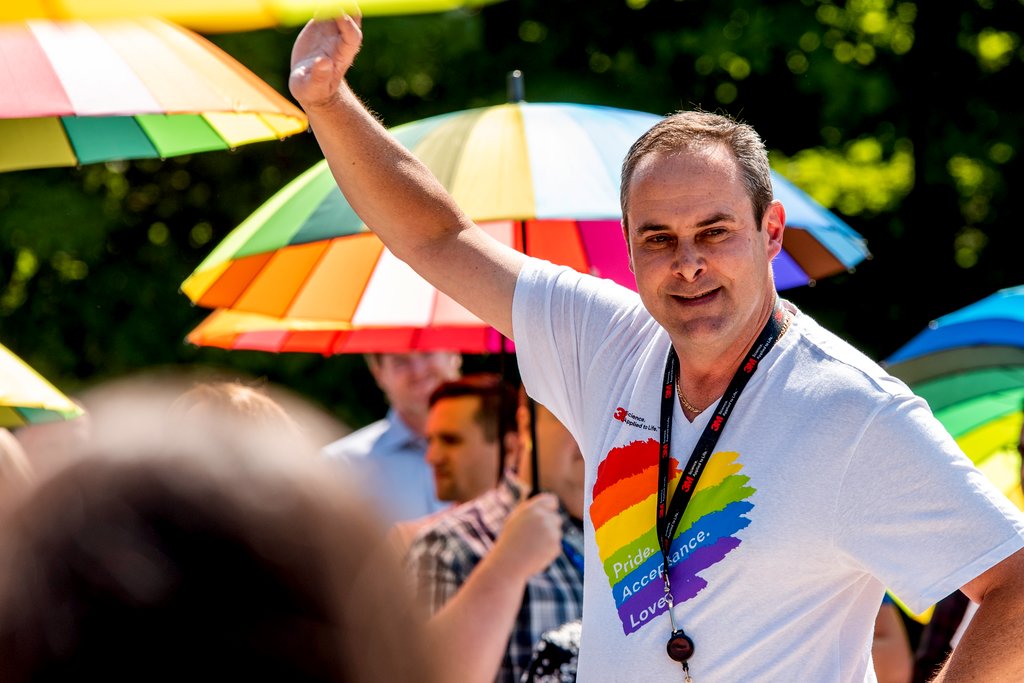 Pride 2021: how you can show your support.
Although Pride month may look different this year, focusing on the importance of unity, visibility and connection needs to continue to be a part of our everyday efforts. We must remember the rainbow comes after the storm and take heart in the fact there are still many great ways to show up for the LGBTQIA+ community. For instance, many regions that typically have festivals and parades are engaging in virtual events this year. These events are focused on community support, engagement, education and ways that every person can get involved and make an impact. There are also many easy ways to show allyship everyday. A Pride-themed background during virtual meetings, wearing Pride gear when out in your day-to-day, or even something as small as starting a meeting by introducing your preferred pronouns.
Pride 2021: what we are doing at 3M.
Last year, 3Mers quickly adjusted to the virtual world and took our Pride campaigns virtual. After introducing Pride digital lanyards and Microsoft Teams backgrounds for all our employees, we created Pride Kits and sent them to hundreds of 3Mers. And we're so happy to see that more are on their way to meet the overwhelming demand by 3Mers wanting to show support and celebrate.
While the offices are not as busy as they usually are, there is no better place to show our employees and communities that we stand with them. We have raised the Pride flag at 3M facilities across Canada – the flag at our London location will remain raised until the closing of the London Pride festival, which is the end of July. Pride is not just a celebration; it is meant to also be a time of reflection. Our ERN team launched a History of Pride campaign, where we share the achievements and impacts of individuals who helped shape the LGBTQIA+ community in Canada and around the world. Many of the notable figures highlighted changed the world through their contributions to STEM, politics, and activism.
As I look to the future, I'm excited by the growing presence of 3M Pride around the world – not only in Canada but in Australia-New Zealand, Brazil, the Philippines and India to name a few. It's a testament to the fact that, despite the pandemic, we're taking steps to promote diversity and inclusion and hopefully giving employees the confidence that they can genuinely be themselves without fear.
"Being a member of the outside sales team, we often feel on the periphery of the office-based activities, so for 2021, we focused on three pillars: Pride at the office, Pride in manufacturing and Pride at home. Now that Pride activities are virtual, field-based employees feel more included than ever! In fact, we have gone the extra mile and offered Pride kits to the first 350 employees to help them celebrate Pride at home or their workstation. If we can't go to Pride, we are enabling Pride to come to us."

Lindsey Cowan, Regional Sales Manager
Be part of a culture that advocates for inclusion and change.
As Chair of 3M Canada's Pride Employee Resource Network, I collaborate with my colleagues to create an environment where all employees are valued and have equal opportunities, regardless of gender expressions, identities, and sexual orientation. Whether there's a pandemic or not, every person should be able to live authentically, safely and in a supportive environment. I encourage everyone to take part in Pride activities and show support where you can. We all have the opportunity to learn, grow and make a positive impact on those around us this Pride and everyday. Allyship and real advocacy is critical to this movement and makes a huge impact as we work to create a more inclusive and diverse environment inside and outside our organization.