Building a robot for FIRST Robotics: five frequently asked questions.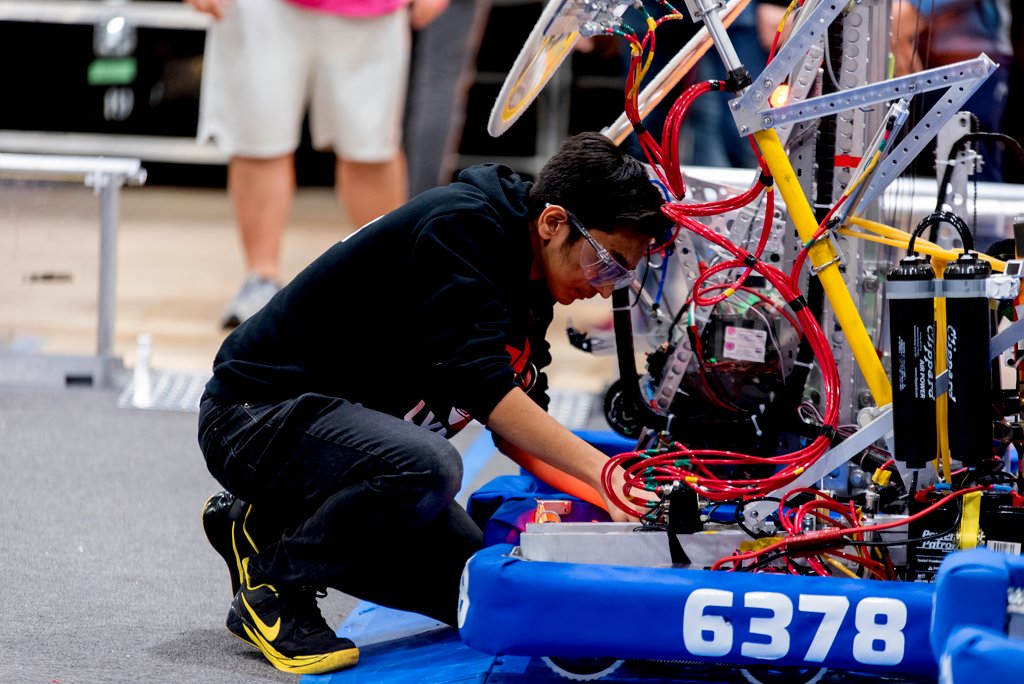 The FIRST Robotics Competition is a blueprint for the future.
By combining the essential skills of science and technology with sport and endurance, the FIRST Robotics Competition challenges high-school students to come up with creative and innovative solutions that will help their team overcome and learn from potential obstacles. As an organisation that's focused on using science to improve lives and create a brighter future, this vision resonates with us.
While building a robot is certainly a challenge, it is also a very fun task. As continual supporters of the FIRST Robotics Competition, we have noticed that the teams face some similar challenges each year.
If you're preparing to build a robot for this year's competition, here are some frequently asked questions (FAQs) that can help you create a better model.
How to build a robot: frequently asked questions (FAQs).
1. How can I create a stronger robot?
The most common solution for attaching two different metals on a robot is to use nuts, bolts, welding, and rivets. However, when you use these methods, the different metals will transfer ions, causing the joints to rust and weaken faster.
The solution? 3M™ VHB™ Tape helps to create a strong bond between the metals you're working with. This double-sided acrylic adhesive tape ensures that the metals do not touch each other, helping the bond to remain strong for a longer amount of time.
The adhesive in 3M™ VHB™ Tape also creates a durable bond that can strengthen the robot against the physical impacts it must endure during the competition. This solution is reliable because it is tried and tested by engineers who use it on airplane wings and in the construction of the Walt Disney Concert Hall.
2. What's the best solution for a quick fix on my team's robot during the competition?
While the 3M™ VHB™ Tape allows you to make more permanent bonds and attachments on your team's robot, duct tapes are a strong solution for temporary fixes. If you need to add last minute instruments or if a part unexpectedly breaks, duct tape will help you attach these pieces securely. Besides duct tapes, you can also use single-coated tapes such as filament tapes and instant adhesives by using hot melt adhesives in conjunction with 3M™ VHB™ Tape or fast curing structural adhesives.
Students also use duct tapes to hang drapes, allowing them to create temporary private workshops in the workroom. Remember, though, that duct tapes are one-sided and need to be wrapped around joints, while 3M™ VHB™ Tape is double-sided, so it can adhere two surfaces to each other without being wrapped around a joint.
Quick tip: Use Post-it® Extreme Notes to label parts of the robot that are incomplete or due for repair. They're water-resistant, stick longer, and provide an easy way to communicate with your teammates.
3. How do I ensure the durability of my wire connections on the robot?
For strong wire connections, the 3M™ Heat Shrink is a good alternative compared to other traditional solutions. Mechanical fasteners take time and may not be a reliable option because they can come apart if the robot is hit during the competition.
3M™ Heat Shrink, on the other hand, provides an effective, skin-tight bond to your wire connectors. As soon as you apply heat, the solution conforms to the object.
A benefit of the 3M™ Heat Shrink is that, during the competition, your team's robot has a better chance of surviving impacts because the wire connections will be more sturdy compared to regular electrical tape.
If your team needs a quick and temporary fix, electrical tape can also be used on wire connections that require insulation.
4. How can I help my team adhere to safety standards at the FIRST Robotics Competition?
The FIRST Robotics Competition has strict safety standards, and everyone on the team must focus on safety while performing tasks such as welding and repairs.
To keep your team safe, each member should use the proper protective eyewear because there are many moving parts that can harm your eyes and face. Remember to carry safety glasses that are comfortable because you'll be wearing them for extended periods time. There is also protective eyewear that can go over prescription glasses, so you can stay safe and protected as your team builds its masterpiece.
The floor of the FIRST Robotics Competition can often get noisy, so a good pair of noise-cancelling headsets can help block out the noise and protect your hearing. 3M™ WorkTunes™ Headsets come with a noise reduction rating (NRR) of 24dB or higher, and they have Bluetooth® built into them, so you can take your calls and listen to music with ease.
Quick tip: Cuts and scrapes are also common during building and repairs. If this happens, rely on Nexcare™ Bandages to cover and protect the area. They are easy to apply and waterproof, making them an easy choice for use in demanding environments.
5. What are some tips that can give my team an edge during the FIRST Robotics Competition?
After attending the competition for several years, here's what I believe can help boost your team's chances of success.
Learn the competition rules and requirements first, and then design the robot and its applications accordingly. Estimate the different axes (x, y, and z) your robot will have to move along in the competition and test it multiple times. This will help ensure that your team is completing maneuvers as seamlessly as possible.
Also, study what challenges were set up in past competitions so your team has a good indicator of how you can build a stronger robot for this year's challenges.
Next, secure all moving parts on your robot with stronger applications. 3M™ VHB™ Tape and 3M™ Heat Shrink are ideal for joints and wire connections that need to be adhered strongly, so parts will not come loose or break during impact as easily. A common cause for robot breakdowns is the Bluetooth® or Wi-Fi connections coming off during the competition, so securing them as strongly as possible using these solutions should be one of the top things on your list.
Quick tip: For a professional-looking robot, consider using graphic films to give it a unique look.
Finally, remember to have fun. The FIRST Robotics Competition is a great learning experience and will equip you with invaluable skills that will help you in the future.
Learn more about robotics.
Read more about the FIRST Robotics competition, different solutions, and why it's important to us by visiting this page.