A metal worker steps into a steel tank to finish the inside walls with a steel wire brush. After deburring and smoothening the surface, the worker steps out of the tank and begins to remove loose wires now stuck on their arms, face.
This grisly scene is all too common in metal fabrication shops.
Metal finishers take pride in their craft and are not afraid to go that extra mile to achieve consistency and perfection. But their dedication to their passion does not have to come at the expense of their safety.
Bristle discs and brushes are a wire brush alternative that can help keep your workers safe from common wire brush related injuries, without compromising a uniform finish – even in the hard-to-reach areas.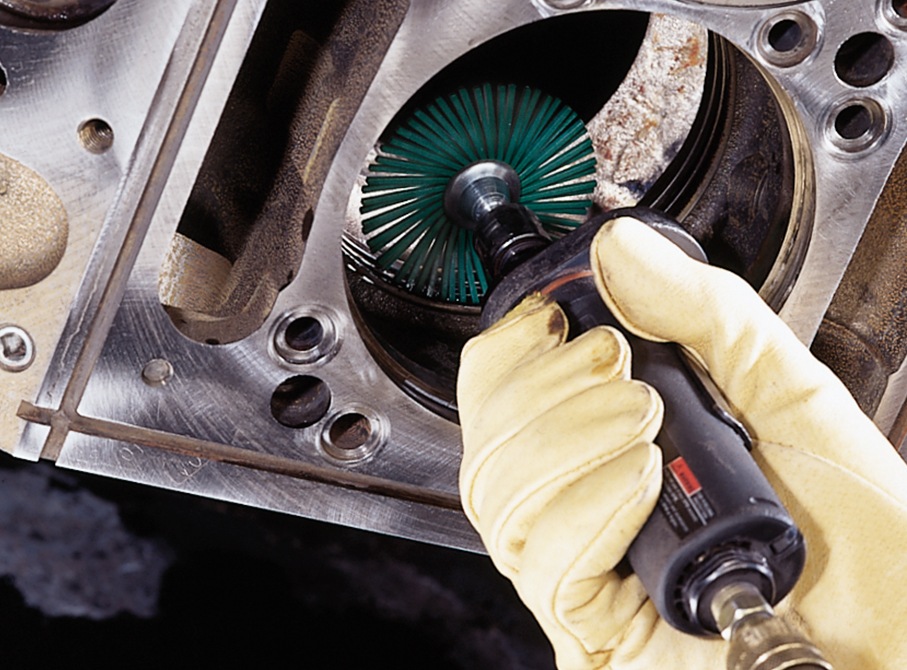 How bristle discs and brushes help avoid wire brush hazards.
Here are top three reasons to finish and polish metal with bristle discs and brushes as a wire brush alternative:
Injury prevention: Unlike wire brushes, bristle discs and brushes like the 3M™ Scotch-Brite™ Bristle Discs don't contain wire filaments. With no loose wires, workers are physically safer at work. Additionally, bristle discs and brushes don't emit harmful chemical vapours, helping you meet increasingly thorough safety standards.1
Ease of use: Don't worry about the impact to your metal finish. Bristle discs and brushes can easily conform – even to hard-to-reach surfaces – to help you consistently finish, polish, and deburr even the smallest of openings.
Longer life: Bristle discs and brushes can actually offer you longer-term performance than wire brushes.23M™ Scotch-Brite™ Bristle Discs & Brushes, for example, are proven to last longer than most abrasives and to provide the same finish and cut throughout their life.3 This means there are fewer changeovers, for increased productivity in automated procedures.
Find out if bristle discs and brushes are right for you.
Whether you're cleaning, finishing, or deburring in industries like metal fabrication, transportation and aerospace, you can benefit from replacing your wire brushes with a safer solution. Contact a 3M™ Scotch-Brite™ Abrasives representative to find out how.
References
3M data on file
3M data on file
3M data on file
About the Author

More From Joe Veit