Bright, durable, visible: 3M pavement markings.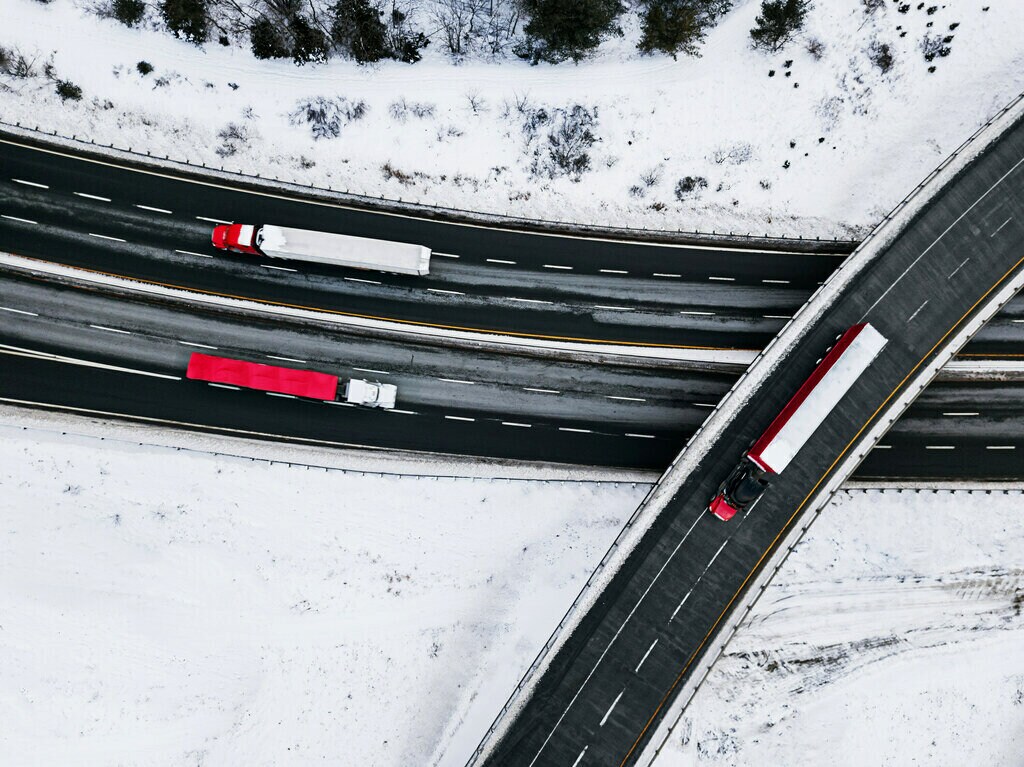 Day and night, drivers rely on the visibility and durability of roadway markings. Installation, quality, time, and varying weather conditions all have substantial effects on the roadways we depend on daily. While important, roadway infrastructure investments should not just be focused on signage, but ensuring all pavement markings are durable and visible with high levels of retroreflectivity in both dry and wet conditions.
The importance of lane presence and retroreflectivity.
The adaptation of machine vision in the auto industry has exploded in recent years, with an estimated 70% of all base model vehicles adopting some aspect of this technology by 20231. It is crucial to take both human and machine vision into consideration when evaluating all pavement markings.
Whether human or machine, the highest rate of success comes through having all lanes present. Although intermittent markings can be effective, the most reliable results are with continuous lane markings2. Keeping day-time visibility top of mind is key as this is often overlooked and results in missing lines and unplanned intermittent markings.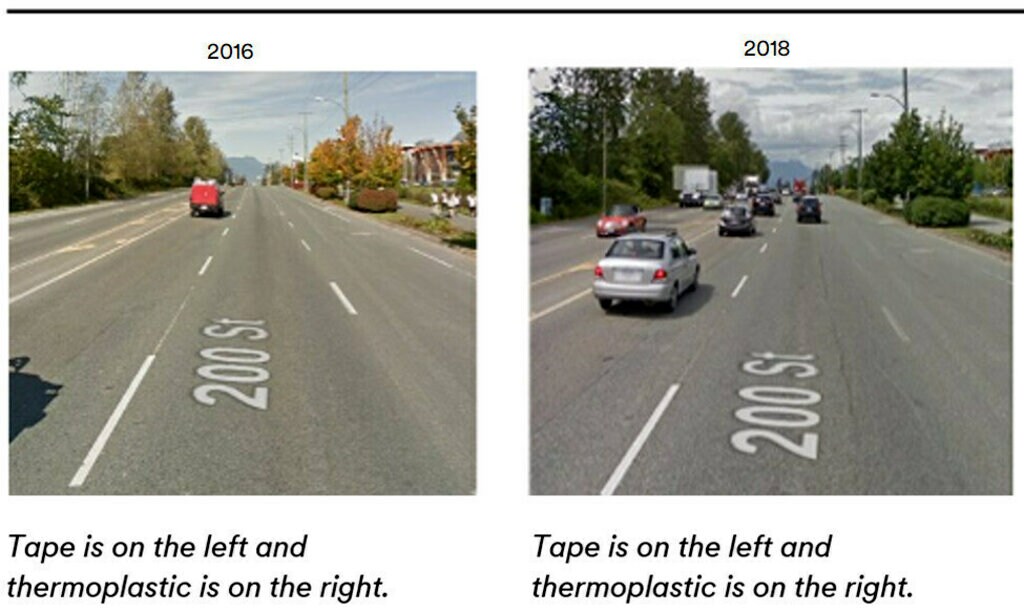 Figure 1: 3M™ Stamark™ Pavement Marking Tape Installed in Township of Langley, BC (pictures downloaded from Google Earth).
Not only are continuous markings important, but markings with high levels of both wet and dry retroreflectivity ultimately assist both human and machines in following all pavement markings at night and avoid potentially hazardous situations. Wet reflective pavement markings have been proven to support up to 46% reduction in run-off-road collisions on multi-lane roads3.
Vision-based lane departure warning systems (LDWS) are one of the most common advanced driver assistance systems (ADAS) features. A study conducted by the Florida International University indicated that improving the retroreflectivity attributes of commonly used pavement marking materials improves the performance of LDWS for rain conditions at night. In addition, this performance improves significantly with the use of enhanced types of pavement markings that have high visibility during rain4.
Complimenting reflectivity is durability–without present lines there is no vision at all, and multi-season environments often make this more difficult to maintain due to snowplow use in the winter months. By using durable pavement marking, we can help ensure constant lane presence through all four seasons, even if partial reflectivity is lost. Through proper installation and grooving, markings can be secured against snowplow conditions and potential lifting. Grooving is not just integral during winter months but assists in prolonging the wet-retroreflectivity of your pavement markings in all seasons.
The science behind the solution.
While reflectivity and durability of pavement markings depend on various factors, when measuring optics in wet conditions, 3M's microcrystalline ceramic beads provide extremely useful light return. To ensure optimal light return in both wet and dry conditions, 3M™ Stamark™ Tape uses a mixture of 1.9 and 2.4 refractive index optics as seen in the diagram below.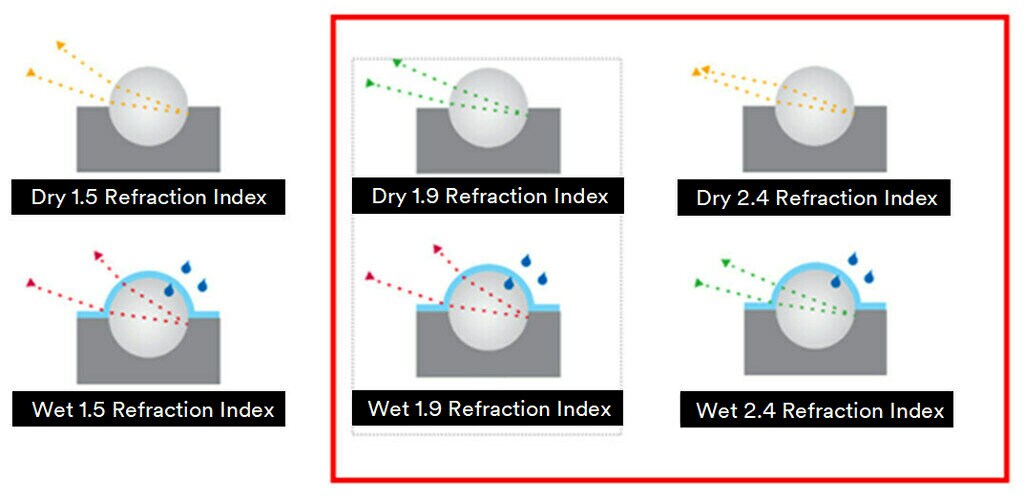 1.9 index optics have higher refractive index (RI) as it has a larger aperture and more light return due to bead size. This results in brighter pavement markings in dry condition than the most commonly used 1.5 RI beads. However, when the beads are covered with water, light scatters and little to no light is returned. By adding 2.4 index beads, 3M compensates for the refractive index of water and bend the light enough to restore retroreflection in wet conditions.
To enhance pavement markings reflectivity as well as durability, the proper grooving installation of 3M™ Stamark™ High Performance Tape Series 380AW creates the optimal package for both wet and dry conditions.
3M's microcrystalline ceramic beads embedded in 3M Stamark tape are engineered to prevent cracks from beginning and propagating, resulting in unprecedented toughness. The illustration below displays 3M's microcrystalline ceramic beads toughness compared to glass beads with the same refractive index.
Figure 2 Mechanical Properties of the beads and Sandblast durability test result 5.
Embedded with abrasion-resistant microcrystalline ceramic beads, this highly durable solution offers easy application and the ability to match the needs for your climate, budget and objectives.
To learn more about how 3M pavement marking technology can help elevate your roadways, contact a 3M sales representative or visit us at 3M.ca/Wetreflective.
References:
ADAS Production Forecast Database, March 2018, IHS Markit
Connected and Automated Vehicles: A Primer for Canadian Municipalities. Transportation Association of Canada. January 2021, PRM-CAV-E
US DOT Federal Highway Administration. Safety Evaluation of Wet-Reflective Pavement Markings. Dec. 2015, FHWA-HRT-15-083

Hadi, Mohammed, and Prasoon Sinha. "Effect of Pavement Marking Retroreflectivity on the Performance of Vision-Based Lane Departure Warning Systems." Journal of Intelligent Transportation Systems, vol. 15, no. 1, 2011, pp. 42–51., https://doi.org/10.1080/15472450.2011.544587.

Internal 3M Lab Data Conducted by Tom Woods and Terry Bescup: Competitive Analysis – 380IESES vs. Thermoplastic – NOTE: Document is in eNPI Launch Package