How acrylic dressings offer wound care for patients and providers.
As a health care provider, you have nerves of steel, and that's a good thing, because day-in and day-out, you are the first point of contact for patients presenting with wounds.
Whether acute or chronic, minor or major, you are your patients' best advocate: helping them to heal comfortably and with dignity.
Clear Acrylic Dressings for Advanced Wound Care
3M™ Tegaderm™ Absorbent Clear Acrylic Dressings are designed to help health care providers promote healing at the same time as providing patients with as much comfort as possible.
3M™ Tegaderm™ Absorbent Clear Acrylic Dressings are indicated when caring for wounds such as:
Pressure ulcers
Skin tears
Abrasions
Donor site incisions
Superficial burns
Post-surgical incisions
This dressing may also be used as a protective dressing on at risk, undamaged skin or skin beginning to show signs of damage from friction or shear.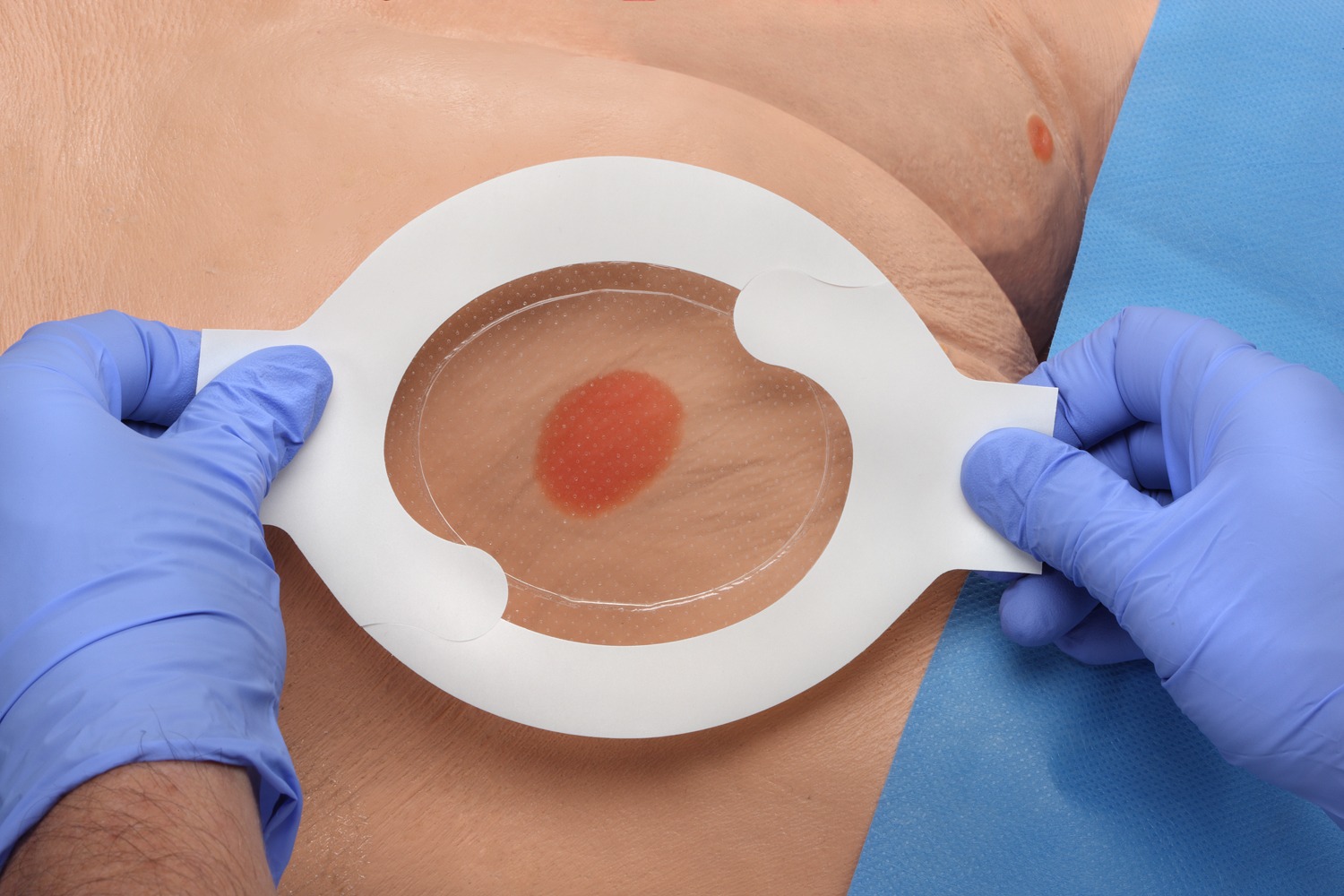 What makes 3M™ Tegaderm™ Absorbent Clear Acrylic Dressings different?
Transparent – the wound can be inspected at any time and the healing process monitored without having to change the dressing.
Efficient Absorption – distinctively higher absorption than most other hydrocolloid dressings due to innovative wound-management technology.*
Extended Wear Time – can be worn until the dressing leaks, loses adhesion or needs to be removed for wound inspection.
Film Adhesive Border – provides good adhesion for most clinical situations. Special moist skin adhesive provides adhesion even in moist skin conditions.
Economical in its Application – less frequent dressing changes may save nursing time and supply cost.
Superior Overall Fluid Handling Capacity
*Data on file.

Bottom Layer: Wound exudate moves through perforations in the bottom layer of Tegaderm™ Transparent Film, which is coated with a moist-skin adhesive
Middle Layer: Through the process of diffusion, wound exudate is absorbed into the patented, clear, acrylic polymer pad
Top Layer: Moisture vapour is released through the top, breathable, waterproof layer of Tegaderm™ Transparent Film, which is impervious to liquids, bacteria, and viruses, providing an effective barrier to external contaminants
Patient Benefits
Waterproof & Washable: Being unable to bath or shower because you have suffered a wound is like adding insult to injury. 3M™ Tegaderm™ Absorbent Clear Acrylic Dressings are waterproof, so patients can regain their sense of normalcy and maintain cleanliness.
Gentle Removal: 3M™ Tegaderm™ Absorbent Clear Acrylic Dressings are gentle on skin.
Less frequent dressing changes: Better comfort for the patient due to less manipulation of the dressing during the patient wear.
Health Care Provider Uses
Over skin tears and superficial traumatic wounds.
As a primary dressing over partial and full thickness dermal ulcers including skin tears and pressure ulcers.
As a primary dressing over skin graft donor sites.
As a secondary dressing cover over wounds requiring an absorbent wound filler.
As a primary dressing over surgical incisions.